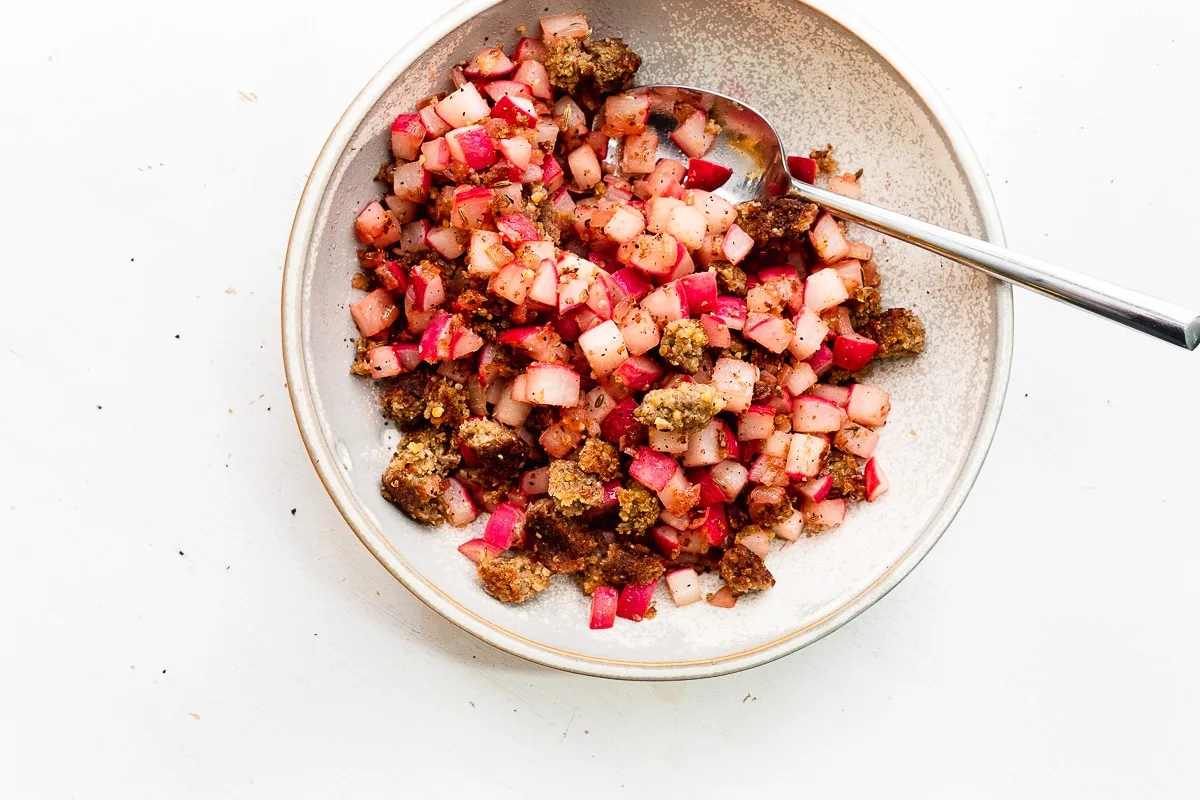 For a lot of reasons, I really love radishes. They're inexpensive, easy to grow, naturally low in carbohydrates, fast cooking and versatile. Raw radishes are inherently spicy and harsh. But cooked radishes are mild and smooth. And this radish hash browns with veggie sausage recipe is one of my favorite ways to them.
Some of my other favorite ways to eat radishes are roasted with herbed tahini sauce, poached and in potato-less potato salad, sautéed and on top of creamy vegan risotto and sliced thin, raw in a lemony kale salad.
This radish hash paired with fennel seeds and veggie sausage is good for all meals. But, I especially like it for breakfast with a poached egg on top. The veggie sausage is from Hilary's which (as you guys know) is my favorite store bought veggie burger brand.
I love Hilary's for so many reasons. Their products are of really high quality and super delicious. Hilary's is also a certified B Corporation. Which means they focus on business practices that create beneficial social and environmental impact. And their plant-based foods are rich in whole ingredients, non-GMO and always free of the top twelve allergens.
All of the Hilary's products are great, especially their World's Best Veggie Burger. Which I use in my veggie burger bowl recipe. But I also really love their organic, spicy veggie sausage (I don't find it too spicy).
You can cook their veggie sausage as a patty or use them as crumbles like I have in these radish hash browns. And they're gluten, dairy, soy, corn, egg, coconut and nut free, making them a great option for almost everyone.
How to make radish hash.
Radish hash browns are like potato hash browns but with way fewer carbs. And they cook in way less time. First you mince some yellow onion and garlic, and dice some red radishes into small quarter-inch pieces. Then you sauté the onion and garlic, add in the fennel seeds and radishes and cook for about five minutes.
Then you add the lemon juice and crumble in the veggie sausage. Sauté for a few minutes, and you're done. If you want to add an egg on top, I highly suggest it. I also suggest making a double batch to have for leftovers the next day. It's great the next day for a hearty lunch. I hope you like radish hash as much as I do.
And if you're looking for some new sauté pans, kitchenware or goods to gift – I'm always impressed with the thoughtfully curated selection at Kohl's. The prices are great and quality is definitely up to my standards.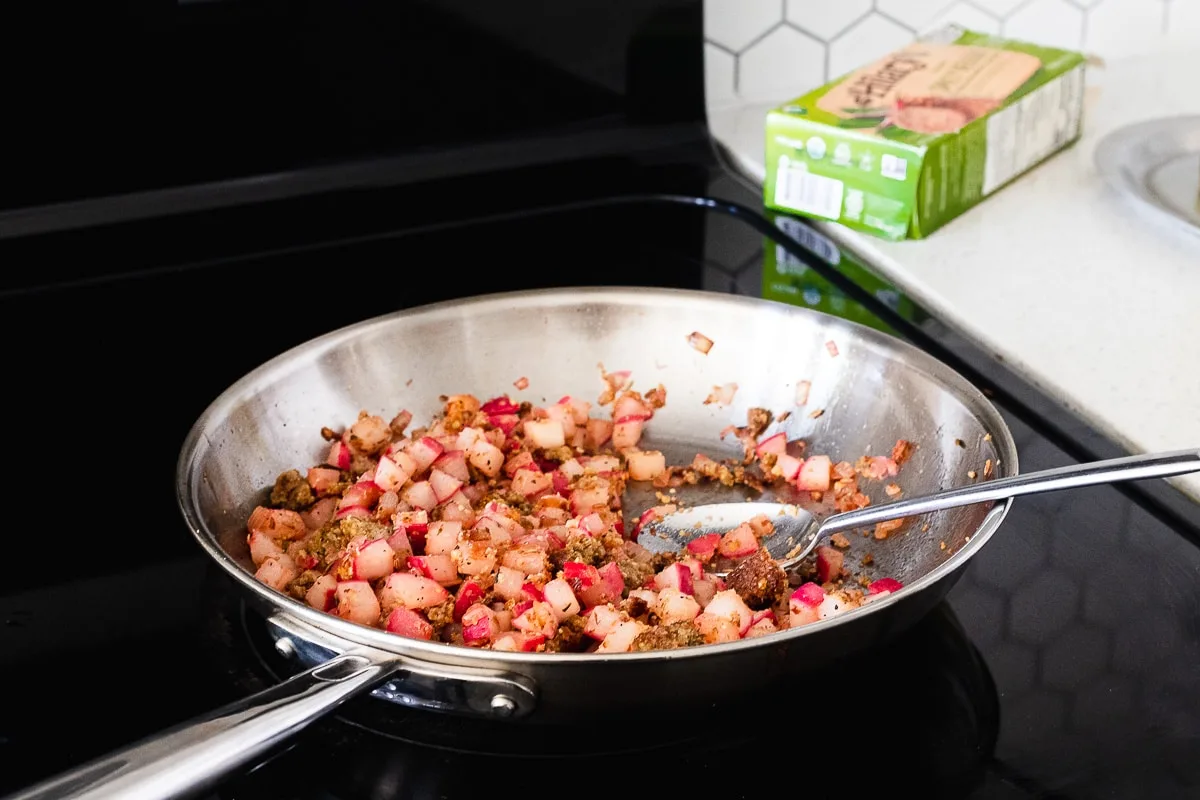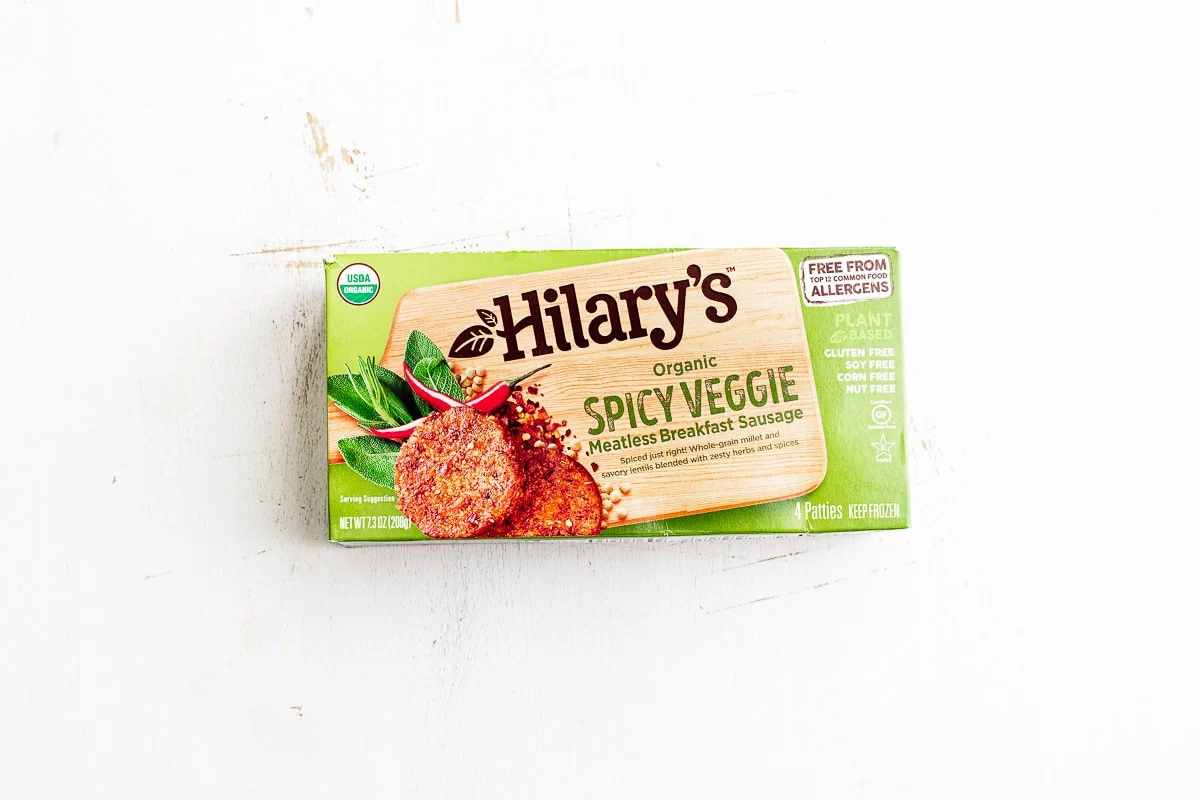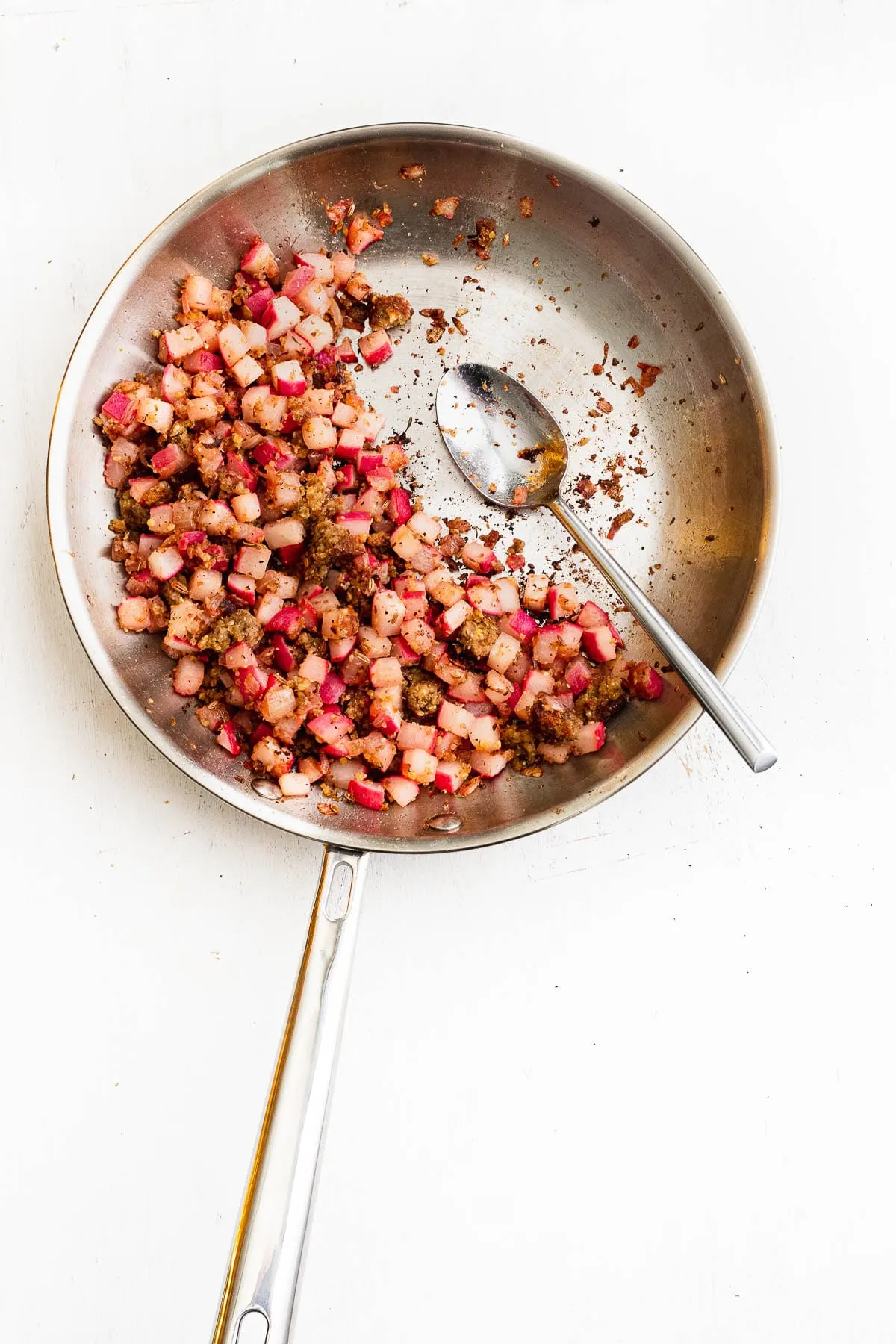 Yield: 2 - 4 servings
Radish Hash with Fennel Seed Veggie Sausage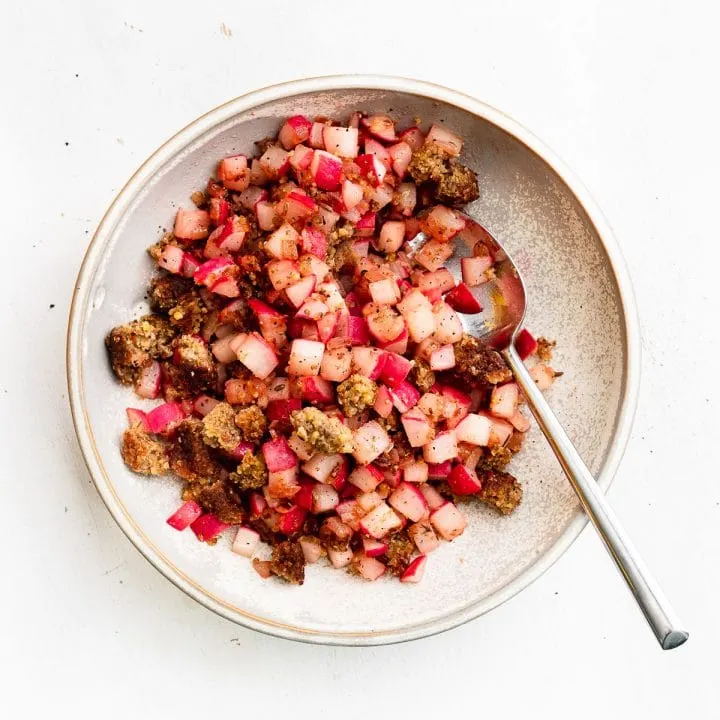 Fresh and simple radish hash browns with fennel seed veggie sausage. An easy, vegan and gluten-free breakfast radish recipe.
Ingredients
2 tablespoons olive oil
1/2 cup yellow onion, minced
1 garlic clove, minced
1/2 teaspoon fennel seed
2 cups red radish, diced small
1/2 teaspoon fine sea salt
1/4 teaspoon black pepper
1 teaspoon lemon juice
2 patties Hilary's Spicy Veggie Sausage (thawed)
Instructions
Heat a sauté pan over medium-high heat. Add in the olive oil, onion and garlic and sauté for 2 minutes.
Then add in the fennel seed and sauté for 1 minute more.
Add in the radishes, salt and pepper and sauté for 5 minutes.
Pour in the lemon juice and stir. Then crumble in the (thawed) veggie sausage and cook for 2 minutes or until heated throughout.
Serve warm.