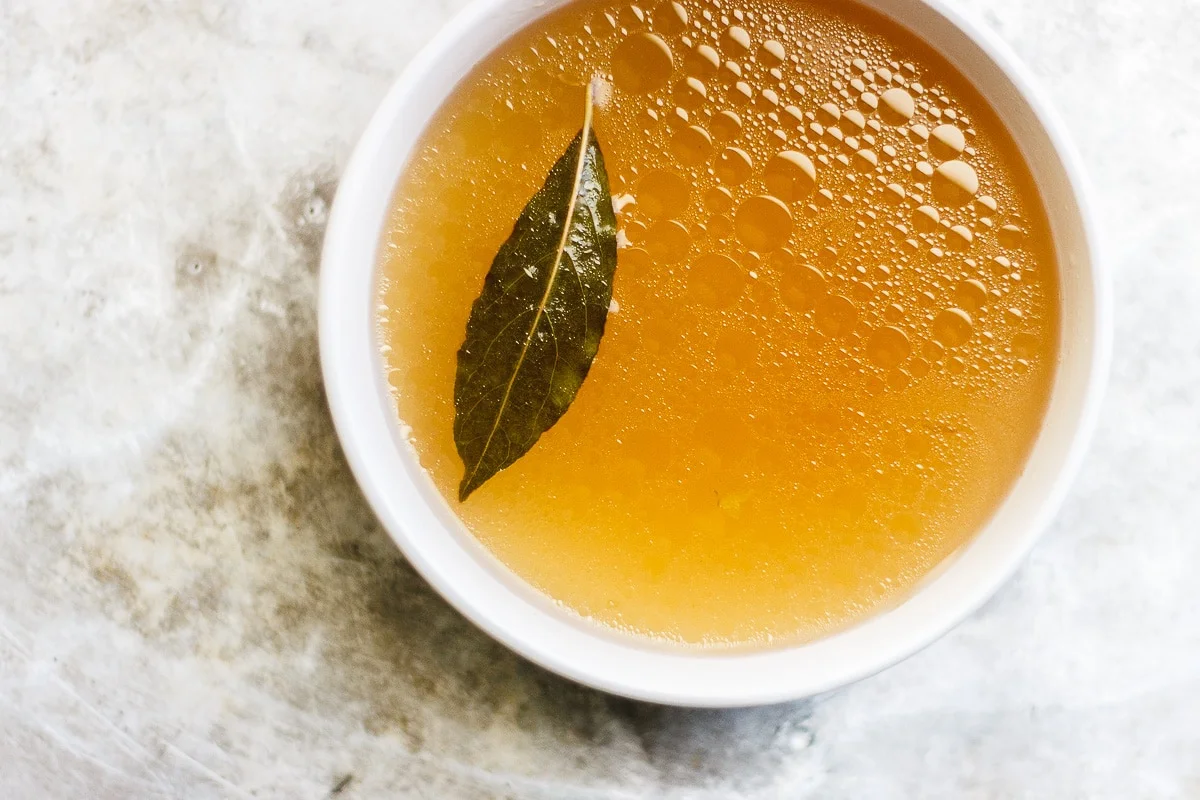 A healing, soothing, restorative vegetable broth flavored with bay leaf and peppercorn. A vegan, nutrient-dense sipping broth or for using in recipes.
[hr]
With Thanksgiving behind us and December looming near I think it is only appropriate to slow down, take a moment to restore and feed our bodies some nutrient-dense foods. One of my favorite ways to do that is through soup, and broth.
All you need are simple ingredients., A lot of love. And just a little bit of time and you will create something magical. A bowl so rich it will nourish you mind, body and soul. And this restorative vegetable broth is exactly that.
The base of this broth is olive oil, salt, onion, celery and carrot. Then you add water, bay leaves and peppercorns. Simmer, strain and you are done. If can be used as a simple broth, or as a broth in any of your favorite recipes. I make large batches and freeze them so I always have some on hand.
Contrary to popular belief – bay leaves actually do provide flavor to broths and dishes. And they also provide wonderful health benefits like regulating blood sugar, supporting your immune system and aiding in digestion. All things we need lots of help with this time of year.
But something to remember is that it matters how you source and store your bay leaves. If you can find them – fresh bay leaves are wonderful. But high quality, dehydrated and properly stored dried bay leaves – like the ones from my friends at Mountain Rose Herbs are arguably even better. Some say, and I agree, that their aroma and benefits are even more potent than their fresh counterparts.
Bay leaves to avoid? Poor quality bay leaves. And any bay leaf you've had bottled up in your pantry for over a year. They won't hurt you, but they will be rather tasteless. These old, dried up bay leaves might be the reason they get such a bad rap.
This restorative vegetable broth with bay leaf and peppercorn is in partnership with Mountain Rose Herbs. I am proud to partner with Mountain Rose Herbs because their passion for what they do is woven into every fiber and thread of their operations. They put customers and the environment over profit. And that is powerful and refreshing.
They also offer one of the most thorough selections of certified organic herbs, spices, and botanical products available today. Some of my favorite Mountain Rose Herbs products, besides the olive oil, bay leaf and peppercorn I used to make this vegetable broth, is their Hemp Seed Oil, Macadamia Nut Oil, Herbal Coffee (more on this soon!) and their wide variety of salts – especially the Cyprus Flake Salt.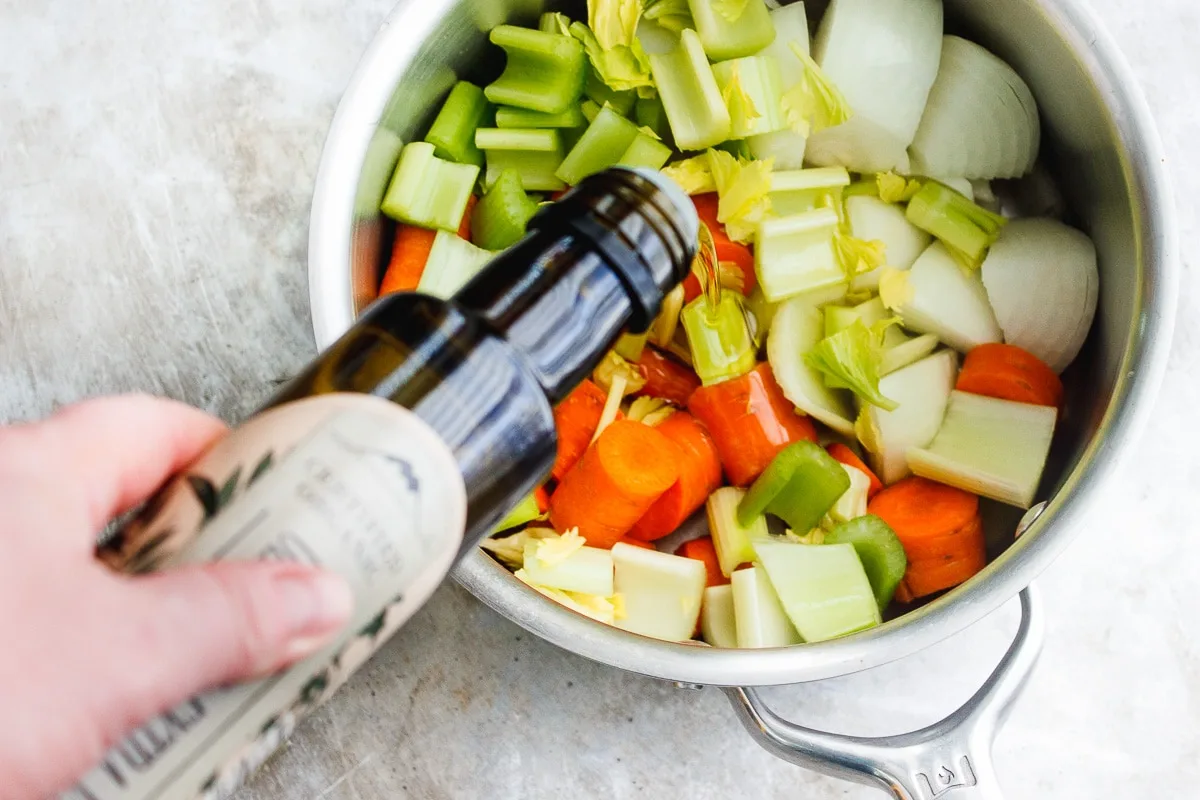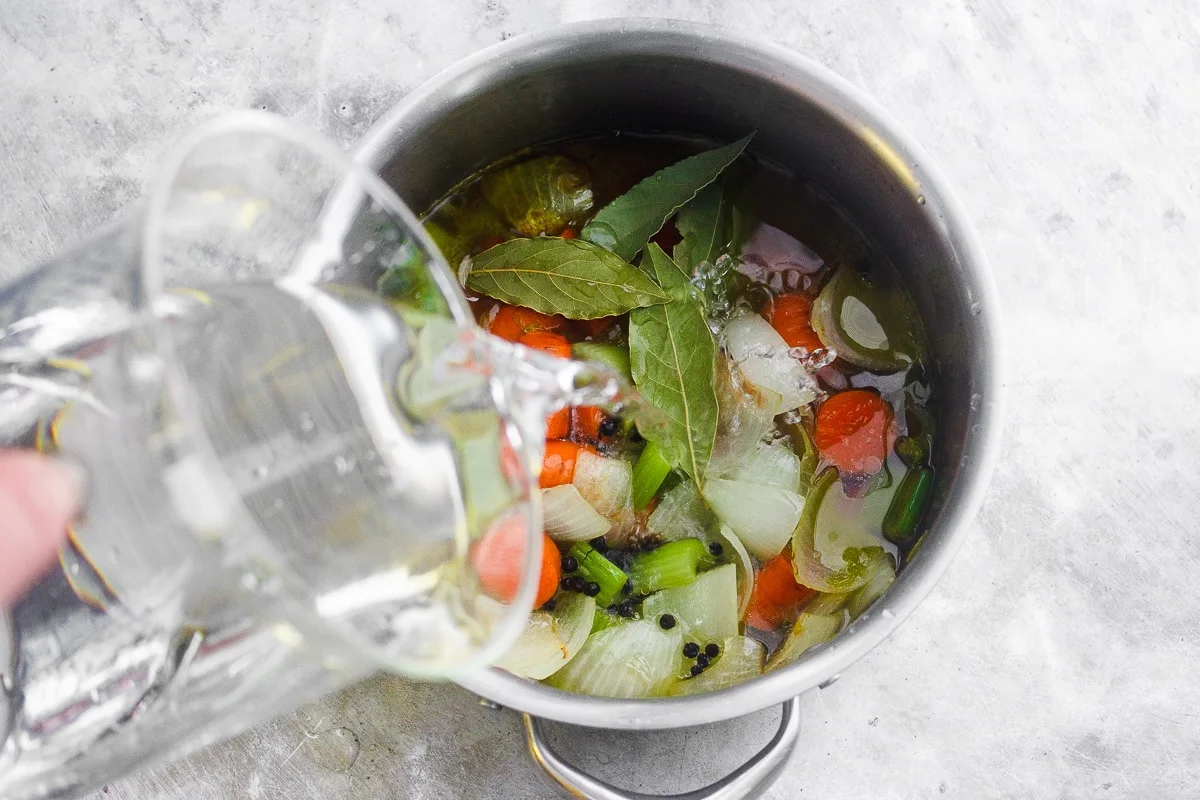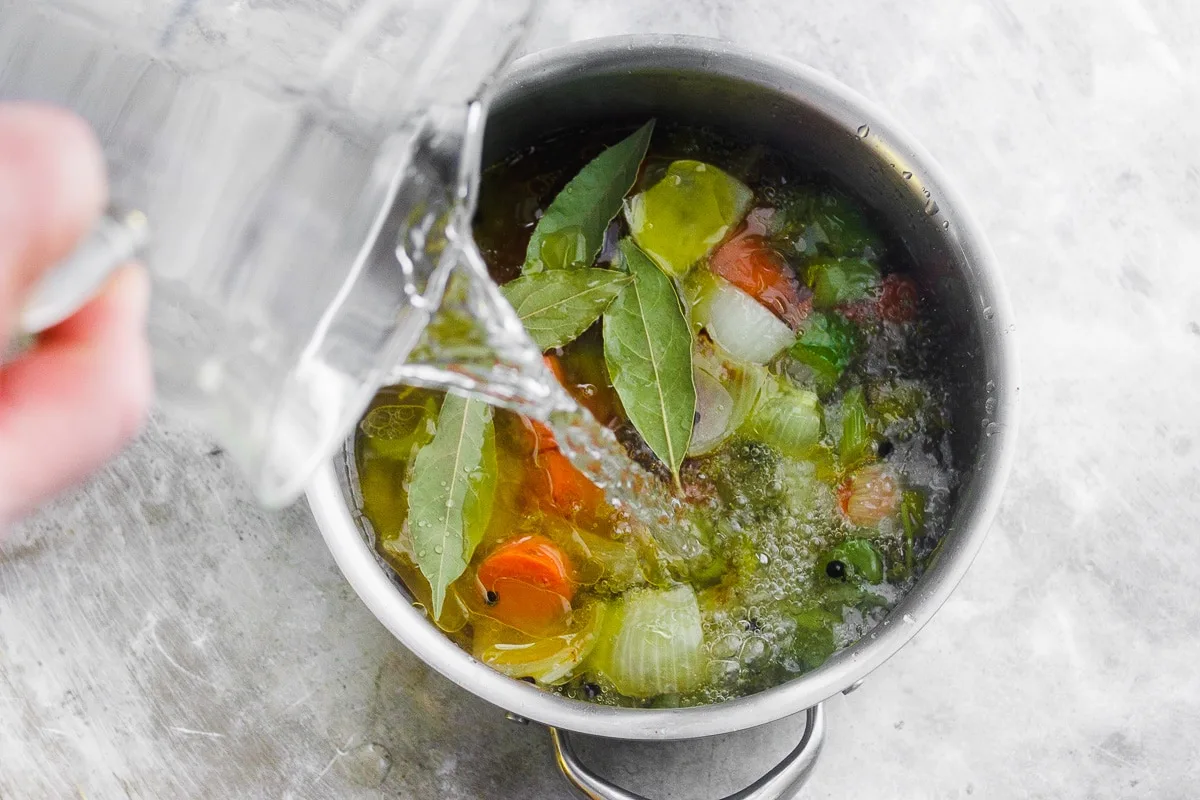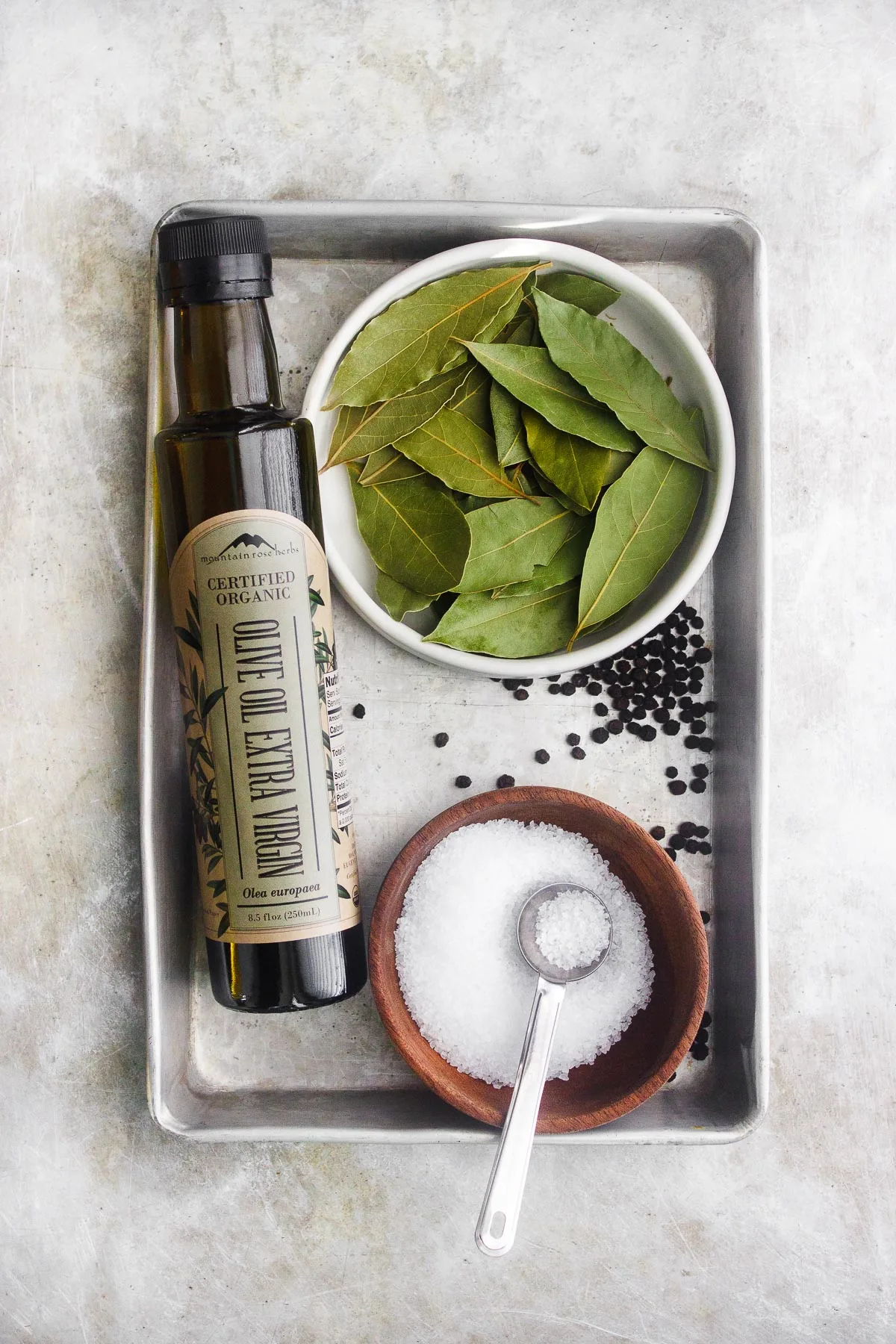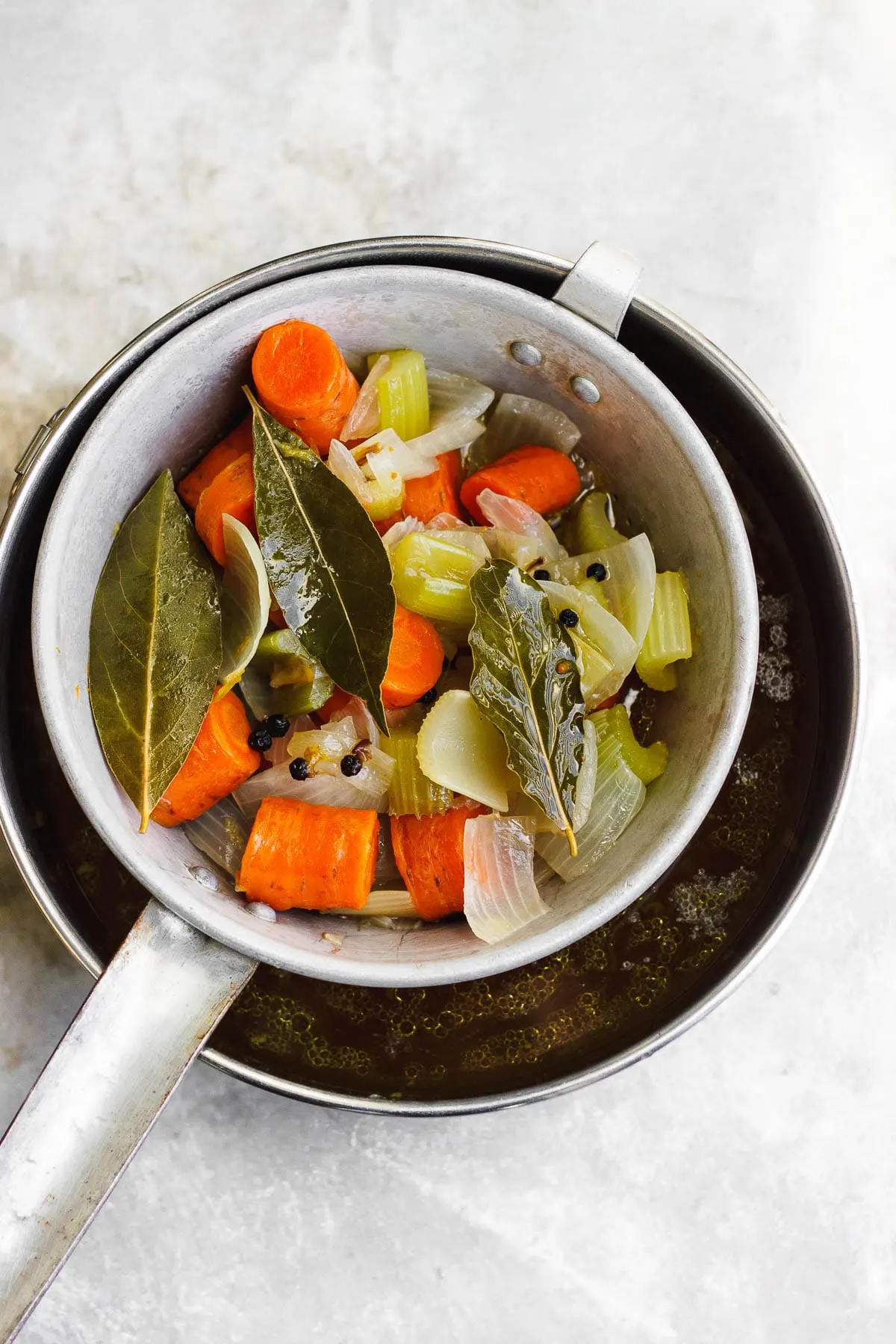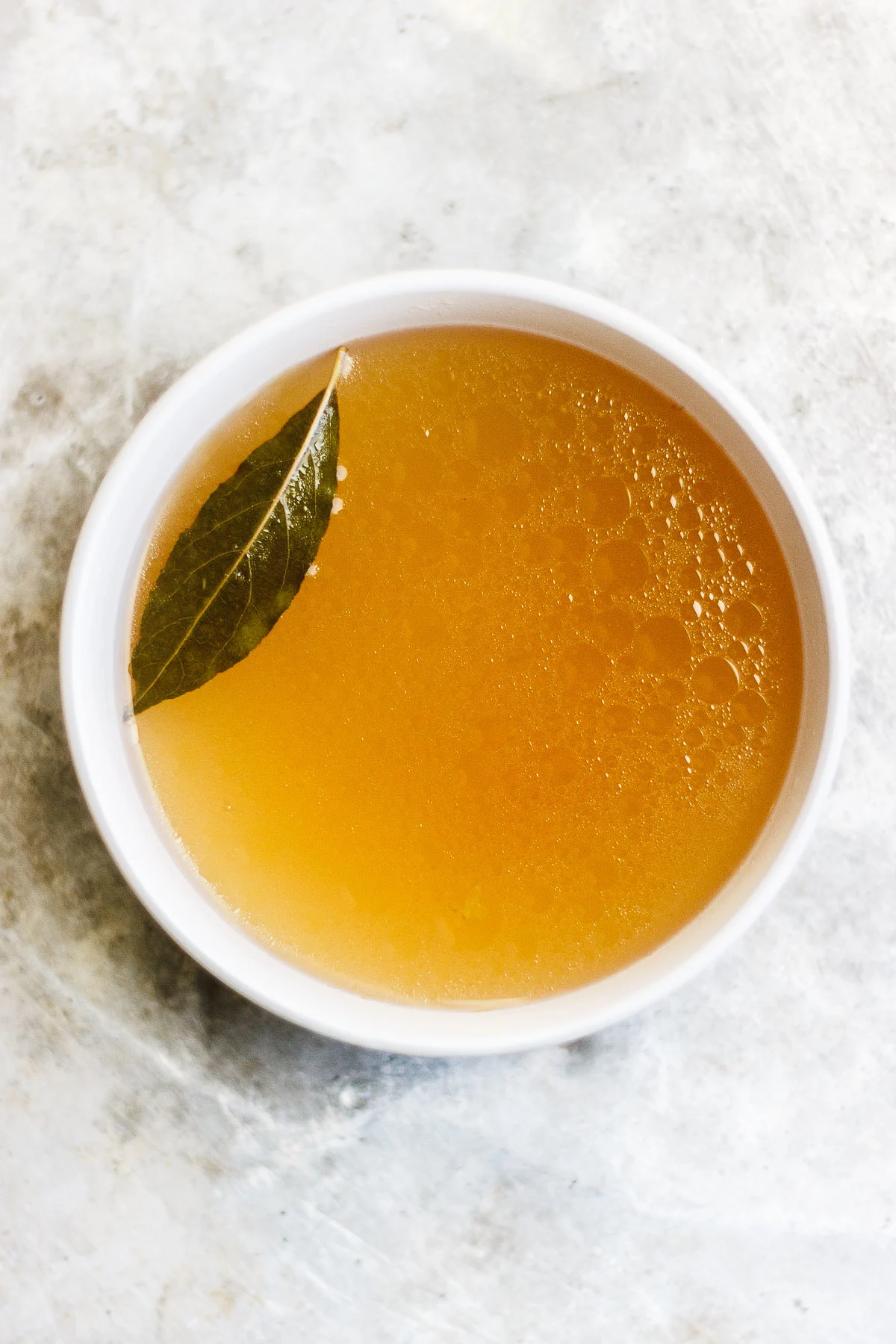 Restorative Vegetable Broth with Bay Leaf and Peppercorn
Ingredients
2

tablespoons

olive oil

1

yellow onion

diced large

5

celery stalks

diced large

3

carrots

diced large

1

clove

garlic

chopped

6

cups

filtered water

1

teaspoon

sea salt

1

teaspoon

black peppercorns

7

bay leaves
Instructions
In a large pot combine the olive oil, onion, celery, carrot and garlic. Sauté on high heat for five minutes.

Add in the water, salt, peppercorns and bay leaves and bring to a boil.

Turn the heat down to low and simmer uncovered for 20 minutes. Taste and add more salt if desired. Strain and serve warm or freeze for future use.
More restorative broths and soups you will love.
[hr]
This post is sponsored by Mountain Rose Herbs; all opinions are my own.