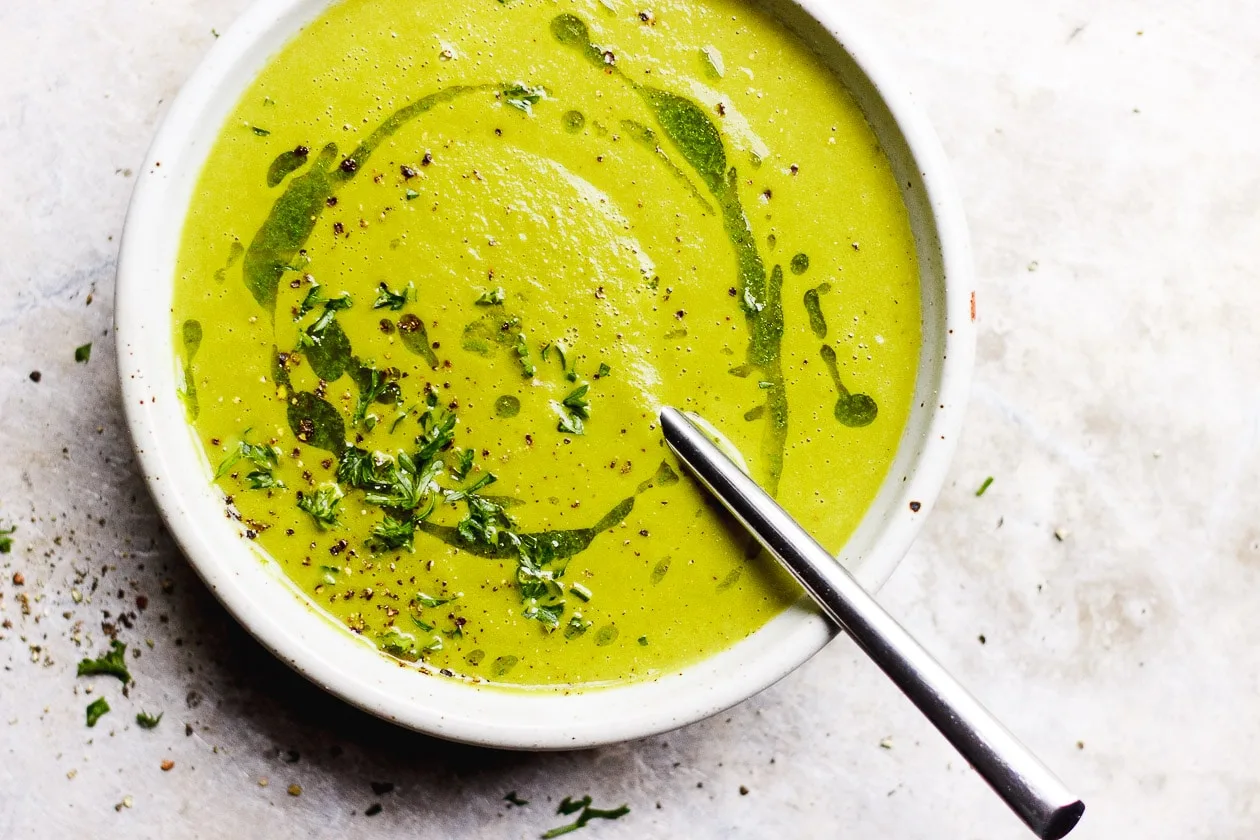 This green tomato soup recipe was born out of necessity. I accidentally fell in love with green tomatoes this fall. But only because I didn't have much of a choice. The squirrels in my neighborhood are complete lunatics. And they've completely ruined all of my tomato hopes and dreams. They prance around in my garden and take big bites out of each tomato just when they become perfectly juicy and ripe. It's maddening.
So, in order to save my tomatoes from the squirrels, I have to pick them when they're still green. My choices are having no tomatoes at all or have green tomatoes. I try to make the most of my green tomatoes by either ripening them inside on my windowsill. Or by making this green tomato soup.
Green tomatoes are slightly tart, sweet and (in my opinion) kind of underrated. Famously they are known for the classic Southern dish, fried green tomatoes. Which, while I've never had, I'm sure is delicious. But I like to eat them raw. Sliced really thin in summer salads for a nice crunch. Or I like them blended into this roasted green tomato soup.
How to make green tomato soup.
Green tomato soup tastes similar to red tomato soup. It's just a little brighter and more acidic, but not in a bad way. In this soup recipe I balanced the tartness by slow-roasting the tomatoes with onions and garlic. Which allows the flavors of the green tomatoes to deepen and caramelize while bringing out their natural sugars.
Then I blend the roasted tomatoes and onions with some leafy greens and a super savory broth (this vegetable broth is a great homemade option). And I top it all off with parsley sauce. It's naturally vegan, gluten-free, nut-free, creamy, sweet and luscious. I hope you love it as much as I do. And I hope it inspires you to think out of the green tomato recipe box.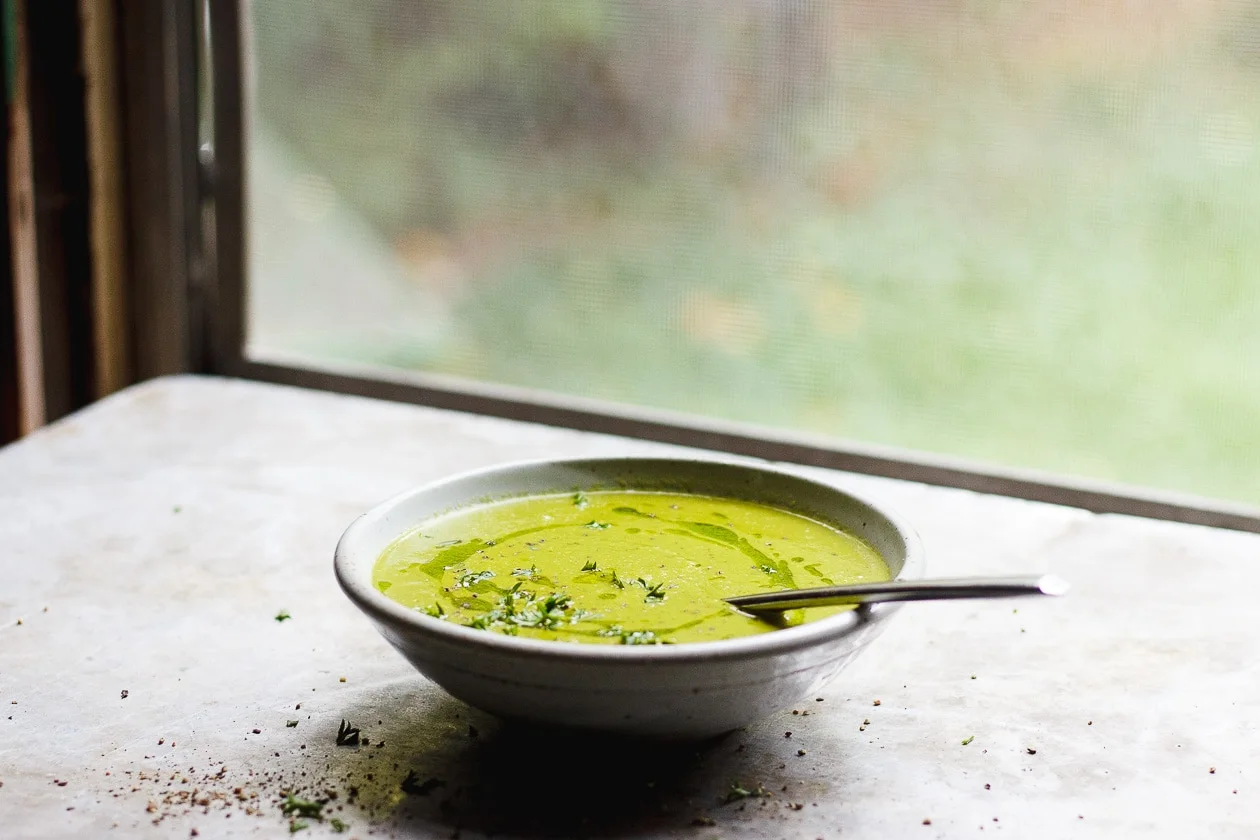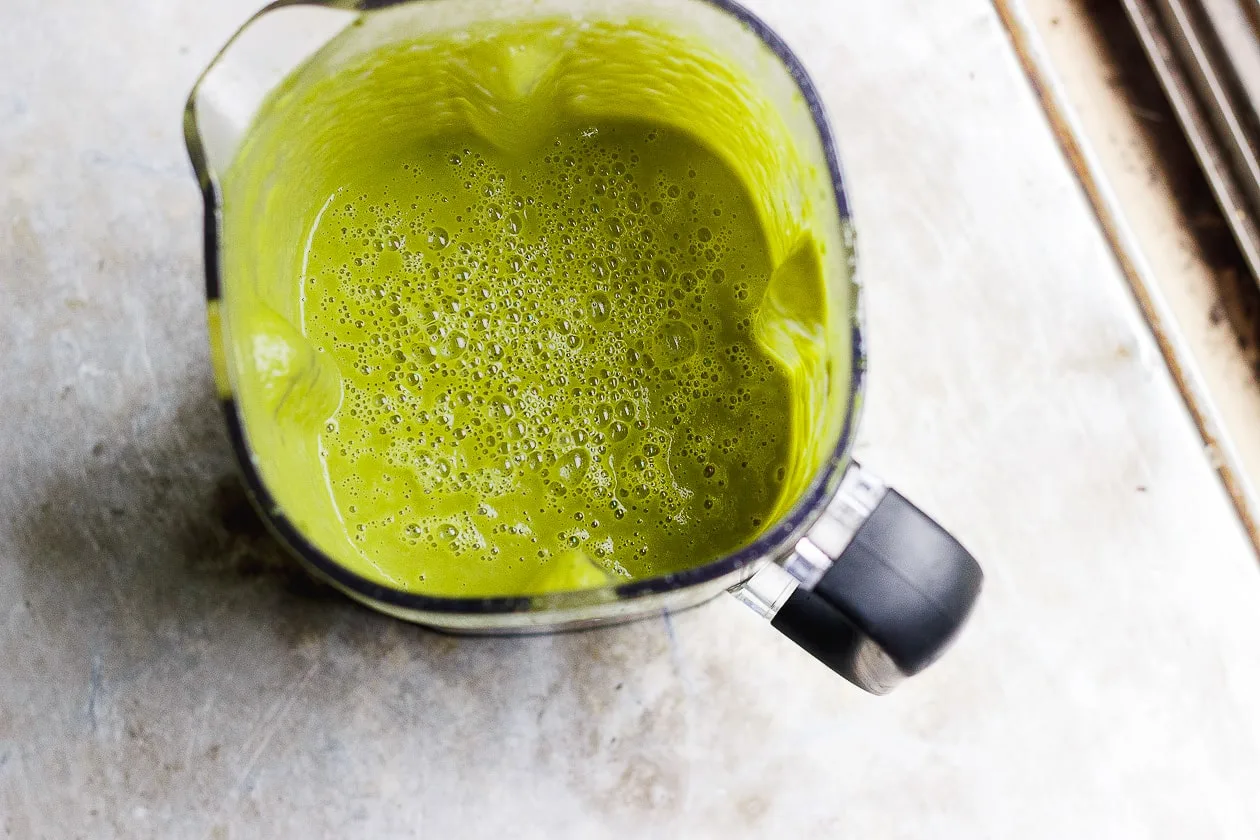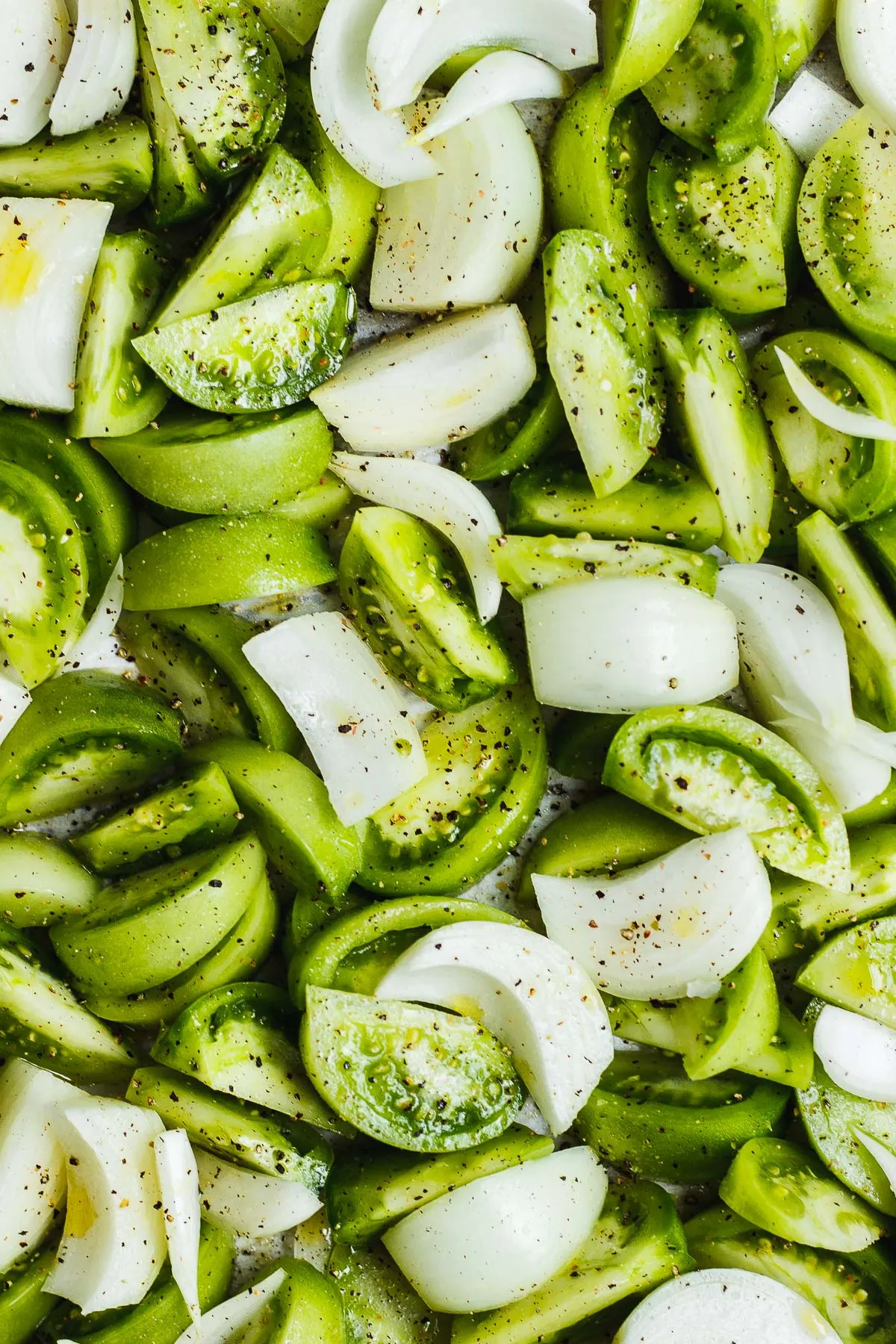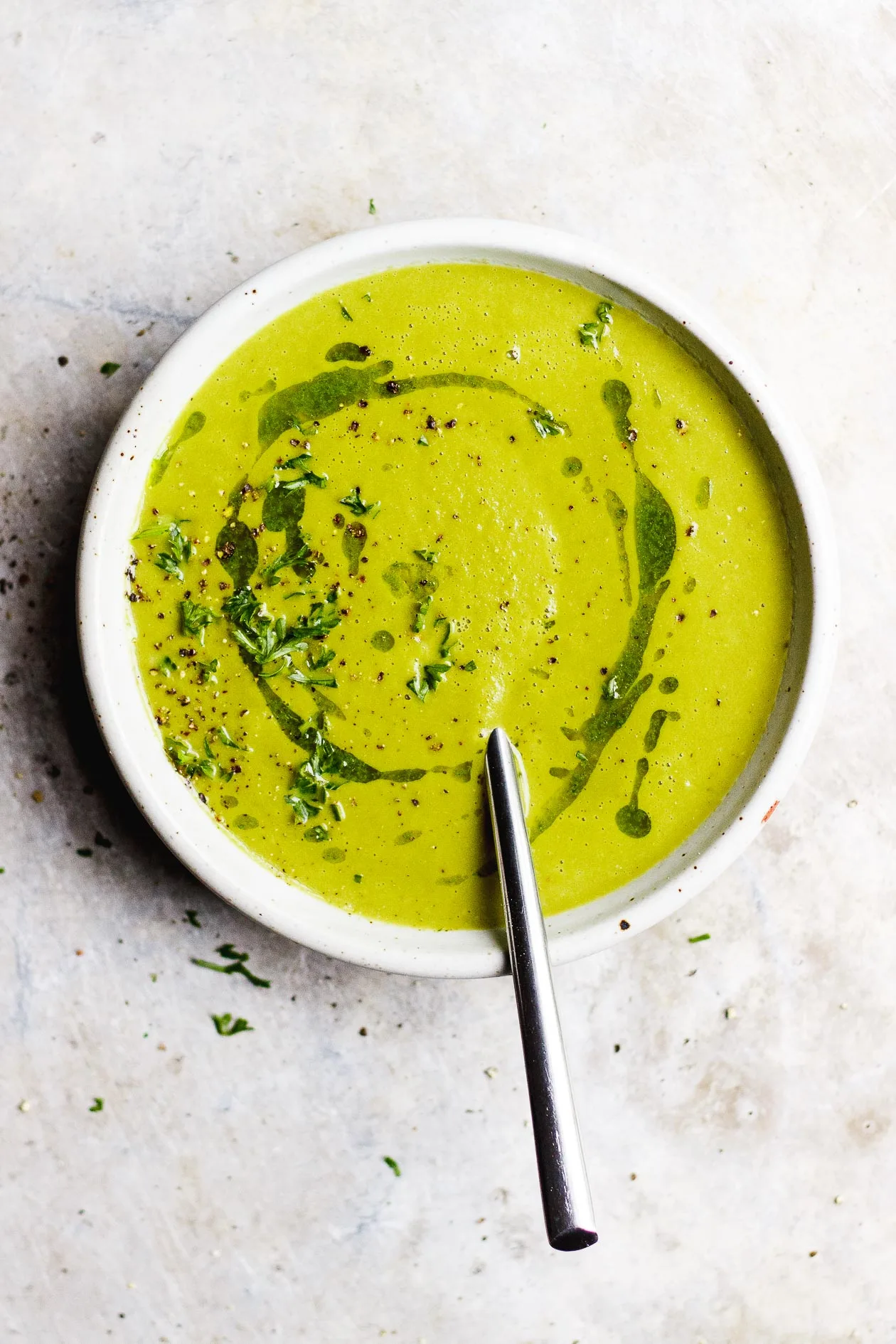 Yield: 6 bowls
Roasted Green Tomato Soup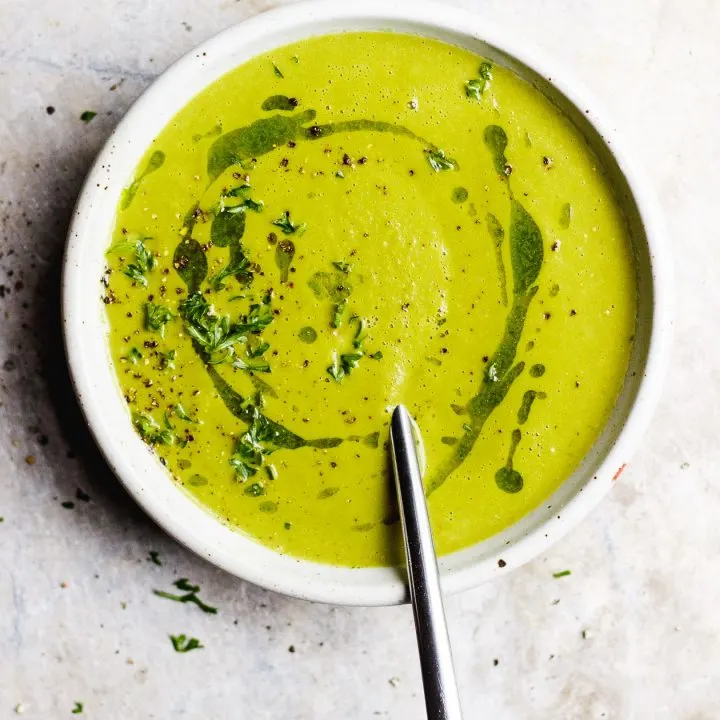 A creamy, roasted green tomato soup with caramelized onions and leafy greens that's naturally vegan, gluten-free and nut-free.
Ingredients
Soup Ingredients
2 pounds green tomatoes, quartered
2 medium onions, quartered
5 cloves garlic
2 tablespoons olive oil
1/2 teaspoon fine sea salt
1/4 teaspoon black pepper
4 cups kale, chopped (see notes)
1 cup broth
Instructions
Preheat the oven to 425 degrees.
Spread the tomatoes out on a sheet pan and nestle in the onions and garlic cloves. Drizzle on the olive oil and season with salt and pepper.
Roast for 15 minutes, and remove from the oven. Flip the tomatoes and roast for another 15 minutes or until browned and caramelized.
Meanwhile, simmer the broth and greens over low heat simmer and covered with a lid for 10 minutes.
When the tomatoes are done roasting combine them in a blender with the broth and greens. Process until smooth. Taste and season with more salt and pepper if desired and set aside.
Serve the soup hot and with a generous drizzle of more olive oil, cracked pepper and/or parsley sauce.
Notes
Baby kale, spinach, baby spinach and collard greens are all good substitutions for kale.