Last week I made you some salty strawberry sauce. It's subtly salty, and just enough sweet. With soft citrusy notes from the pink peppercorns. A sticky, early summer treat to preserve those berries and top all the things with. The sauce comes together in ten minutes and the pan cleans up in seconds, thanks to GreenPan. This week I'm making you a summer polenta recipe. And all you need is one pan and thirty minutes.
GreenPan was born ten years ago, upon discovering the inconvenient and ugly truths of traditional non-stick cookware. Its founders set out to create a non-stick coating made from natural materials and so, ceramic non-stick was born.
The concept spread like wildfire and the pans rapidly became available in ninety countries around the globe. In 2012 GreenPan became the leader in ceramic non-stick cookware and has been leading the pack ever since.
I'm a super big fan of ceramic, and here's why. Firstly, ceramic non-stick is derived from natural materials, like sand. Guaranteeing you that toxins will never end up in your food even at high temperatures. Ceramic non-stick is resistant to high heat and cooks your food more evenly. It will never blister, peel or flake off into your food (because nobody wants that in their bowl of polenta).
How to make this easy summer polenta recipe.
To celebrate GreenPan's Ten Years of Healthy Cooking I've made an easy, creamy, summer polenta topped with sautéed vegetables for you. Which are a combination of fresh sweet corn, sugar snap peas, green onions, tomatoes, tons of fresh basil and a touch of lemon.
First you create an aromatic base of garlic and oil. Then you add in the water and polenta, simmer and stir until creamy. Next add in the butter and cheese for extra richness. And lastly you sauteed the vegetables. You can use whatever vegetables you have on hand. Zucchini, eggplant, green beans and bell peppers would be great additions or substitutions. It's a very flexible recipe in that way.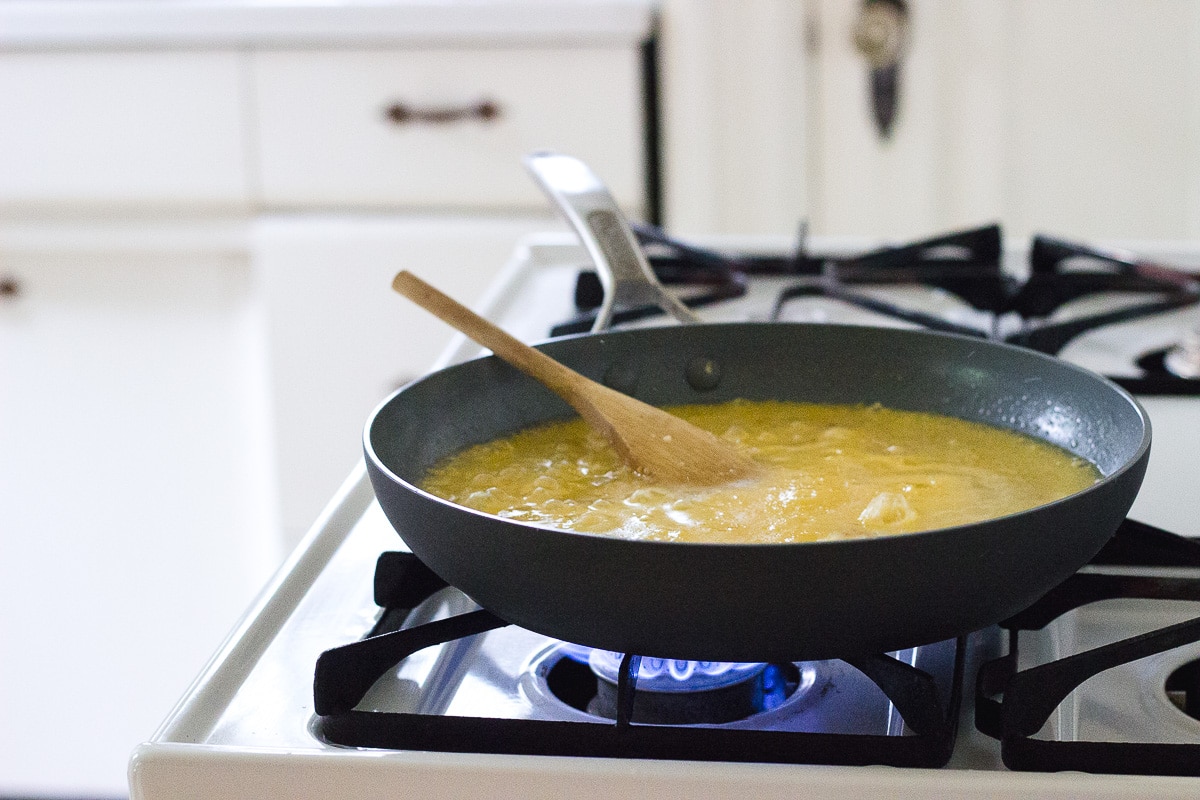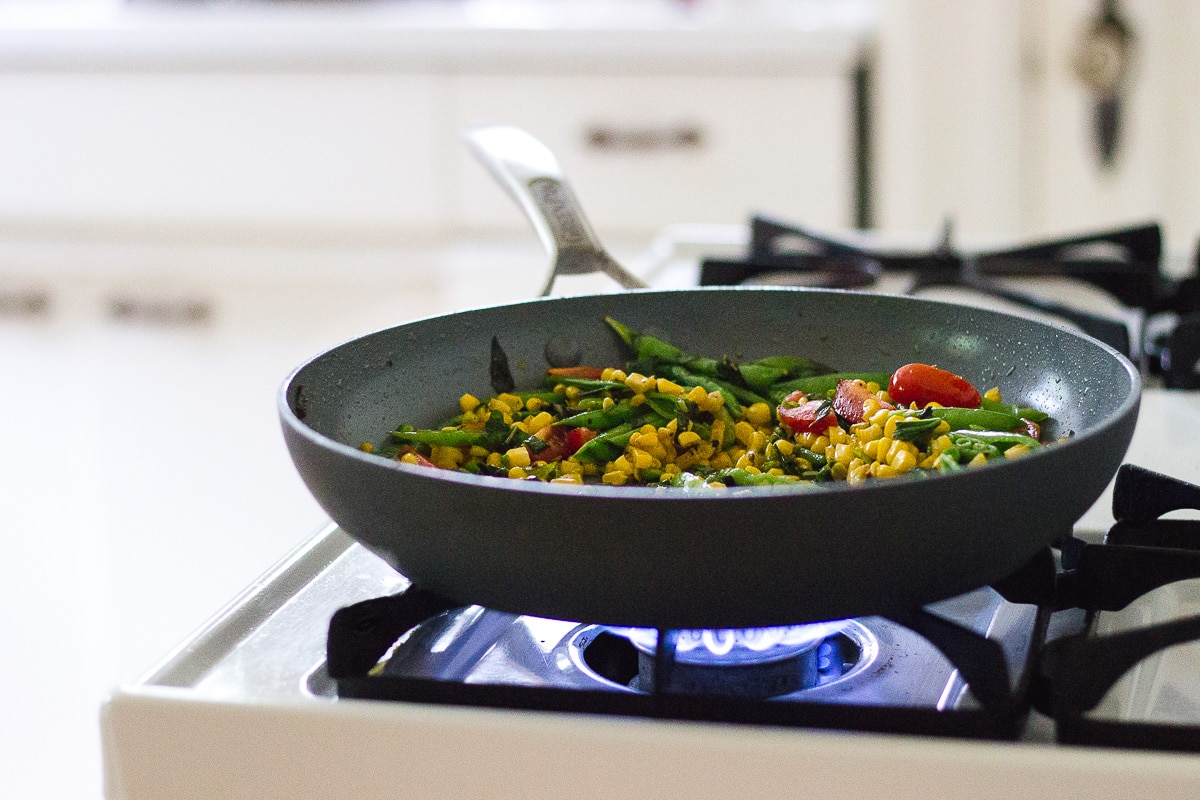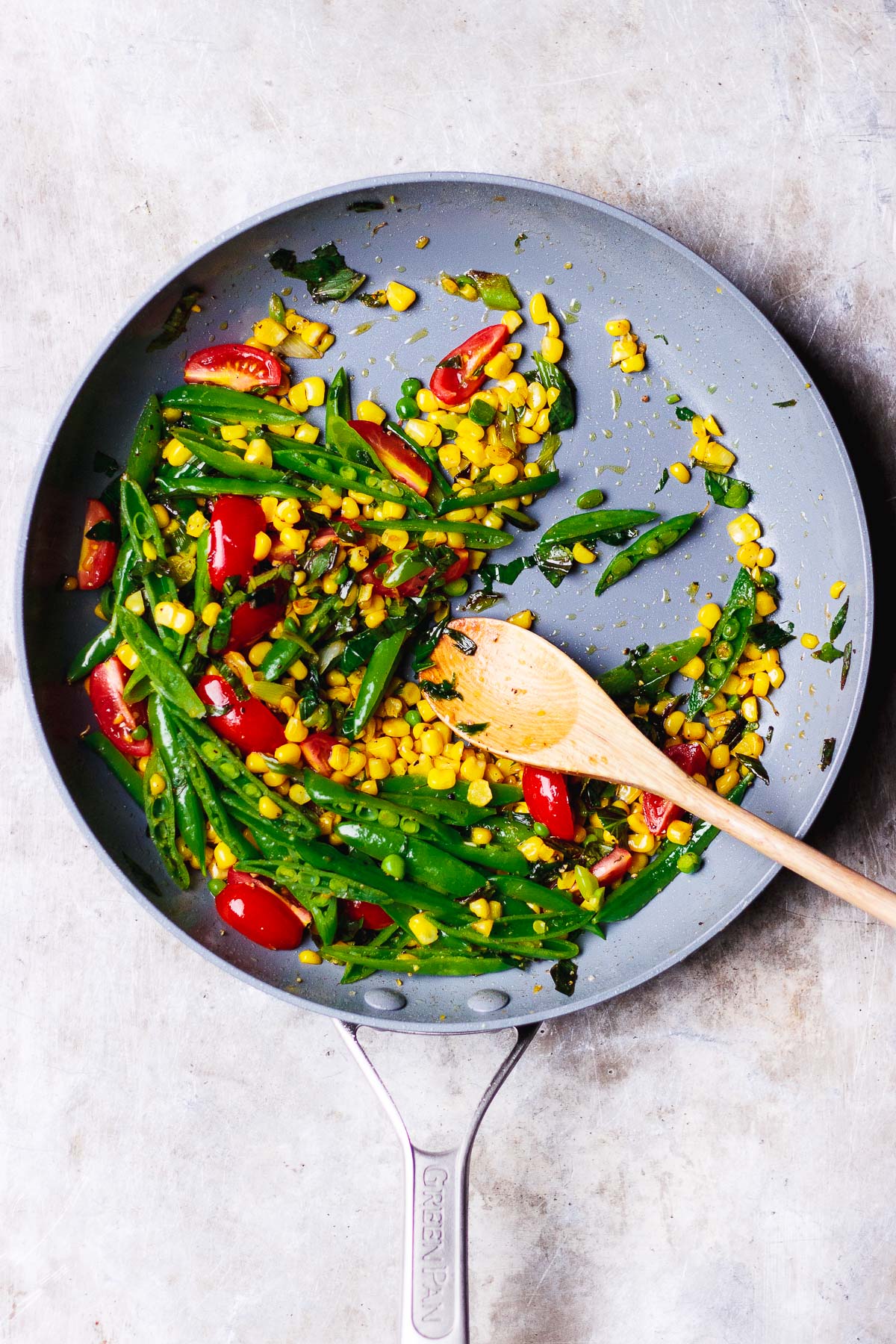 Yield: 4
Summer Polenta with Sautéed Peas and Corn
A creamy, cheesy, simple summer polenta recipe sauteed with fresh sugar snap peas, corn, green onions and tomatoes. A naturally gluten-free meal.

Prep Time 5 minutes

Cook Time 25 minutes

Total Time 30 minutes
Ingredients
Polenta Ingredients
1 teaspoon olive oil
1 clove garlic, minced
4 cups filtered water
1/4 teaspoon fine sea salt
1/4 teaspoon black pepper
1 cup polenta
1 tablespoon unsalted butter 
1/2 cup grated Pecorino Romano (more to garnish)
Sautéed Vegetable Ingredients
3 tablespoons olive oil
1/2 cup fresh corn kernels
1 cup sugar snap peas, halved
1/2 cup green onions, diced small
1/2 cup cherry tomatoes, halved
1/4 teaspoon fine sea salt
1/4 teaspoon black pepper
1/2 cup basil leaves, roughly chopped
​1 teaspoon lemon juice
Instructions
In a large nonstick frying pan heat the olive oil garlic over low-medium heat and sauté for one minute. Add in the water, salt and pepper and bring to a boil.
Then add in the polenta one-third cup at a time, stirring constantly to avoid clumps. Reduce the heat to a simmer and cook uncovered for about 15 minutes while stirring frequently until the water is absorbed and the polenta is soft. Add in more water occasionally if needed.
Remove from the heat and stir in the butter and cheese. Taste and add more salt and pepper if desired. Scoop polenta into a bowl, cover and set aside.
Wipe the nonstick frying pan clean and return it to the stove to sauté the vegetables. Heat the olive oil over medium heat, add in the corn, snap peas, onions, tomatoes, salt and pepper and sauté for 3 minutes or until vegetables are cooked al dente.
Lastly add in the basil leaves and lemon juice and stir to combine. Remove the vegetables from the heat.
Divide polenta into four bowls, top with the sauteed vegetables and more cheese if desired, and serve warm.
Recommended Products
As an Amazon Associate and member of other affiliate programs, I may earn a small percentage from qualifying purchases.
---
This post is sponsored by GreenPan; all opinions are my own.