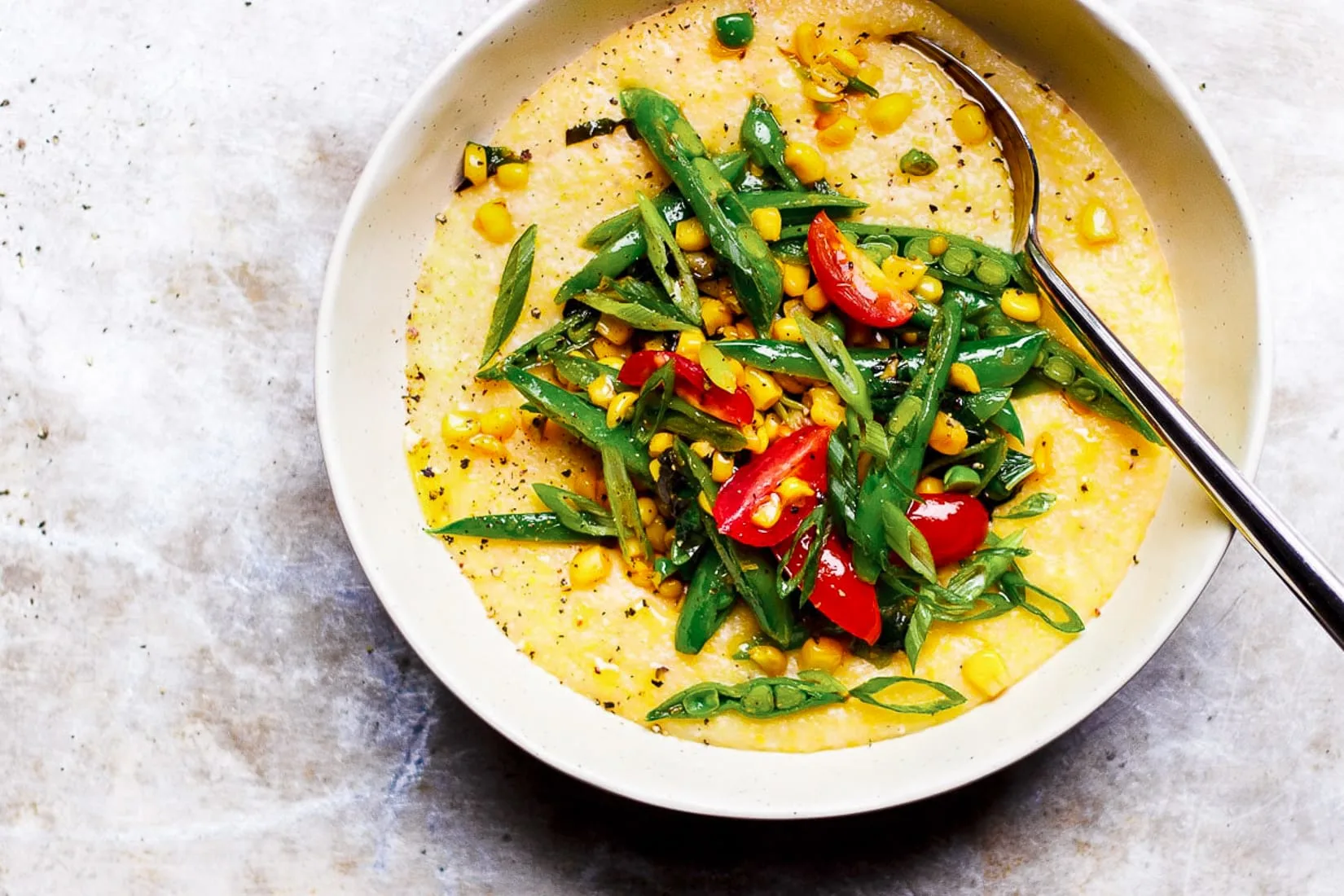 Last week I made you a salty strawberry sauce recipe. It's subtly salty, with soft citrusy notes from the pink peppercorns, and just sweet enough. A sticky, early summer treat to preserve those berries and top all the things with. This week I'm making you a summer polenta recipe. And all you need is one nonstick pan and thirty minutes.
You can make polenta in whatever kind of pan you prefer, but I like to cook polenta in nonstick pans because it makes life better. When you live with a chronic illness, you discover ways to make life simpler and less stressful—not necessarily out of desire, but out of necessity. Since nonstick pans are lighter than heavy bottomed stainless steel pans, and less challenging to clean they make cooking when you aren't feeling your best easier.
My nonstick pan of choice is, GreenPan. After discovering the inconvenient and ugly truths of traditional nonstick cookware, I knew I couldn't continue to use it. What I love about GreenPan is that it uses ceramic as its nonstick material. Ceramic is non-stick and resistant to high heat, so it cooks your food more evenly. And, it will never blister, peel or flake off into your food (because nobody wants that in their bowl of polenta).
Let's make this summer polenta recipe.
If you've never made polenta before, you should know it's very easy. This creamy, summer polenta topped with sautéed farmers market vegetables is full of flavor and comes together in under thirty minutes. You can use whatever vegetables you have on hand, but I prefer the combination of fresh sweet corn, sugar snap peas, green onions, cherry tomatoes, tons of fresh basil and a touch of lemon.
First, you'll create an aromatic base of garlic and oil. Then you'll boil the water and slowly stir in the polenta. You'll finish the polenta with a touch of butter and cheese. And lastly, you'll sauté the vegetables. Zucchini, eggplant, green beans and bell peppers would be great additions or substitutions. This summer polenta recipe in super flexible and forgiving in that way.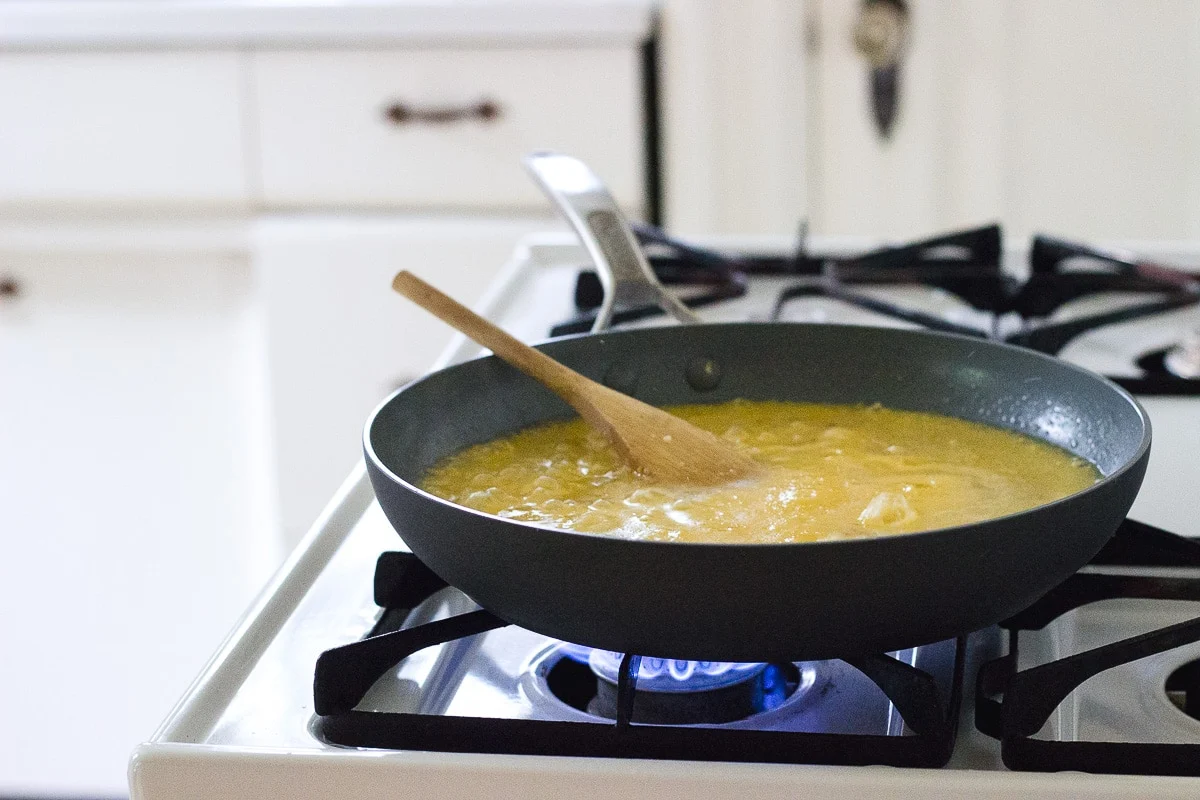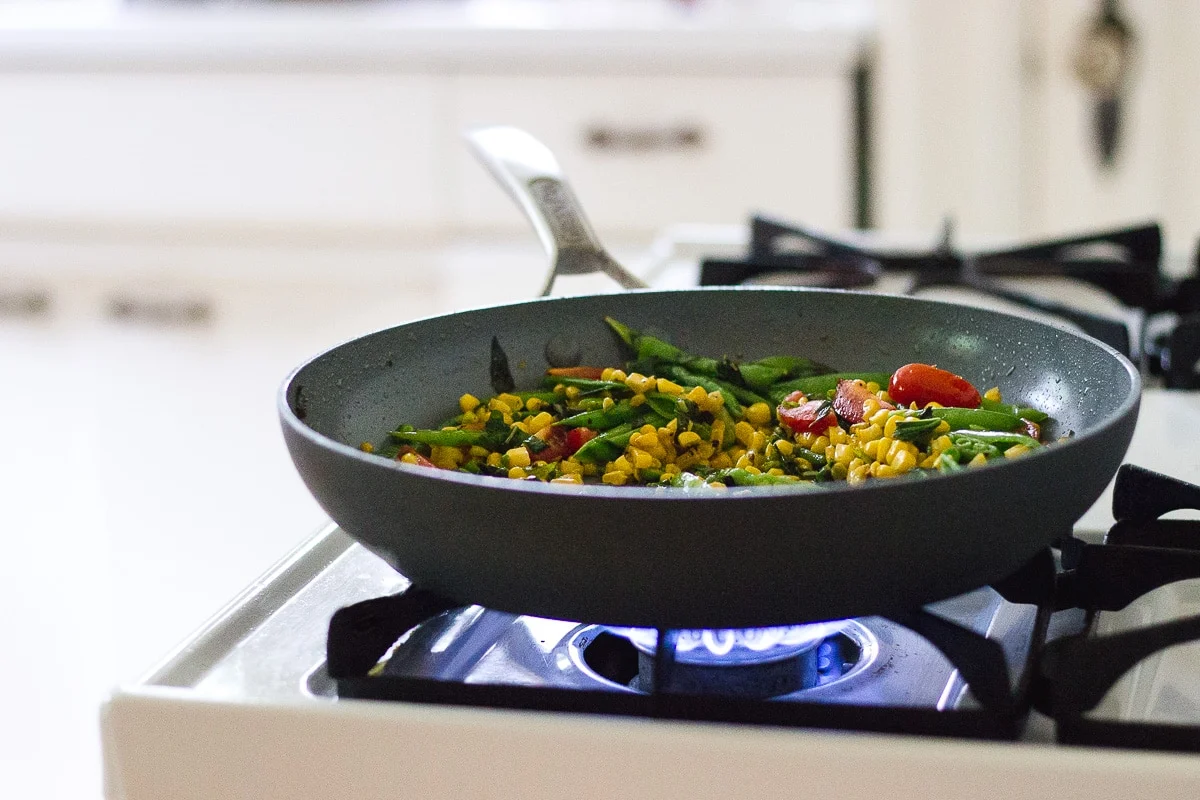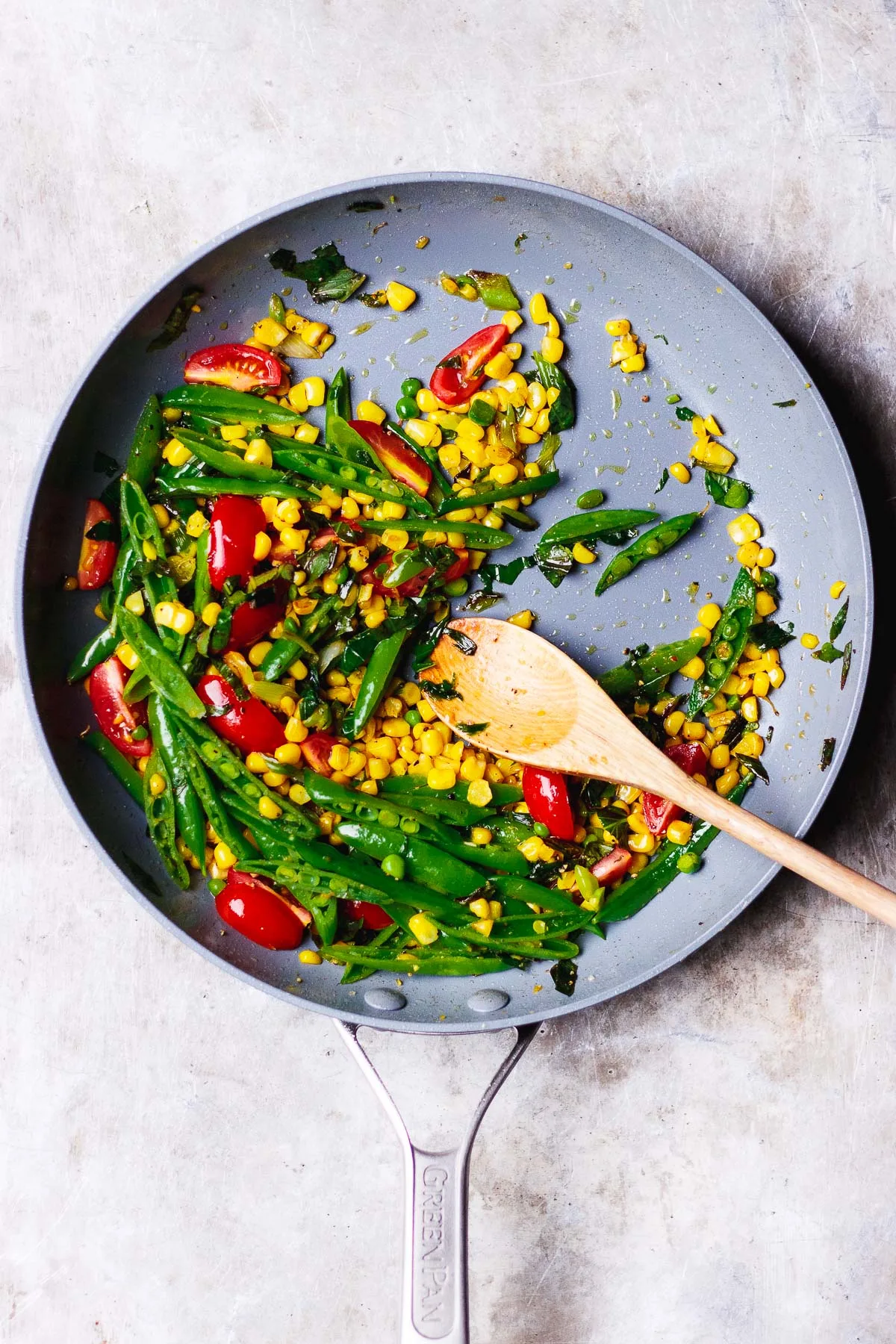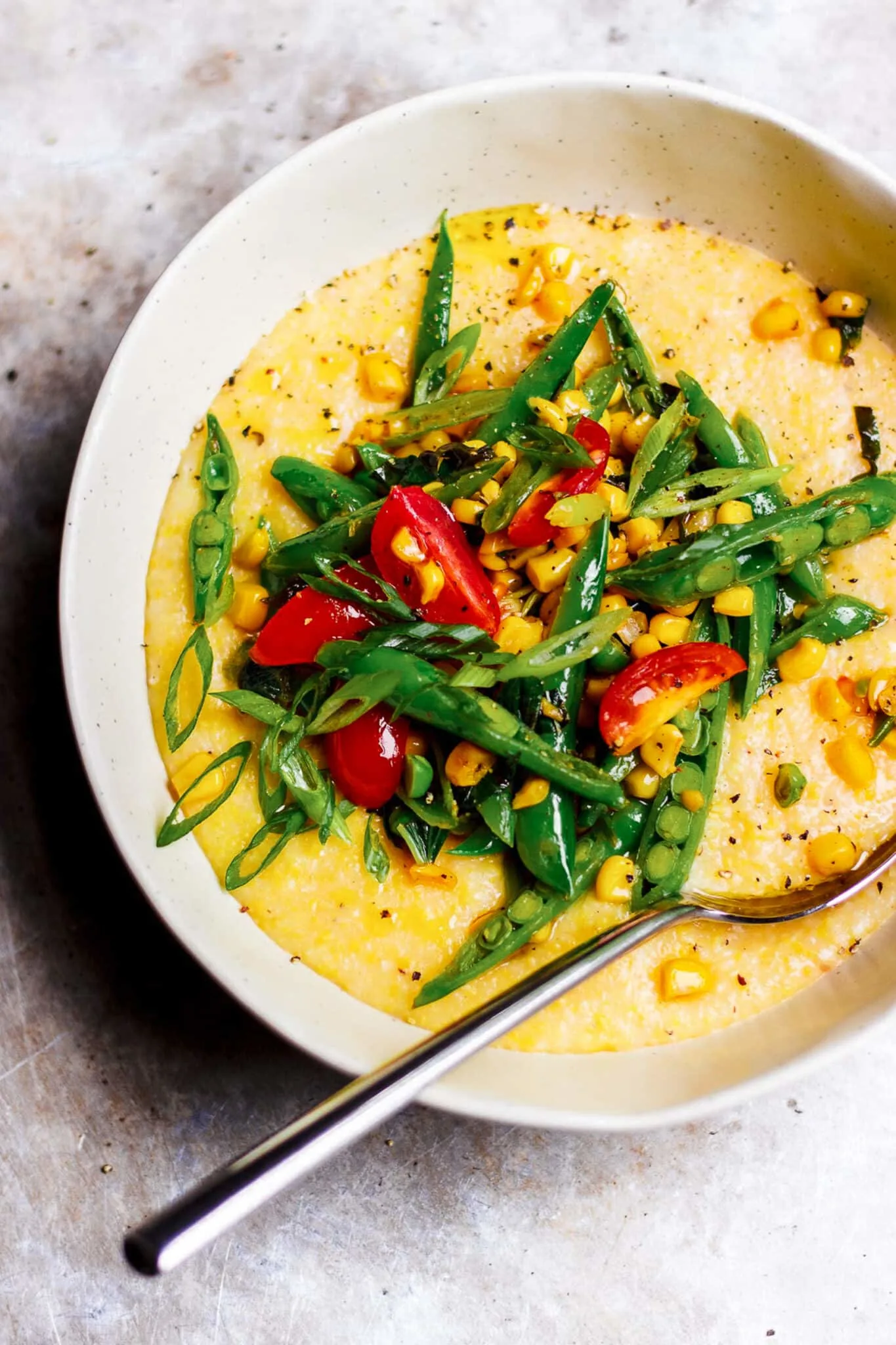 Yield: 4
Summer Polenta with Sautéed Farmers Market Vegetables
A simple summer polenta recipe sautéed with fresh sweet corn, sugar snap peas, green onions and cherry tomatoes.
Ingredients
Polenta
1 tablespoon olive oil
1 clove garlic, minced
4 cups water
¼ teaspoon fine sea salt
¼ teaspoon black pepper
1 cup polenta
1 tablespoon unsalted butter
½ cup grated Pecorino Romano (more to garnish)
Sautéed Vegetables
3 tablespoons olive oil
1 cup raw corn kernels
1 cup sugar snap peas, halved
½ cup green onions, diced small
1 cup cherry tomatoes, halved
¼ teaspoon fine sea salt
¼ teaspoon black pepper
½ cup basil leaves
2 teaspoons lemon juice
Instructions
Heat a large nonstick sauté pan over medium-high heat. Add in the olive oil and garlic, and sauté for 1 minute. Then add in the water, salt and pepper, and bring to a rapid boil.
Add in the polenta, ½ cup at a time, stirring constantly with a silicone whisk (or wooden spoon) to avoid clumps.
Reduce the heat to low and simmer uncovered for about 10-12 minutes while stirring frequently. The polenta will be done when the water is absorbed, and the polenta is soft—like a creamy porridge consistency. If the polenta is too firm, add in more water and stir until smooth. If it needs more cooking time, keep cooking until your desired texture.
Remove the pan from the heat and stir in the butter and cheese. Taste and then add more salt and pepper if desired. Scoop the polenta into a serving bowl, cover and set aside.
Wipe the nonstick pan clean and place it over medium-high heat. Add in the olive oil, corn, snap peas, onions, tomatoes, salt and pepper, and sauté for 5 minutes. Or until vegetables are carmelized and cooked slightly al dente. Then pour in the lemon juice and stir.
Remove the pan from the heat. Tear the basil into small-medium pieces and add them to the pan. Stir until they are incorporated with the vegetables.
Top the polenta with the sautéed vegetables, add more cheese if desired, and serve.
Notes
Polenta will thicken as it cools, and this dish is best served directly after cooking. If you want to eat this polenta as leftovers—you can reheat with more water and stir until creamy.
Recommended Products
As an Amazon Associate and member of other affiliate programs, I may earn a small percentage from qualifying purchases.