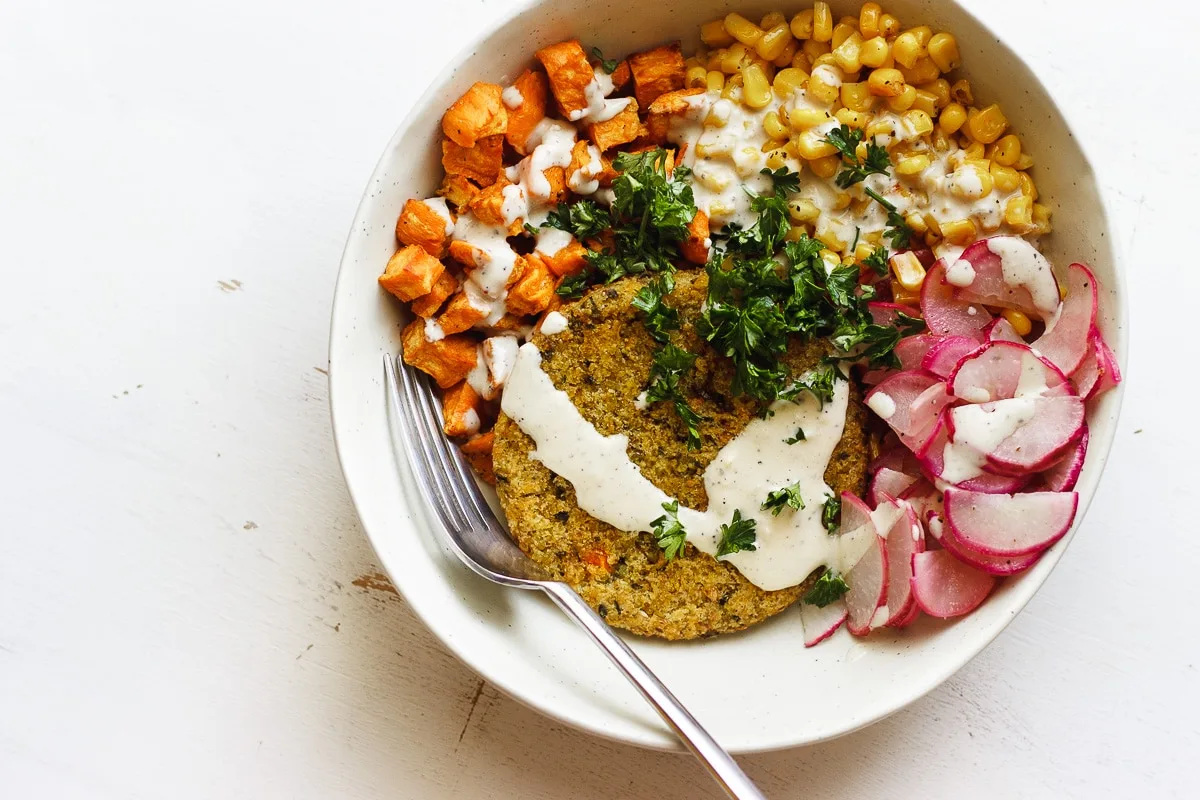 Although it's technically fall, the weather feels like it's the middle of the summer here in Texas. The temperature hasn't dropped at all, and our days are soaring near into the hundreds. It's October and the air is hot and heavy, and borderline miserable. I am so ready for that crisp autumn air to arrive. My heart and soul are craving cozy foods, but my body still needs easy and summery meals. And this burger bowl satisfies it all.
This hearty yet super fresh veggie burger bowl recipe is made on one sheet pan and requires little to no prep or cleanup at all. Besides a few minutes spent on peeling, dicing and slicing, all of the magic happens in the oven. And the tahini sauce is whisked together in a bowl so there's no blender or food processor to take care of afterwards either.
Hilary's, my favorite store bought veggie burger company powers this plant-based burger bowl. I love Hilary's for so many reasons. But besides their super high quality, delicious products, Hilary's is a certified B Corporation. Which means they focus on business practices that create beneficial social and environmental impact. And their plant-based foods are rich in whole ingredients, non-GMO and always free of the top twelve allergens.
I love all of the Hilary's veggie burger flavors, but more often than not I choose the World's Best Veggie Burger their original and best-selling organic burger. It's basic but not boring, and super versatile. It's gluten, dairy, soy, corn, egg, coconut and nut free, making them a great option for almost everyone. And, I also really like Hilary's spicy veggie sausage.
How to make a sheet pan veggie burger bowl.
First, you peel and dice the sweet potatoes. And line a sheet pan with parchment paper to keep the ingredients from sticking while roasting. Next roast the sweet potatoes alongside the veggie burgers. Then add in the corn and radishes. And while the pan finishes cooking, whisk together the garlic tahini sauce
Second, you eat and enjoy. It's a balanced, super easy meal that's ready in about thirty minutes. This recipe can be made with any Hilary's veggie burger flavors. But feel free to experiment using your own homemade veggie burgers too. I usually do not make my own veggie burgers, but when I do I make these which would be soft and delicious in a burger bowl.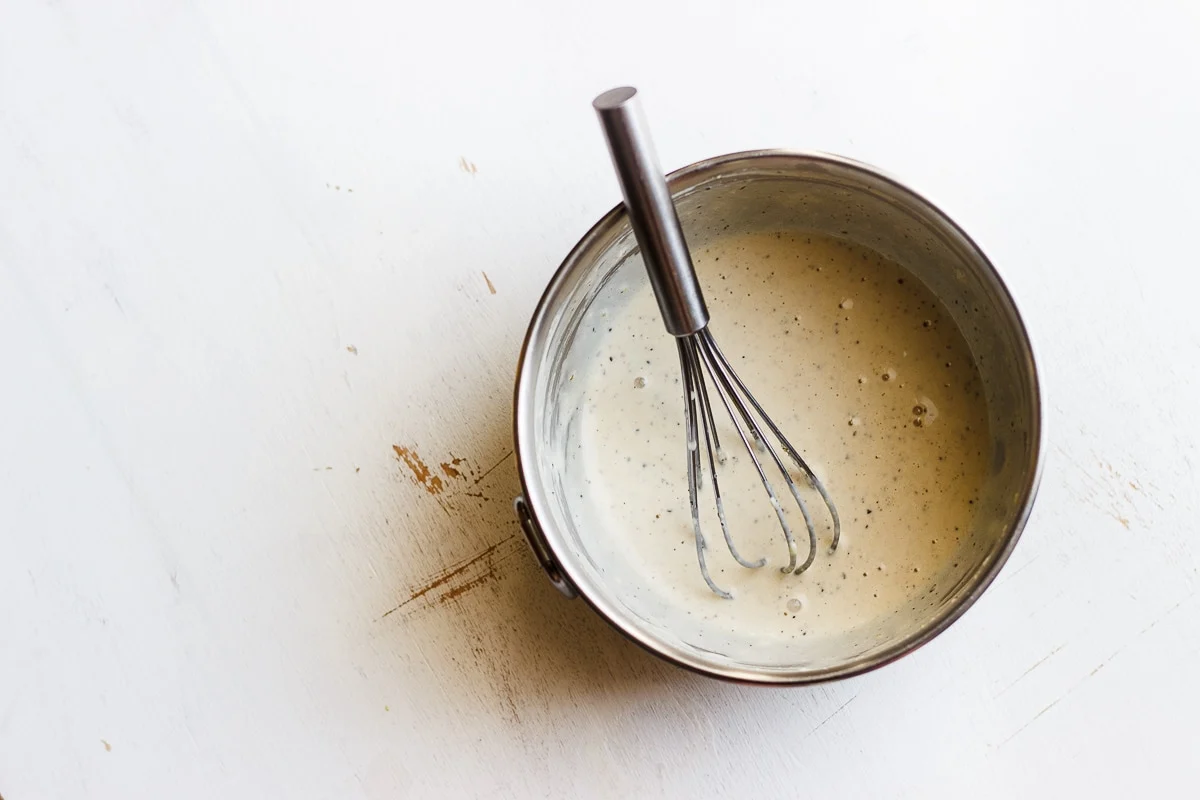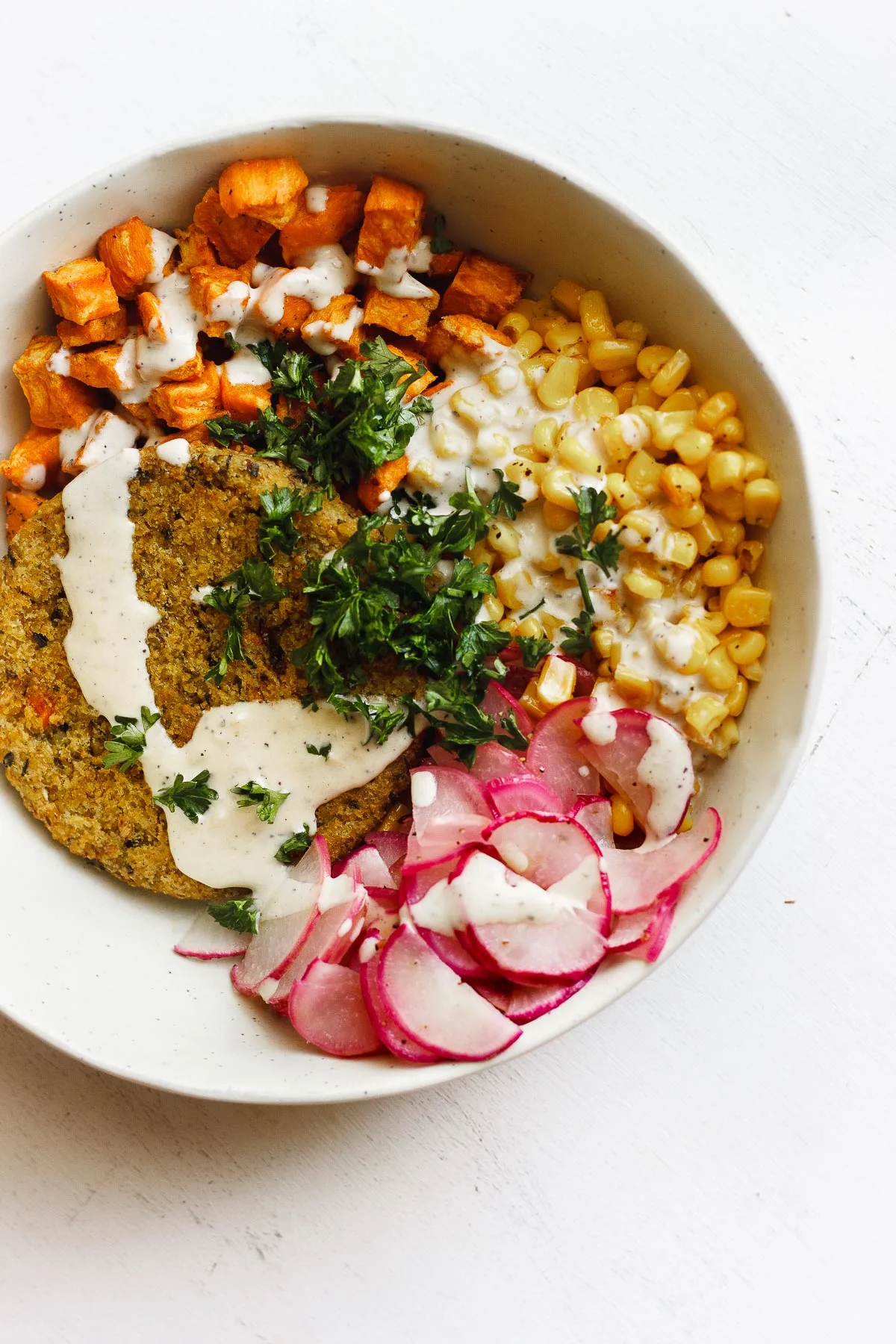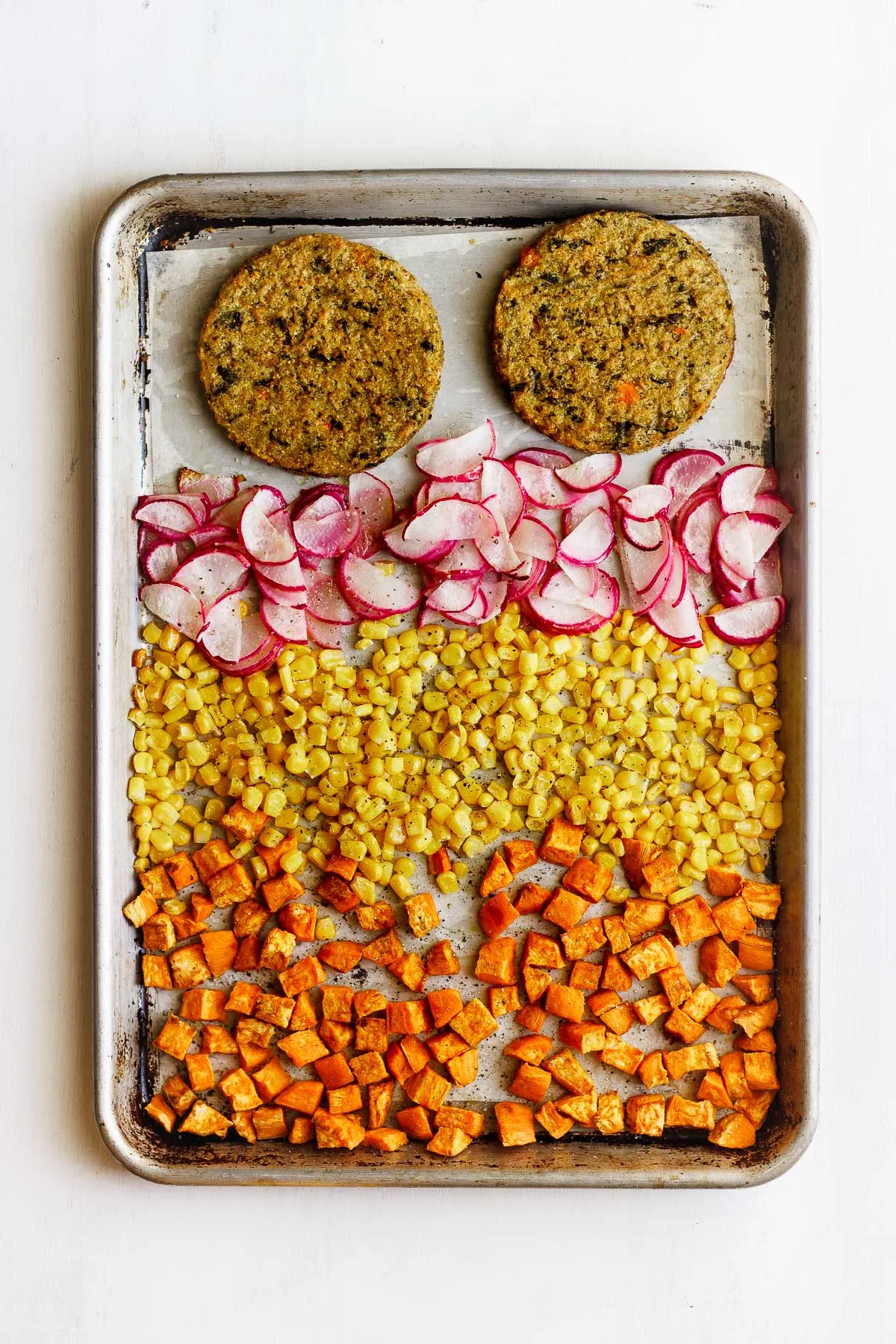 Yield: 2 bowls
Sheet Pan Veggie Burger Bowl with Tahini Sauce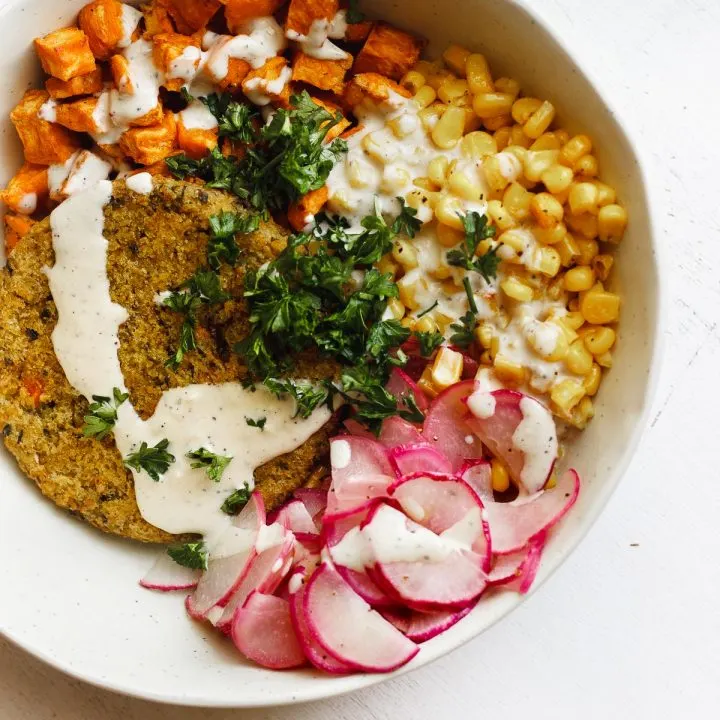 A sheet pan veggie burger bowl loaded with vegetables, and topped with a garlicky tahini sauce. A vegan, gluten-free, nut-free vegetarian sheet pan meal.
Ingredients
Bowl Ingredients
1 cup radishes
2 medium sweet potatoes
2 tablespoon olive oil, divided
1 box Hilary's World's Best Veggie Burgers
1 cup corn (frozen or fresh)
1/4 teaspoon fine sea salt
1/4 teaspoon black pepper
2 tablespoons fresh parsley, minced
Sauce Ingredients
3 tablespoons tahini
1 garlic clove, grated
1 tablespoon apple cider vinegar
3 tablespoons unsweetened almond milk
1/2 teaspoon fine sea salt
1/2 teaspoon black pepper
Instructions
Preheat the oven to 450 degrees and line a sheet pan with parchment paper.
Slice the radishes very thinly, cut into halfmoons and set aside.
Peel the sweet potatoes, and dice them into 1/4-inch pieces.
Toss the sweet potatoes in 1 tablespoon olive oil and spread them evenly onto the sheet pan. Make room for the frozen Hilary's veggie burgers on the sheet pan and roast for 15 minutes.
Remove the pan from the oven, flip the veggies burgers over and push them to one side. Flip the sweet potatoes over and push them to one side.
Add the corn and radishes to the tray, drizzle the remaining 1 tablespoon olive oil on top, return the pan to the oven and roast for 15 minutes. Then remove the pan from the oven and give all of the vegetables a sprinkle of salt and pepper.
While the veggie burgers and vegetables are roasting make the tahini sauce by combining the tahini, garlic, apple cider vinegar, almond milk, salt and pepper to a small bowl. Whisk together until smooth and creamy and set aside.
Plate the burger in a bowl with the vegetables, parsley and tahini sauce drizzled on top.
Recommended Products
As an Amazon Associate and member of other affiliate programs, I may earn a small percentage from qualifying purchases.