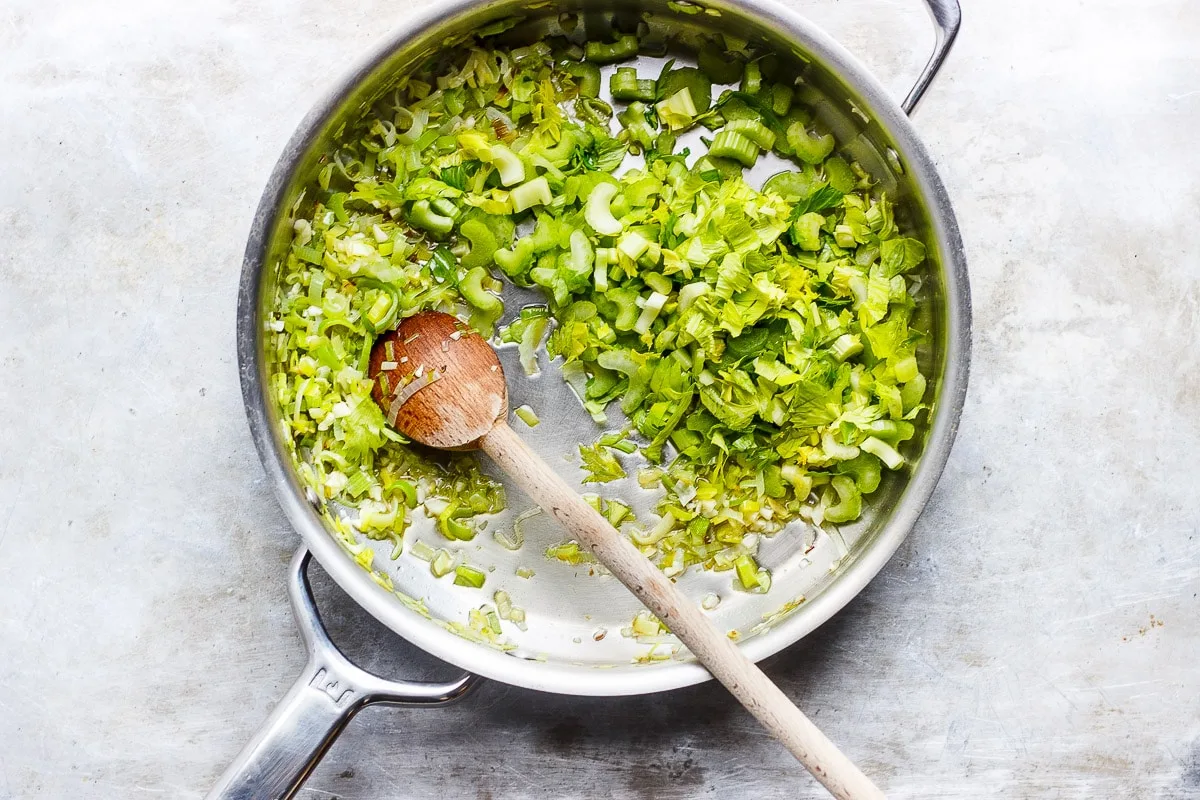 This naturally gluten-free and vegetarian sage stuffing is my absolute favorite dish on the Thanksgiving table. Like without a doubt, it is hands down, my favorite. I could leave everything else behind.
The squash, the salad, the mashed potatoes – everything. I could eat only this and be very happy. In fact, I need to remind myself that this sage stuffing recipe should be made more often, and not just once a year.
The holidays are a funny time of year. They are an intense mix of joy, love and gratitude spent with people you cherish. With a side of emotional overwhelm, chaos and stress. Every year we vow to be more chill. But it's practically unavoidable. And given our current state of affairs, this particular holiday season might be even harder than usual.
My family is moderately conservative. And, I'm very liberal. So my game plan this year is to keep things fairly simple. Keep the peace and eat as much of this sage stuffing as possible. Because carbs are delicious. And because – did you know that carbs make you scientifically more happy and relaxed? Really, it's a fact.
How to make this sage stuffing.
This is my favorite stuffing recipe to make for a lot of reasons, but mainly because it's loaded with that classic Thanksgiving flavor as well as hearty nutrients. It's never soggy or dry. And it is perfectly balanced with a rich, herby, golden crusty top.
I've been making this sage stuffing for years. It is completely tried and true. It's the epitome of comfort and all things Thanksgiving. The first step is to prepare the bread by lightly toasting it. And then you sauté the vegetables, whisk the egg, layer the ingredients together and bake. If you're looking for more holiday inspiration, here's a list of my favorite gluten-free vegetarian thanksgiving recipes.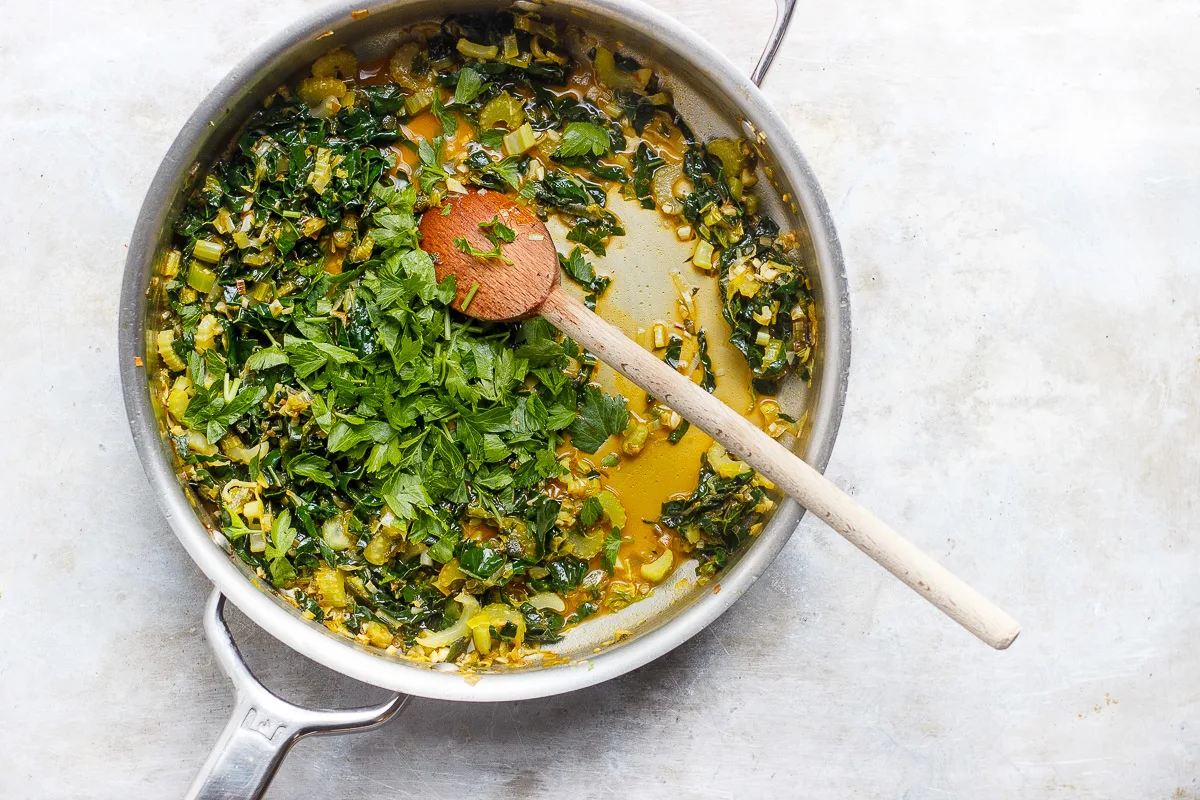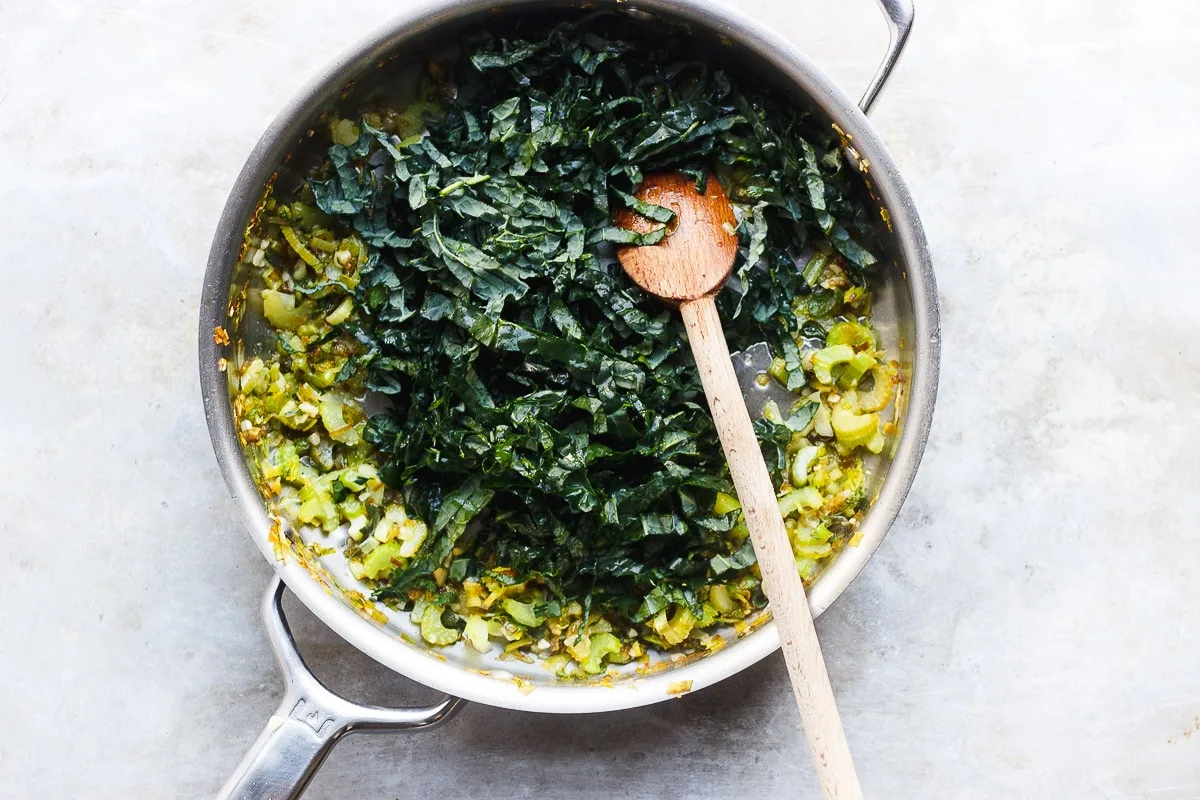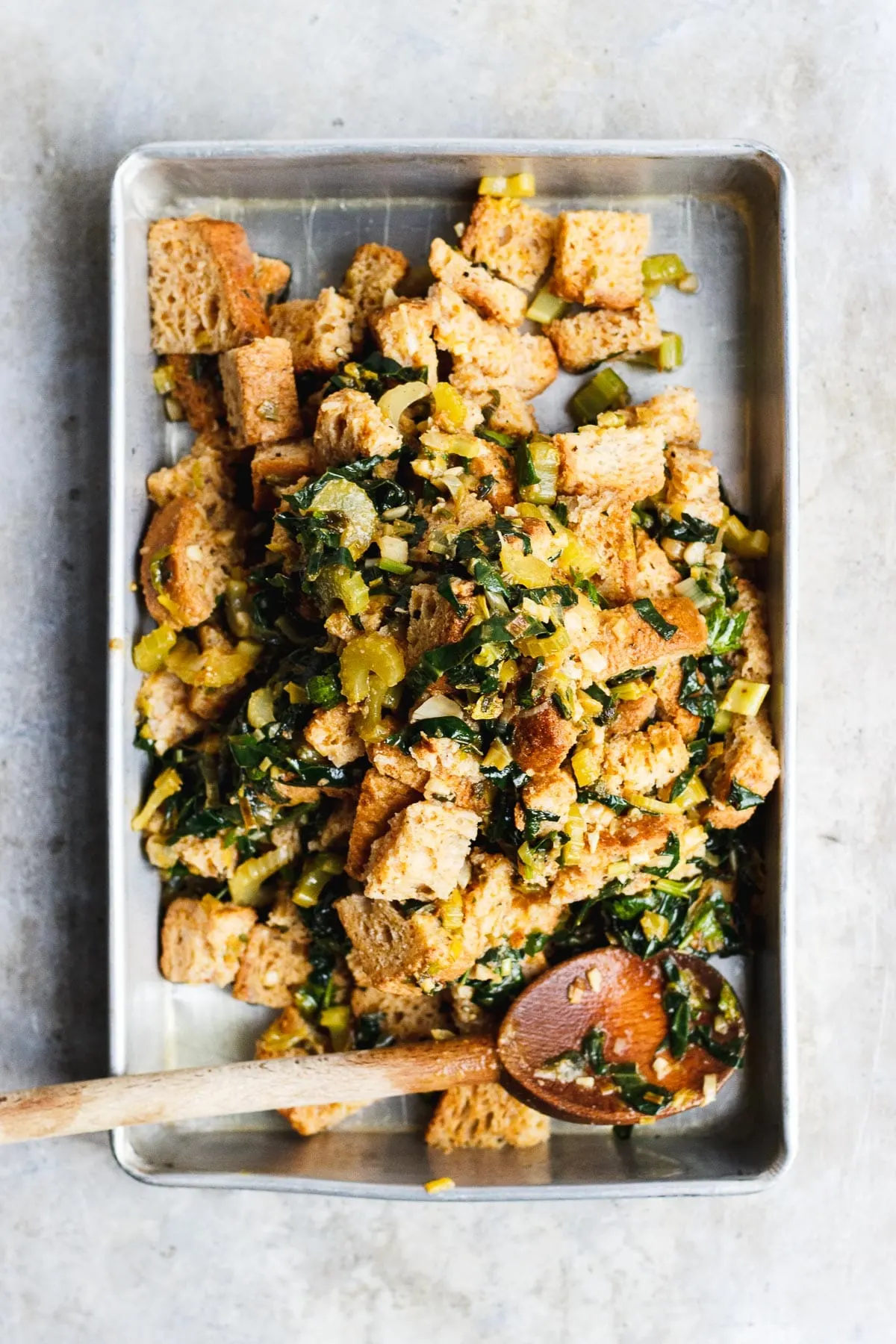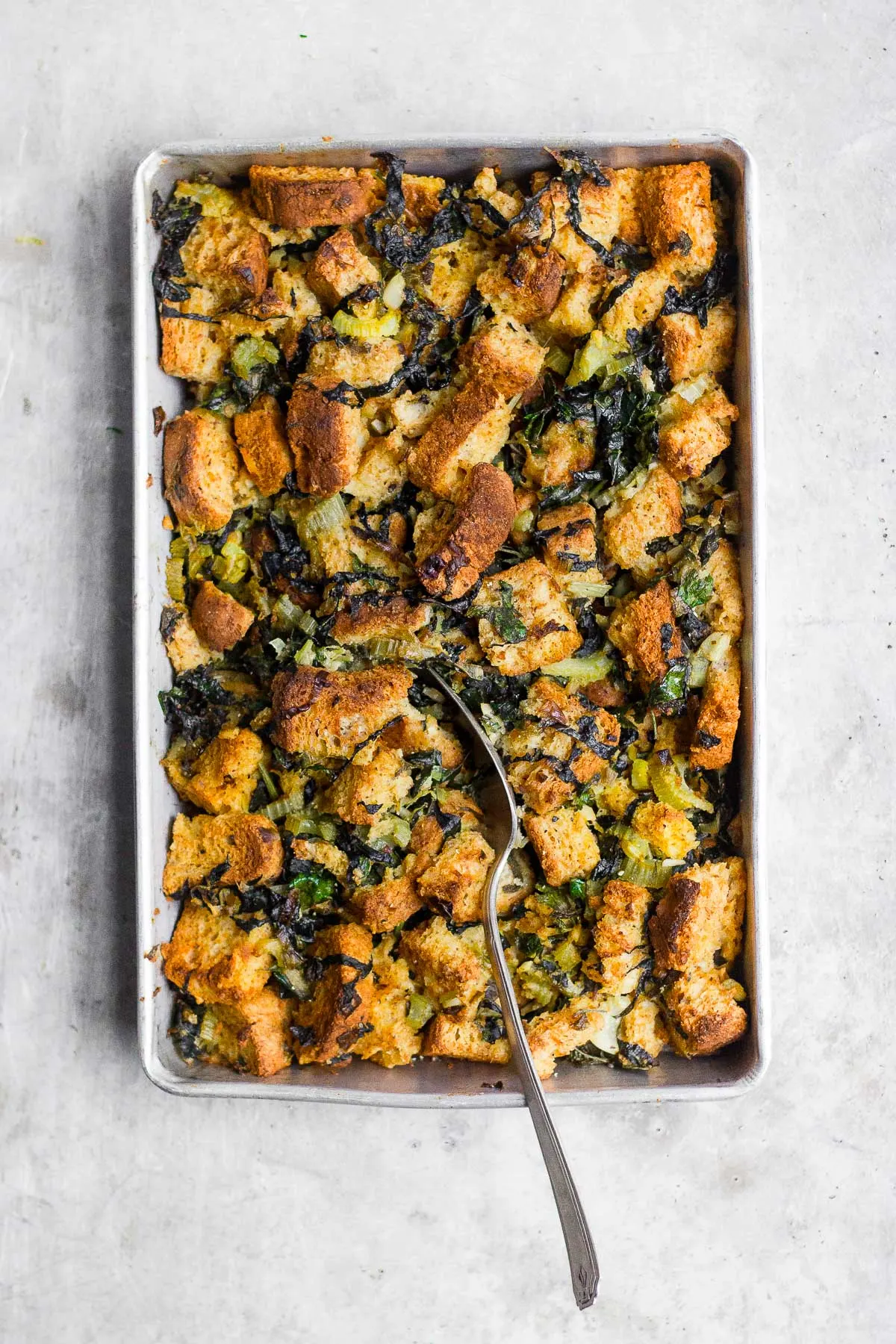 Yield: 6 servings
Sage Stuffing with Kale and Celery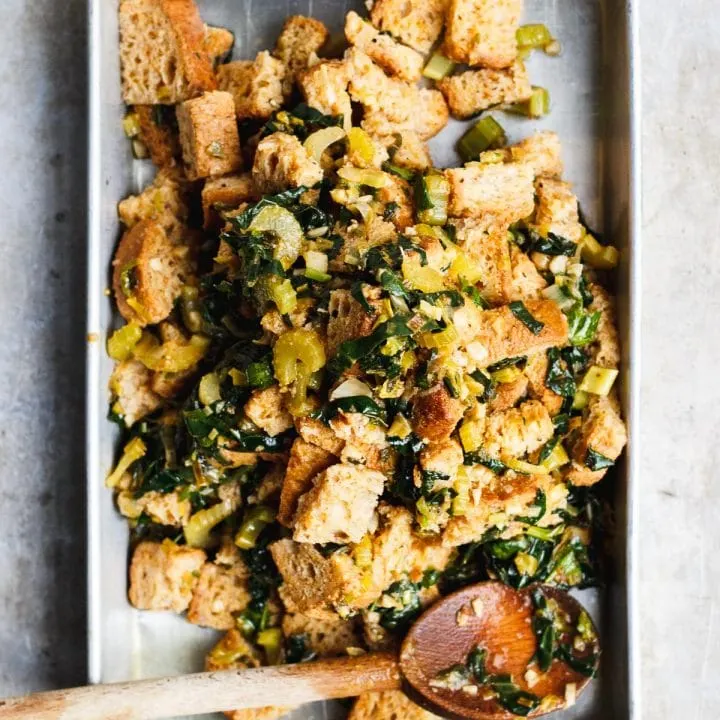 Traditional sage stuffing made with lots of hearty kale and celery. All the classic stuffing flavors but with a little more nourishment.
Ingredients
10 cups bread (see notes)
1/4 cup butter (or plant-based spread)
1 cup leeks, thinly sliced
5 cloves garlic, minced
1 cup celery, diced small
1/4 cup fresh sage, chopped
1 1/2 cups low-sodium vegetable broth
2 cups kale, finely shredded
1/4 cup fresh parsley, chopped
1/2 teaspoon fine sea salt
1/2 teaspoon black pepper
1 egg
Instructions
Preheat the oven to 375 degrees.
Cube or tear your bread into bite-sized pieces and spread it onto a sheet pan. Toast in the oven until lightly golden brown on both sides. Remove from the oven and set aside.
Heat a large sauté pan over medium heat. Add in the butter, leeks and garlic and sauté for 3 minutes. Then add in the celery and cook for 5 minutes.
Turn the heat up to medium-high and add in the sage, 1 cup of the broth and kale. Bring to a simmer and cook for 3 minutes. Then add in the kale, parsley, salt and pepper and stir. And then set aside.
In a large bowl whisk the egg with the remaining broth. Then add in the toasted bread pieces, and with your hands toss to coat well.
Add the kale mixture to the bowl and mix to combine the stuffing ingredients altogether.
Pour the stuffing into a baking pan (approximately 8 x 10) and bake uncovered for 20 to 25 minutes, or until crispy and golden brown on the top.
Notes
I use gluten-free bread in this recipe, but feel free to use whatever kind of bread you prefer.