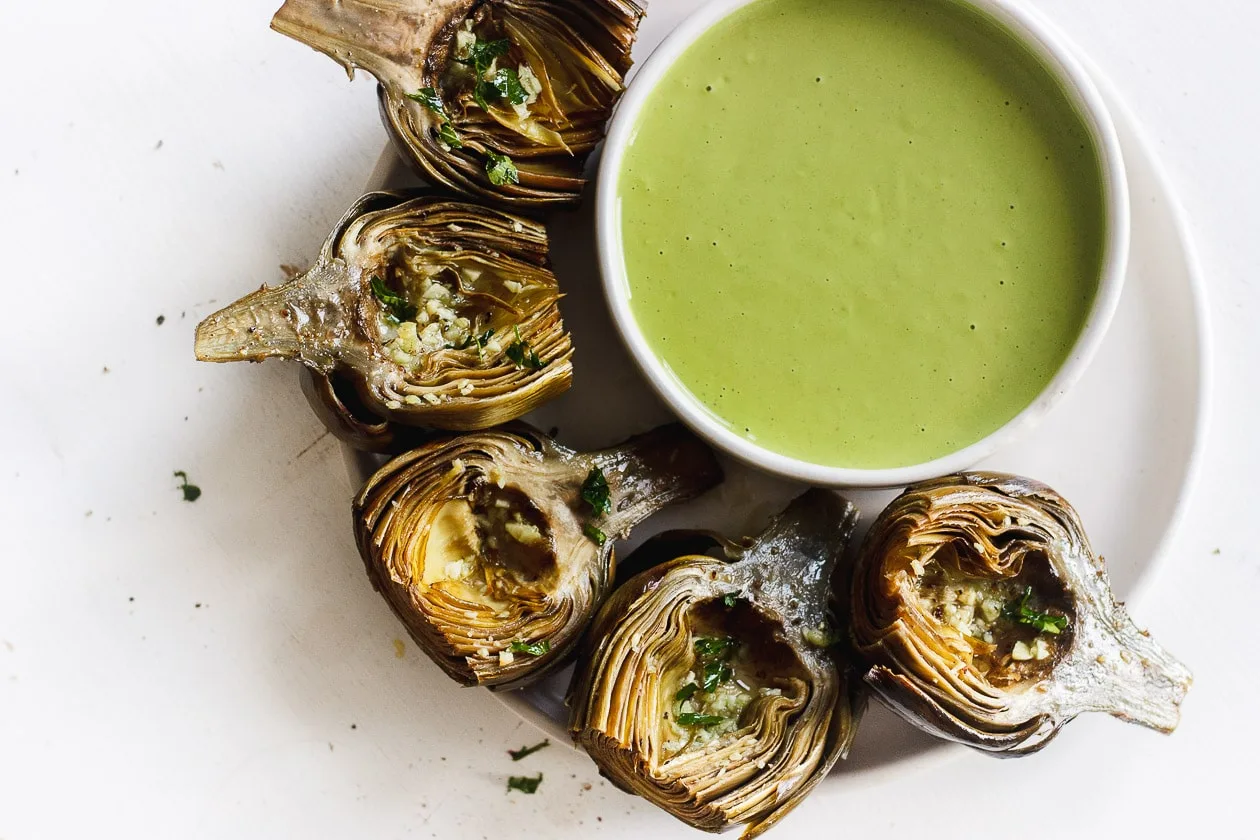 Artichokes were of the first things I learned how to cook. By age ten I knew how to dress a salad, make a pot of sauce and stuff artichokes. All of the things a good Italian girl should know how to make. I realize though, artichokes can be a fairly intimidating vegetable to prepare. But when you break it down it is a lot easier than you might assume. Steamed artichokes are practically foolproof, but also so are stuffed artichokes, braised artichokes and these roasted artichokes with green goddess sauce.
The first step in making artichokes is cleaning them. Artichokes are fairly filthy vegetables so this step cannot be ignored. Organic artichokes are both hard to come by and expensive. So pesticides are their number one enemy. They also trap a lot of dirt, debris and insects in-between their leaves. I like to wash my artichokes in a two part cleaning process.
Step one is spraying them down. I like to use Arm & Hammer Fruit & Vegetable Wash. As a woman fighting chronic illness, I want to do my best to reduce the toxins and inflammation in my life. And I trust that Arm & Hammer Fruit & Vegetable Wash is helping me to do this safely. As it eliminates wax, soil and over ninety percent of pesticide residue with the cleaning power of pure and simple ingredients like baking soda, salt, lemon oil and plant-derived cleaning agents.
Step two is giving them a bath. After I sprayed the artichokes and massaged the fruit and vegetable wash into their flesh I filled the bowl with water and let them soak for ten minutes. This process loosens any trapped particles while plumps them up with moisture.Which is great for roasted artichokes since they tend to dry out some in the oven.
Roasted artichokes are very easy to make.
Start with a freshly cleaned artichoke as described above. Then trim the stem and leaves and halve it lengthwise. Next pull out the inner petals and the center choke that live just above the artichoke's heart line. This is a great diagram for understanding the anatomy of an artichoke.
Once you have cleaned the artichoke and cut and prepared it, the oven does all the work for you. These roasted artichokes are slathered in olive oil, garlic and then dipped in a luscious green goddess sauce. An entirely vegan, gluten-free vegetable side to add to your recipe repertoire and impress your guests.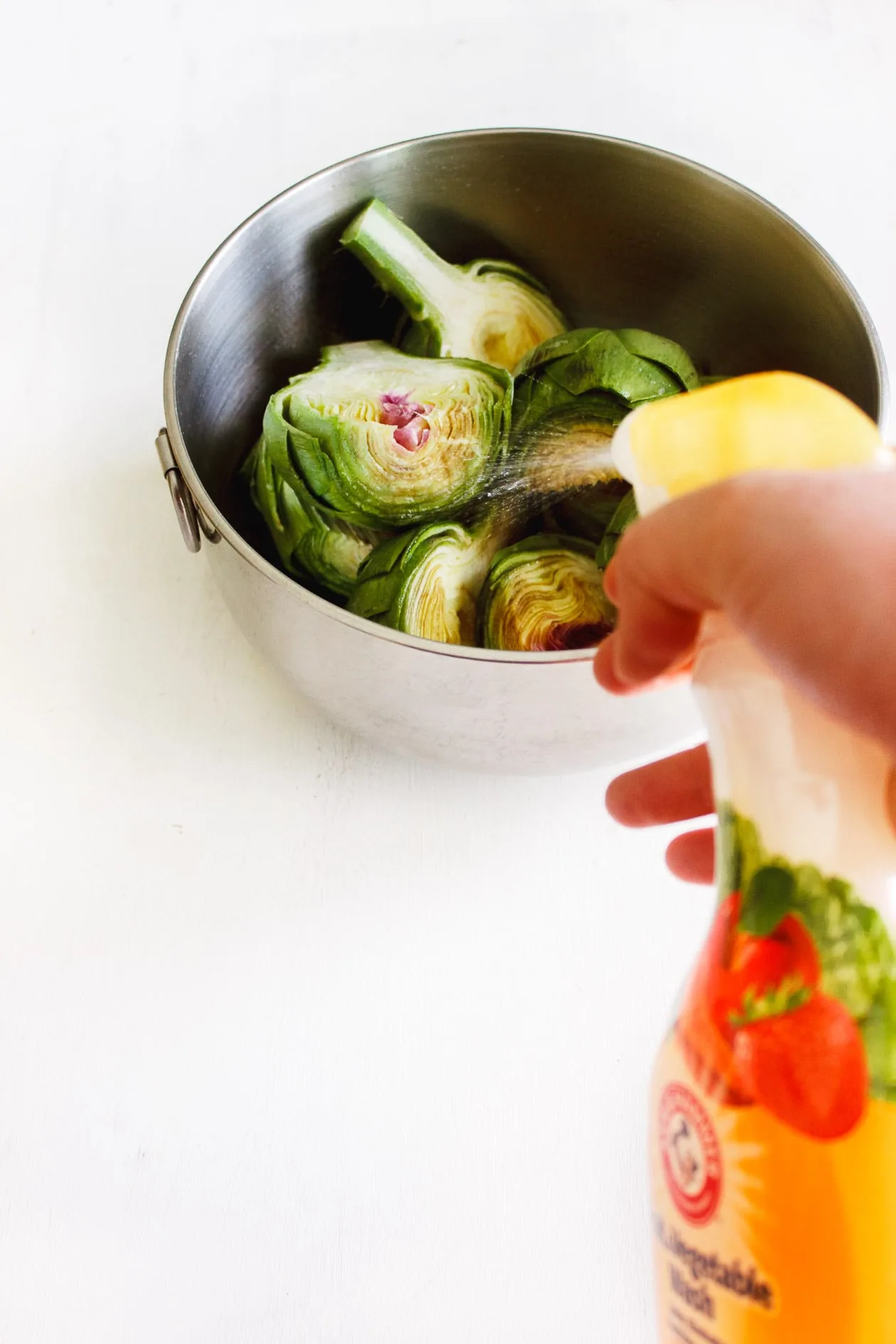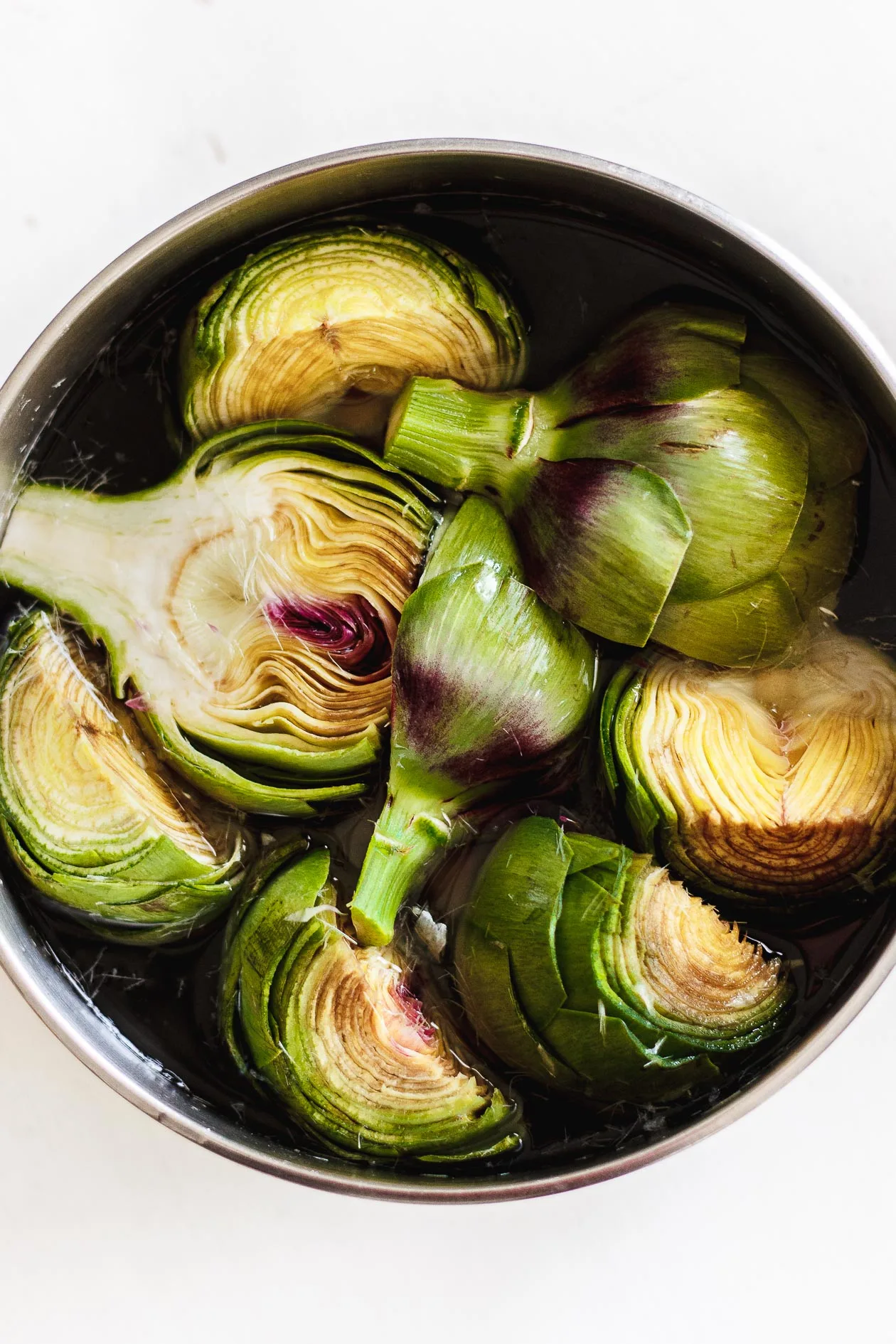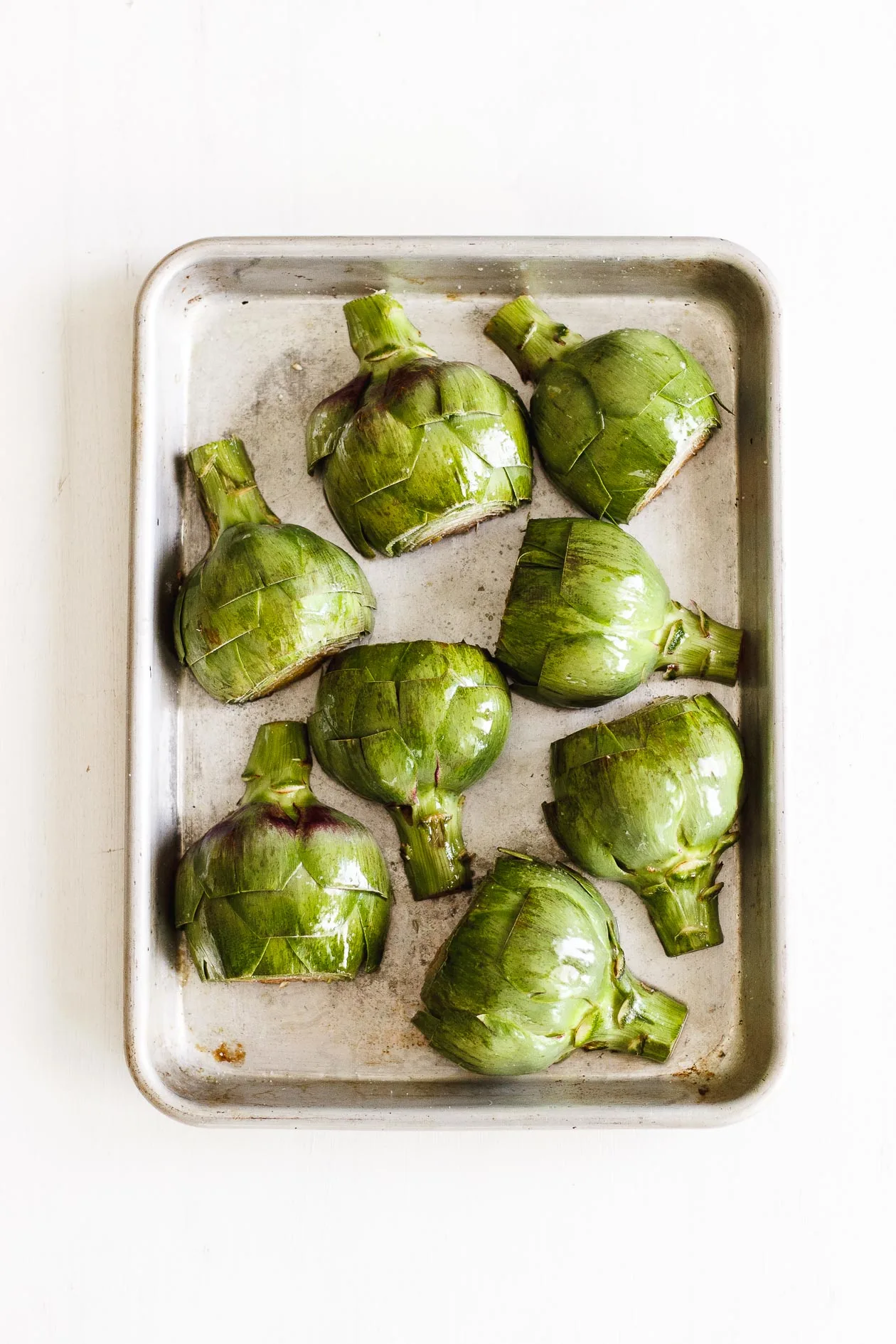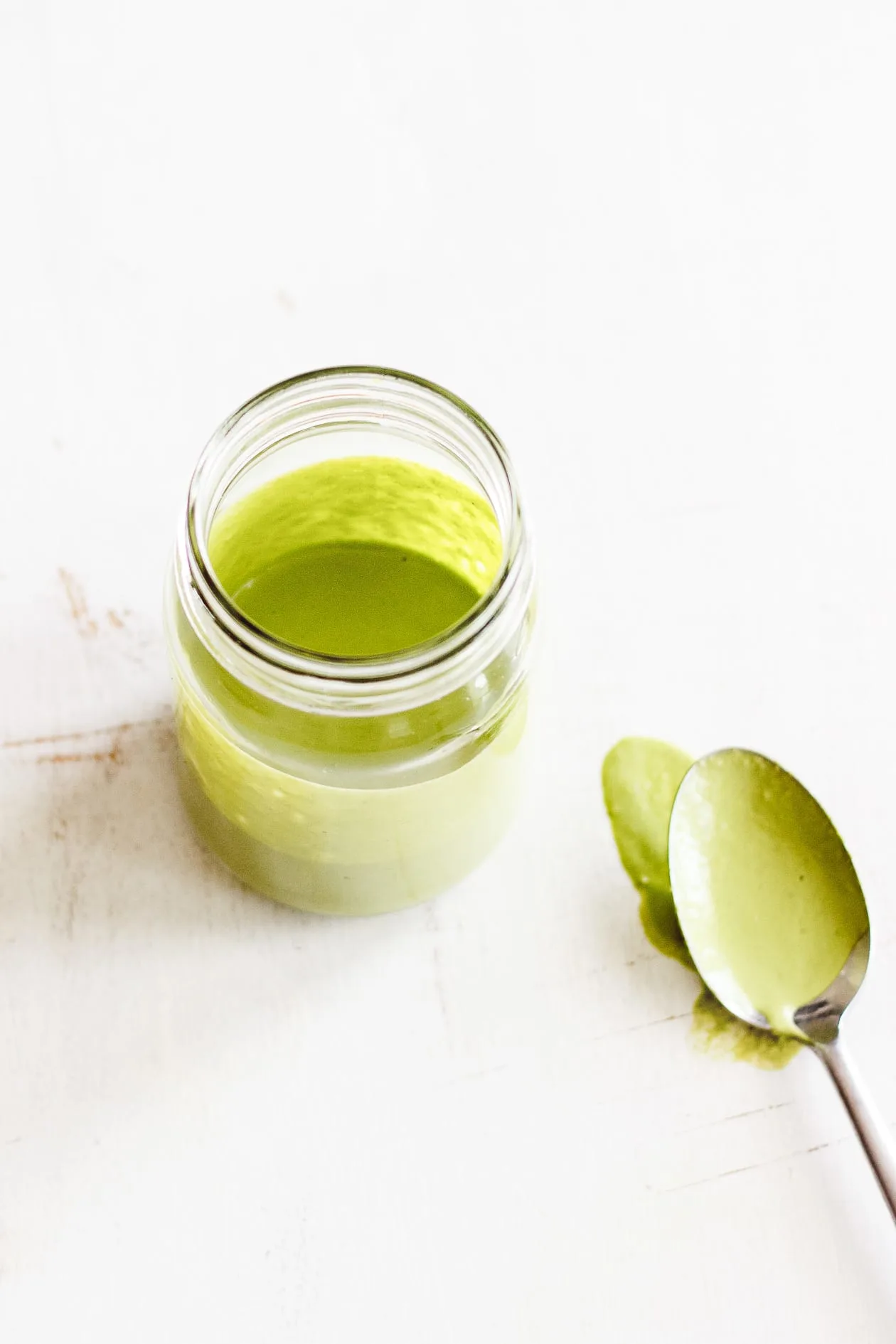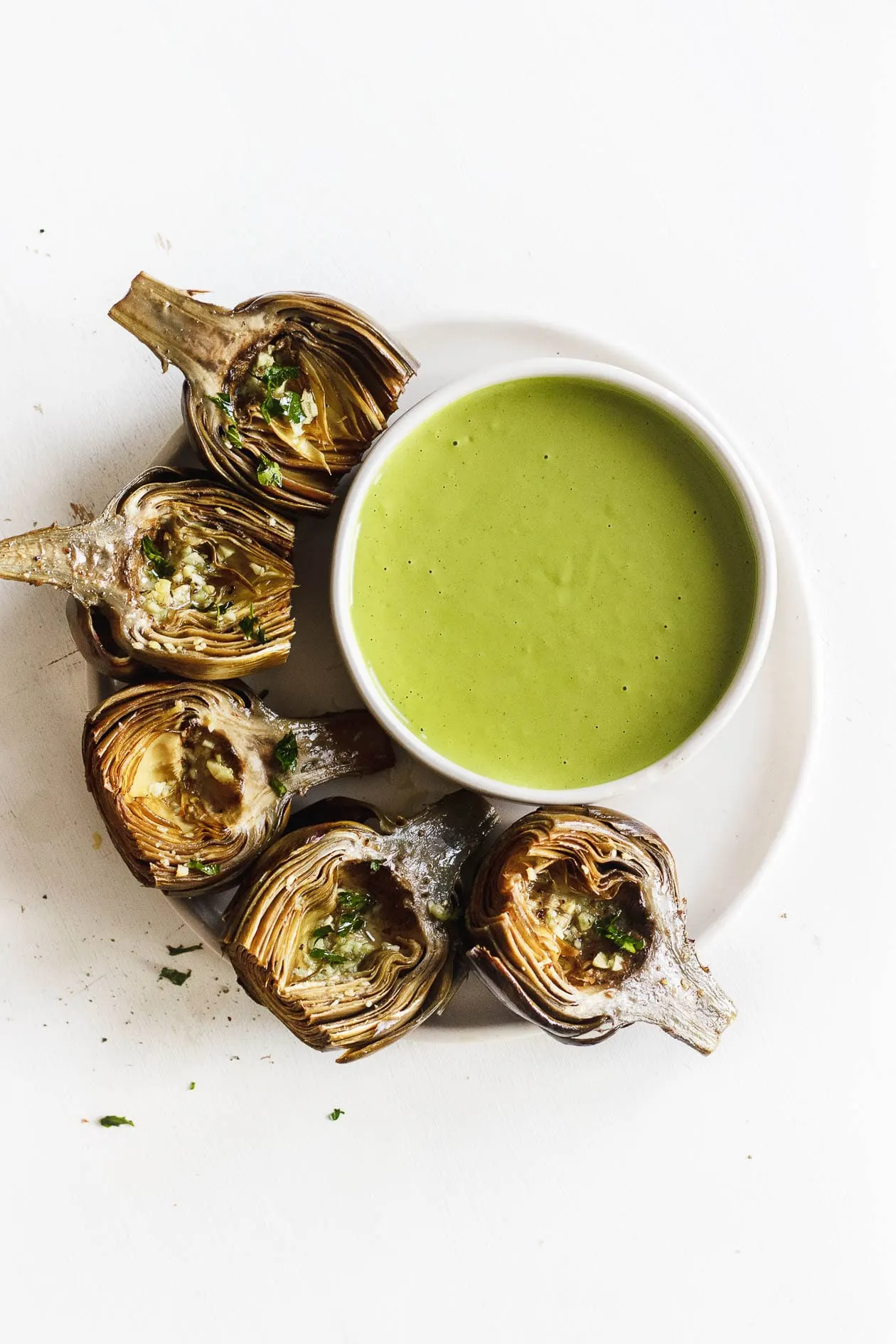 Yield: 4 servings
Roasted Artichokes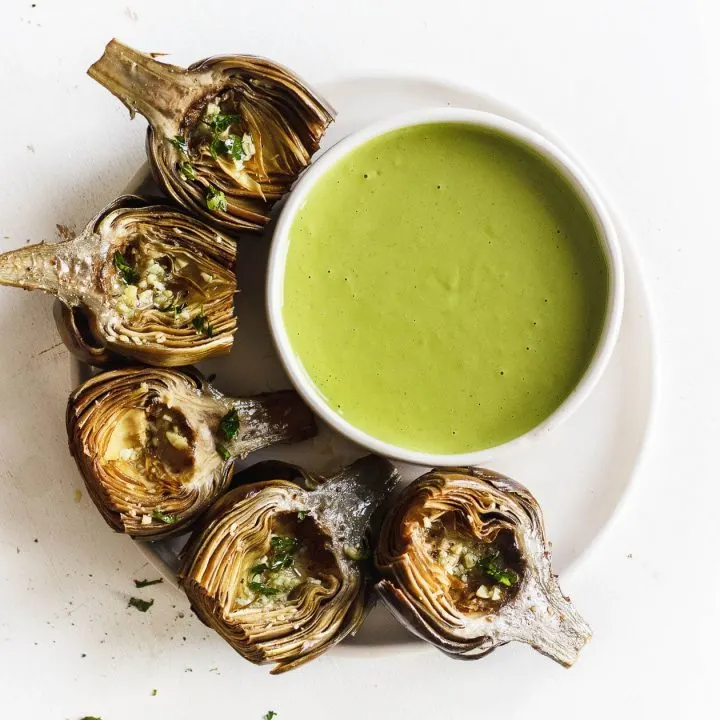 Roasted artichokes made super easy in the oven with garlic and dipped in a lucious green goddess sauce. A naturally vegan and gluten-free side dish.

Prep Time 10 minutes

Cook Time 40 minutes

Total Time 50 minutes
Ingredients
4 medium artichokes
2 1/2 tablespoons olive oil (divided)
1/2 teaspoon fine sea salt
2 garlic cloves, minced
1 batch Green Goddess Sauce (see below)
Instructions
Preheat the oven to 375 degrees.
Properly wash the artichoke. Place it on its side and slice off the stem. Then peel off the layer of leaves around the base. Next with a serrated knife cut the top quarter of the artichoke off. Lastly, take a pair of kitchen shears and trim the sharp points off each leaf. Repeat process on all artichokes.
Then slice the artichokes in half lengthwise. Remove the sharp inner petals by forcibly pulling down and out. Then gently scoop out the center choke while carefully leaving the heart intact.
Place the artichokes on a sheet pan. Use your hands to massage 2 tablespoons olive oil and the salt into the artichokes so they are coated inside and out.
Flip the artichokes over so they are cut side down and cover the sheet pan with foil. Roast for 30 minutes.
Meanwhile whisk together the remaining 1/2 tablespoon olive oil and the minced garlic.
Remove the artichokes from the oven and discard the foil. Flip the artichokes over and brush on the olive oil and garlic mixture. Return them to the oven and roast for ten minutes or until the artichokes are golden brown and a center leaf comes out with ease and is tender.
Serve warm as is or with the Green Goddess Sauce.
Recommended Products
As an Amazon Associate and member of other affiliate programs, I may earn a small percentage from qualifying purchases.

Yield: 1 cup
Green Goddess Sauce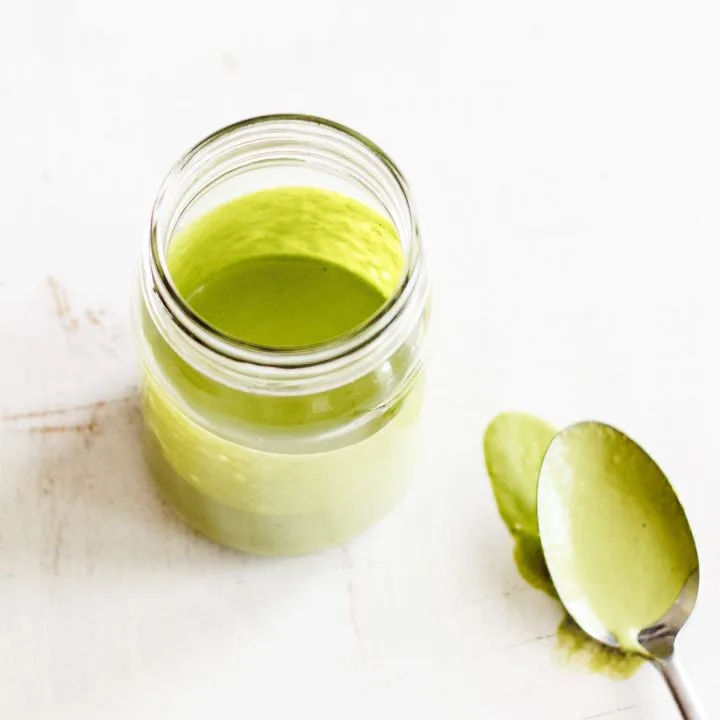 A naturally vegan and gluten-free luscious green goddess sauce.

Prep Time 4 minutes

Cook Time 1 minute

Total Time 5 minutes
Ingredients
1/2 cup basil leaves
1/2 cup fresh parsley
1/4 cup green onions
1/4 cup extra virgin olive oil
1/4 cup raw cashews
1/4 cup unsweetened plant-based milk
2 tablespoons lemon juice
1 teaspoon fine sea salt
1/2 teaspoon black pepper
Instructions
Add all of the ingredients into a blender and process on high until very smooth (this may take a few minutes).
Use immediately or refrigerate for up to 3 days.
Recommended Products
As an Amazon Associate and member of other affiliate programs, I may earn a small percentage from qualifying purchases.

MORE ROASTED VEGETABLE RECIPES YOU'LL LOVE.
Chili Lime Roasted Asparagus
Watermelon Radishes with Herbed Tahini Sauce
Sheet Pan Roasted Fennel and White Beans with Parsley Oil
[hr]
This post is sponsored by Arm & Hammer; all opinions are my own.