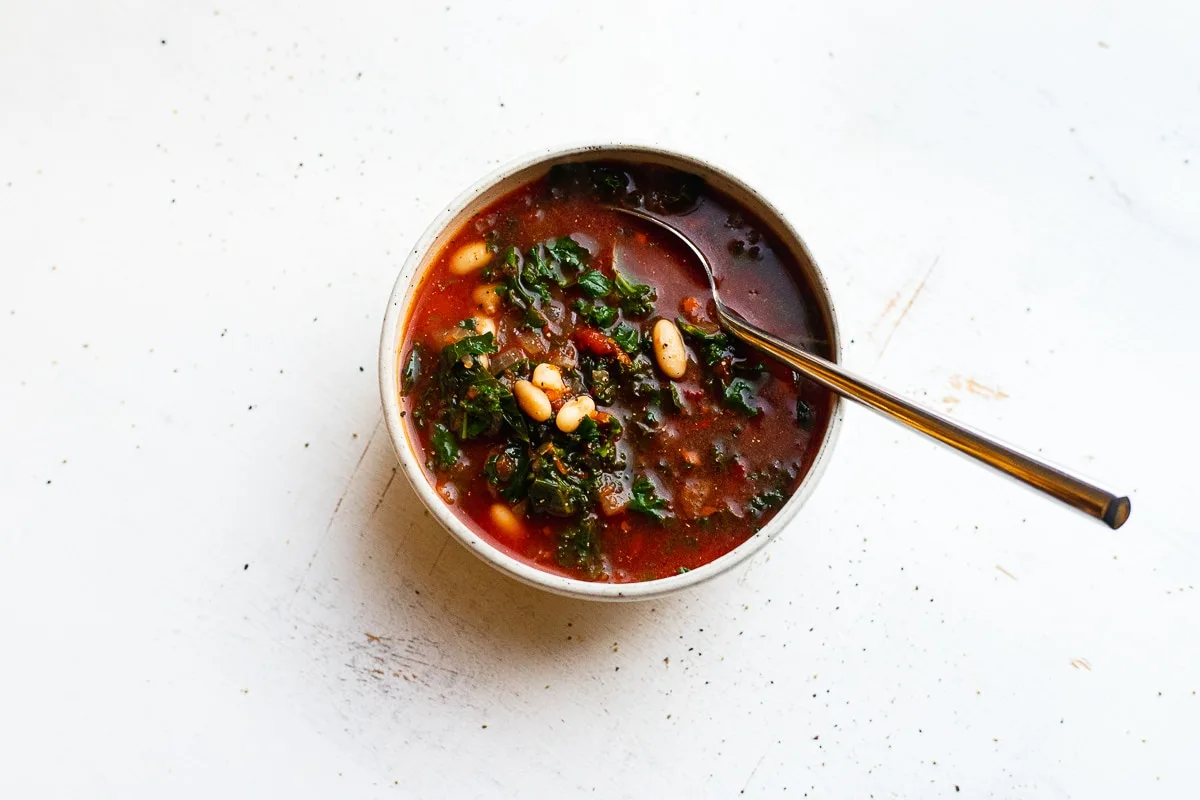 The holiday season is in full swing. And we're in the midst of it all. Aren't we? In between work trips, vacations, airplanes, holiday parties, family gatherings, trays of Christmas cookies and cocktails – my body is craving the good stuff. Like this simple and hearty Tuscan tomato kale soup with white beans.
This post is sponsored by Lucini Italia. Thanks for supporting the brands that allow me to bring you continued quality content. I value Lucini Italia for their philosophy that great tasting food comes from cared-for land that produces high-quality ingredients.
This Tuscan tomato kale soup uses Lucini Italia's Organic Tuscan Marinara as a base. And Lucini Italia uses tomatoes from one organic tomato farm in Tuscany​ along with other simple ingredients like onions, carrots, celery and basil to make a luscious sauce with garden fresh taste.
All of Lucini Italia's sauces are one-hundred percent organic. No added sugar. And as of this year, are Whole30 approved (if that's your kind of thing). In addition to organic sauces, Lucini Italia also offers premium extra virgin olive oil that meets the demands of both home cooks and professional chefs. Learn more about their olive oil here.
How to make Tuscan tomato kale soup.
You only need a few simple ingredients to make this tomato kale soup. First, you sauté onion and garlic in olive oil, and then you add in some fresh lemon juice for a touch of acidity. Second, you add in the marinara sauce and water, and simmer gently.
Last, you add in the (cooked) white beans and kale, and simmer a little bit longer. Then – it's done. This tomato kale soup is a comfort food that I cannot live without. It's naturally vegan, gluten-free and sugar-free.
Tuscan tomato kale soup with white beans that's ready in about twenty minutes. What's better than that? It's the perfect bowl of food when you need something healthy and also hearty. And it doubles as a beautiful bowl to serve on a holiday table. It's already on my Christmas Eve menu.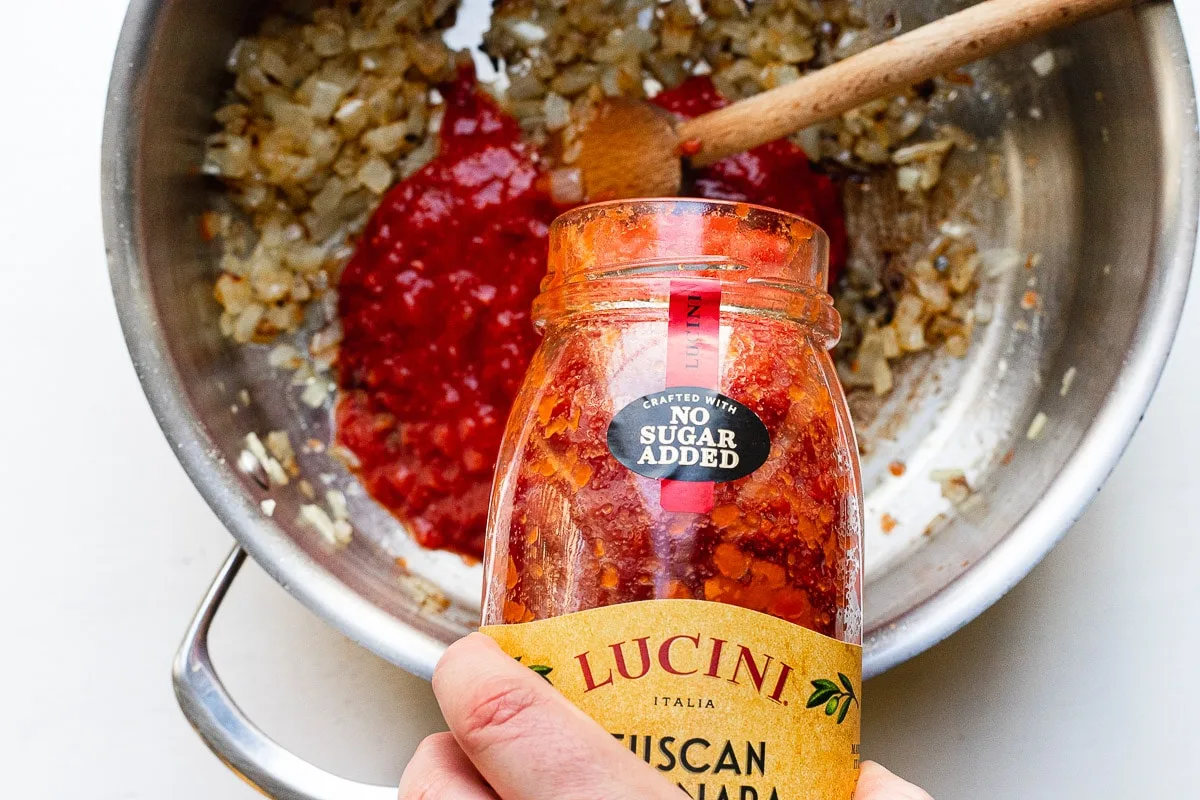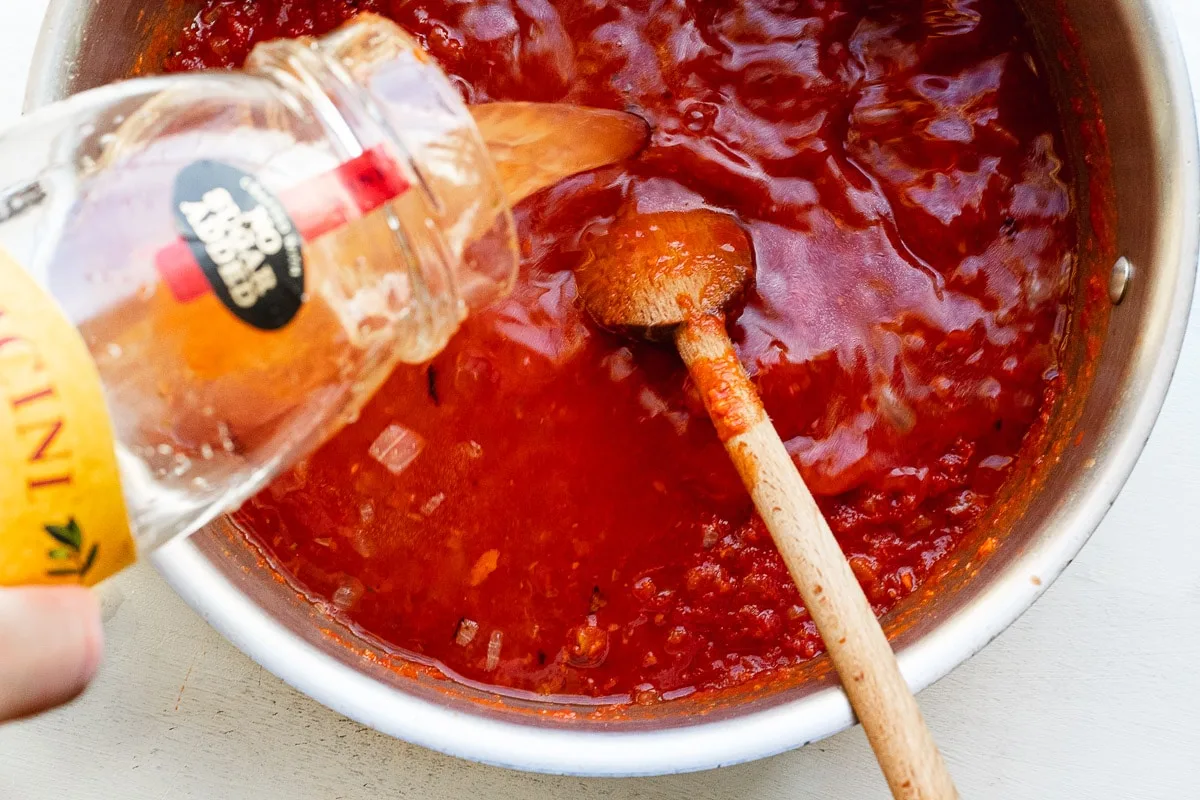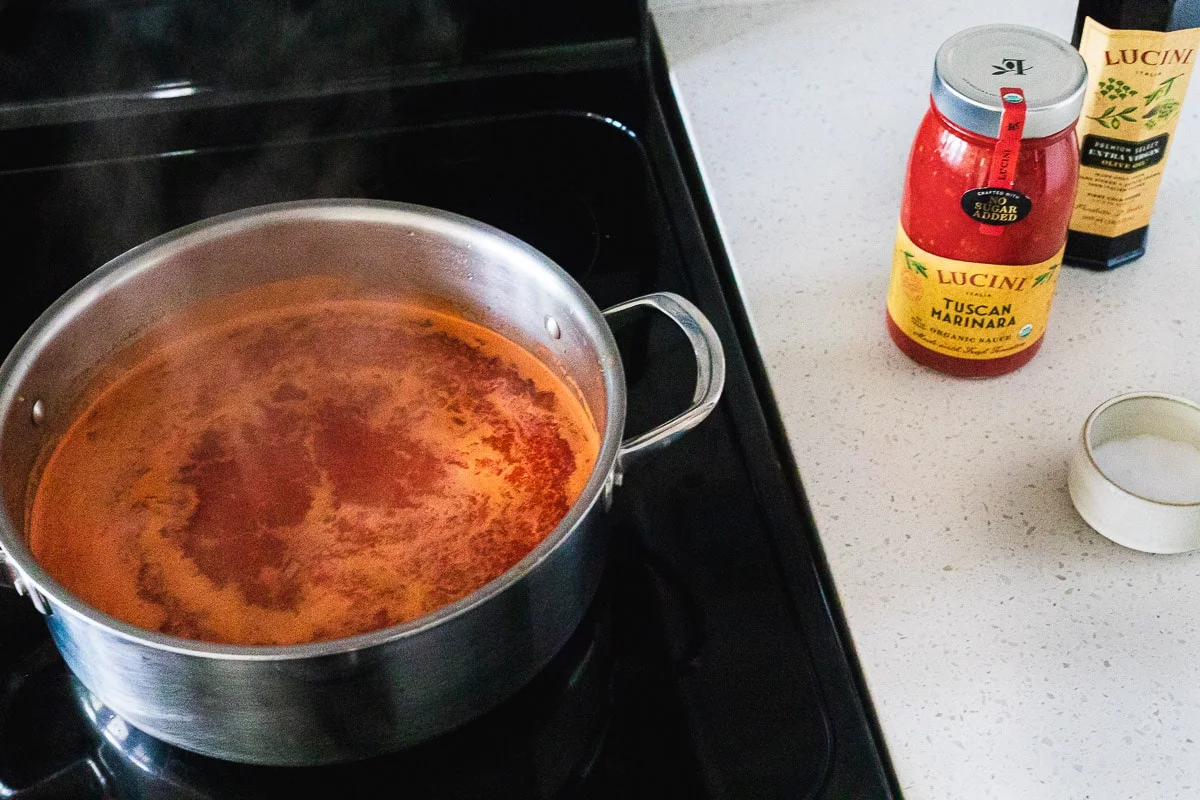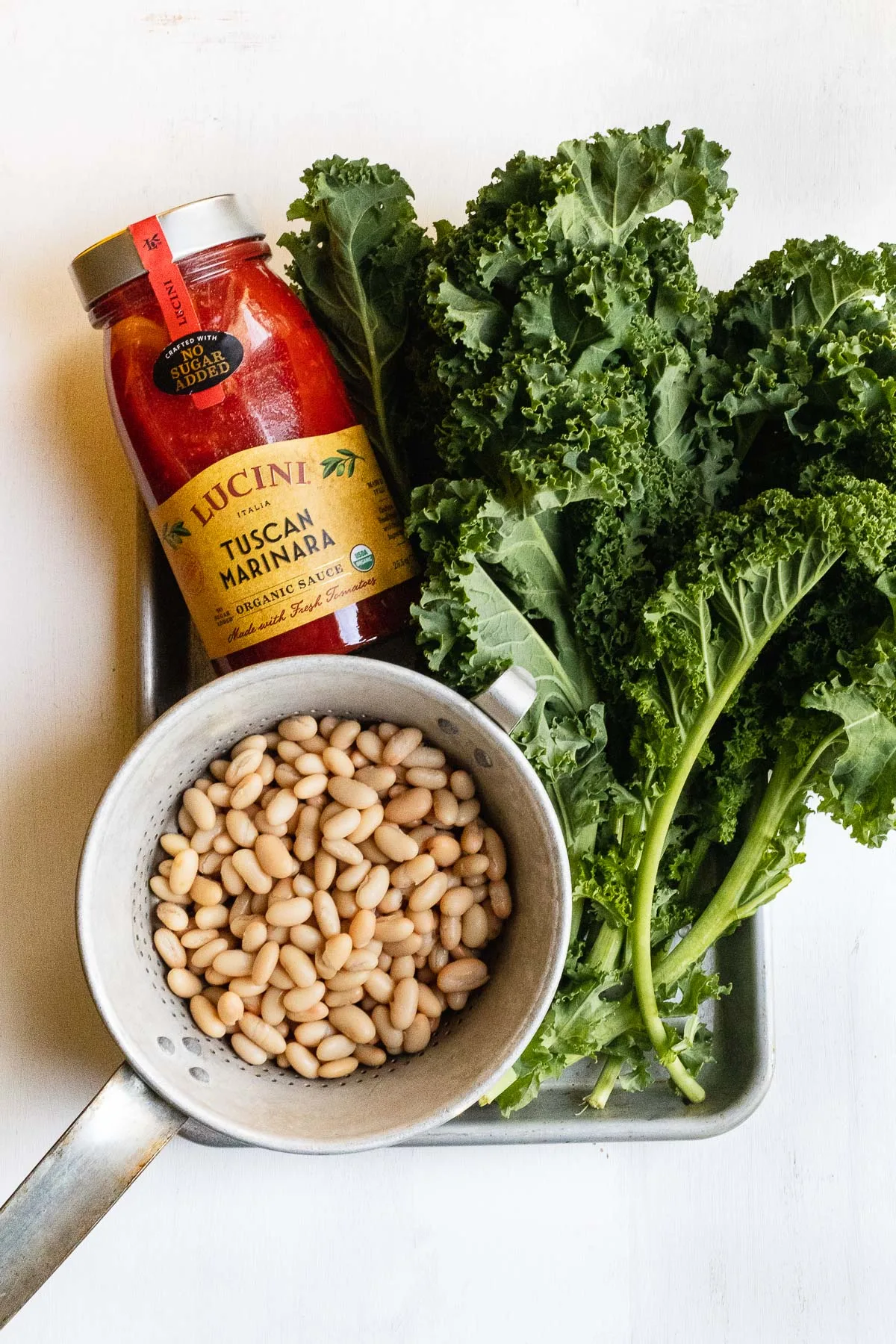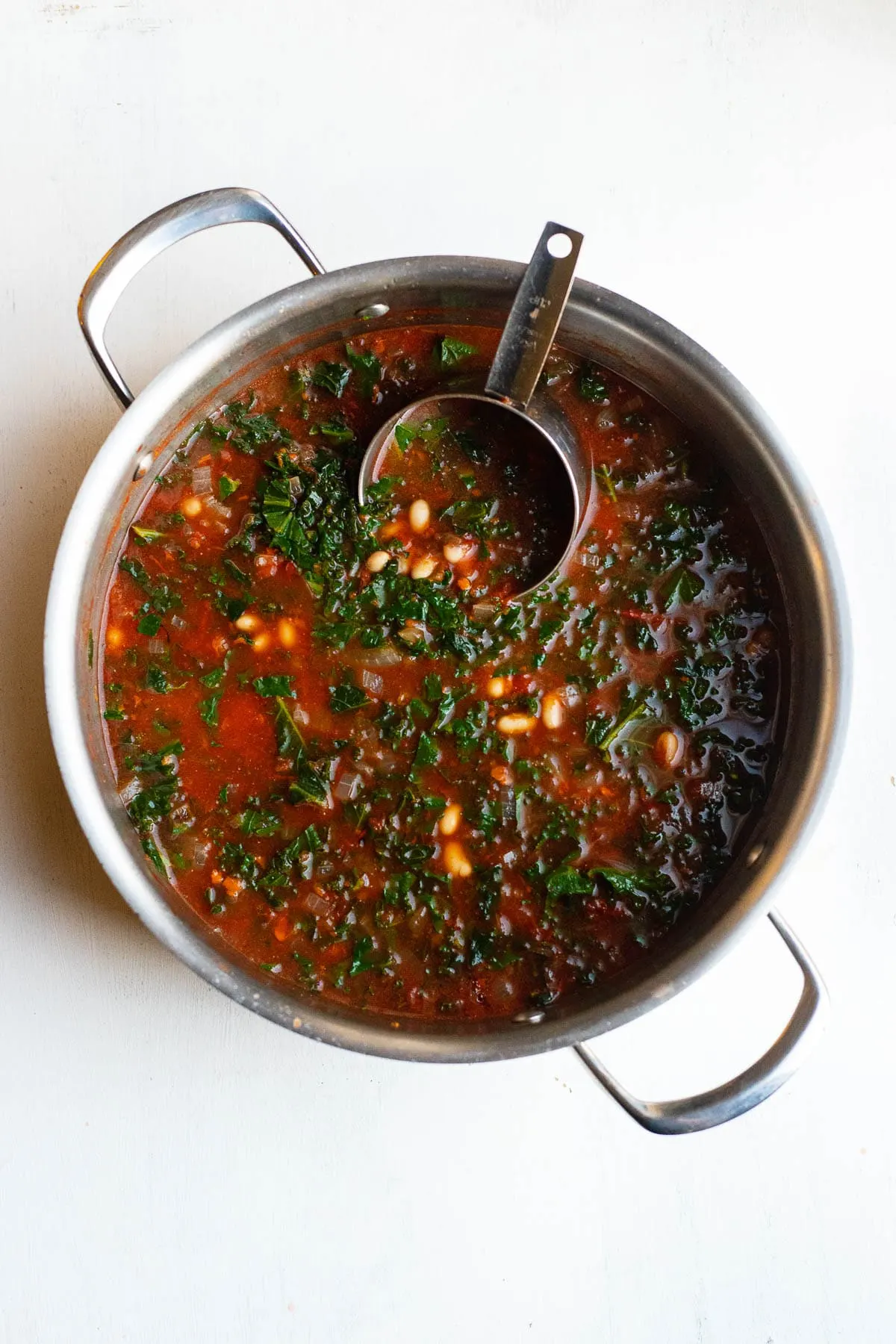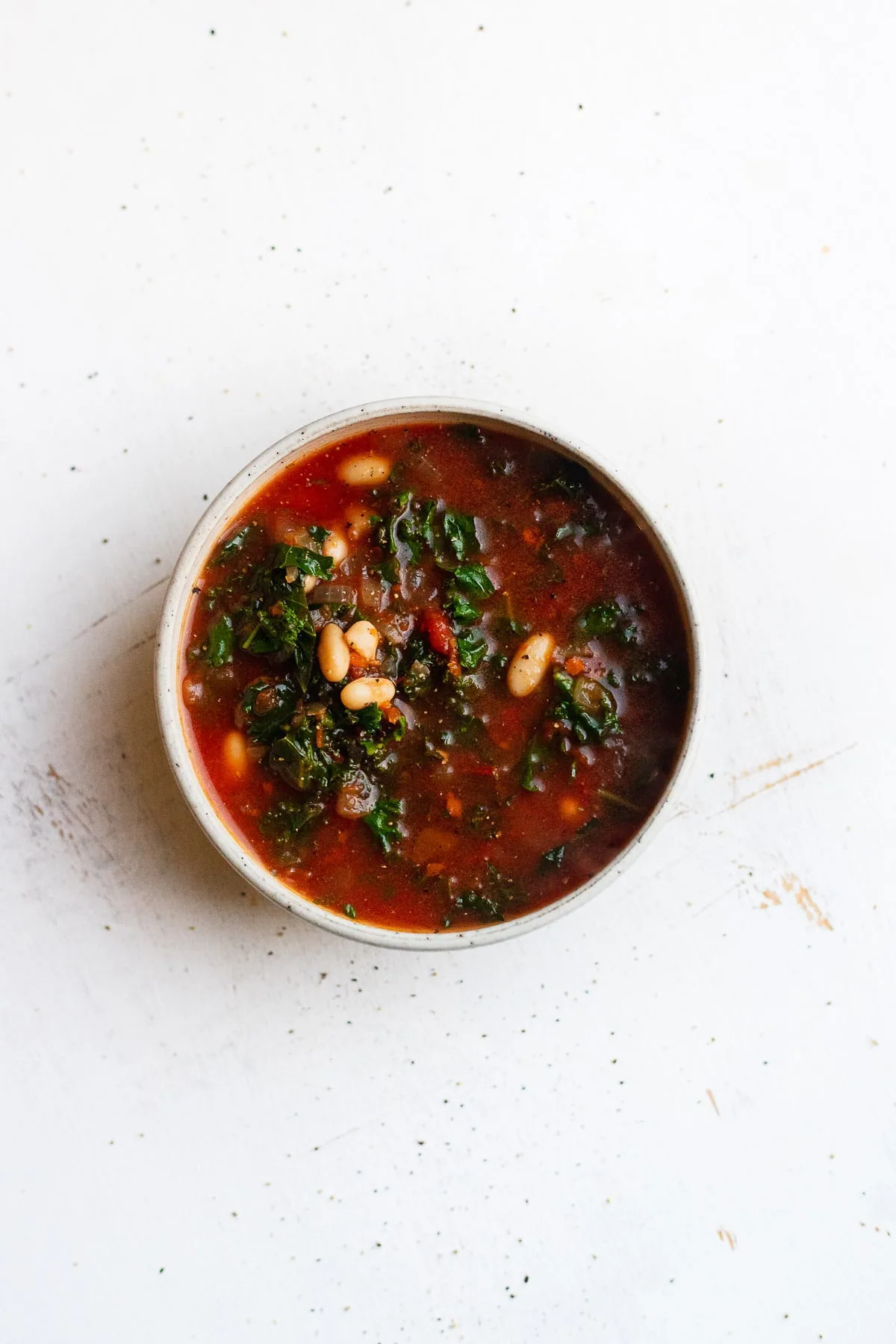 Yield: 6 bowls
Tuscan Tomato Kale Soup with White Beans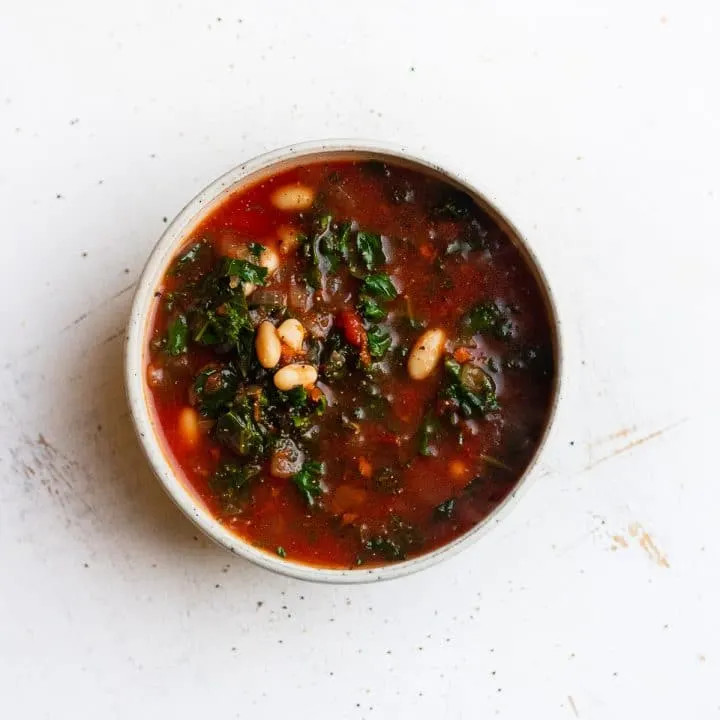 A hearty Tuscan tomato kale soup delicious enough for special occasions and simple enough for weeknight meals.
Ingredients
3 tablespoon Lucini Premium Select Extra Virgin Olive Oil
1 medium yellow onion, diced small
2 garlic cloves, minced
1 tablespoon lemon juice
1 (25oz.) jar Lucini Italia Tuscan Marinara
6 cups filtered water
1 teaspoon fine sea salt
1/2 teaspoon black pepper
4 cups kale, finely shredded
(1) 15oz. white beans (navy or cannellini)
Instructions
Heat a large pot over medium heat and add in the olive oil, onion and garlic. Sauté for 5 minutes.
Then add in the lemon juice and stir. Turn the heat up to high and add in the sauce, water, salt and pepper and bring to a simmer. Then continue simmering for 10 minutes.
Lastly add in the kale and white beans and simmer for 5 minutes more.
Serve hot.