I love soup. Hearty, chunky, smooth, creamy, hot or chilled – soup comforts me on a primal level. I've said it many times before, and I'll keep saying it for the rest of time, because I sincerely mean it from the bottom of my heart, soup soothes your soul. And, these vegetarian soup recipes are some of my favorites recipes that I've created.
There's something here for everyone. Soup recipes for winter, spring, summer, fall, and everything in between. No matter what season you're in or what you've got going on in your life – one of these naturally gluten-free, vegetarian soup recipes will surely bring some peace into your life. Oh, and don't forget the hearty seed bread – because no bowl of soup should go without a slice of that.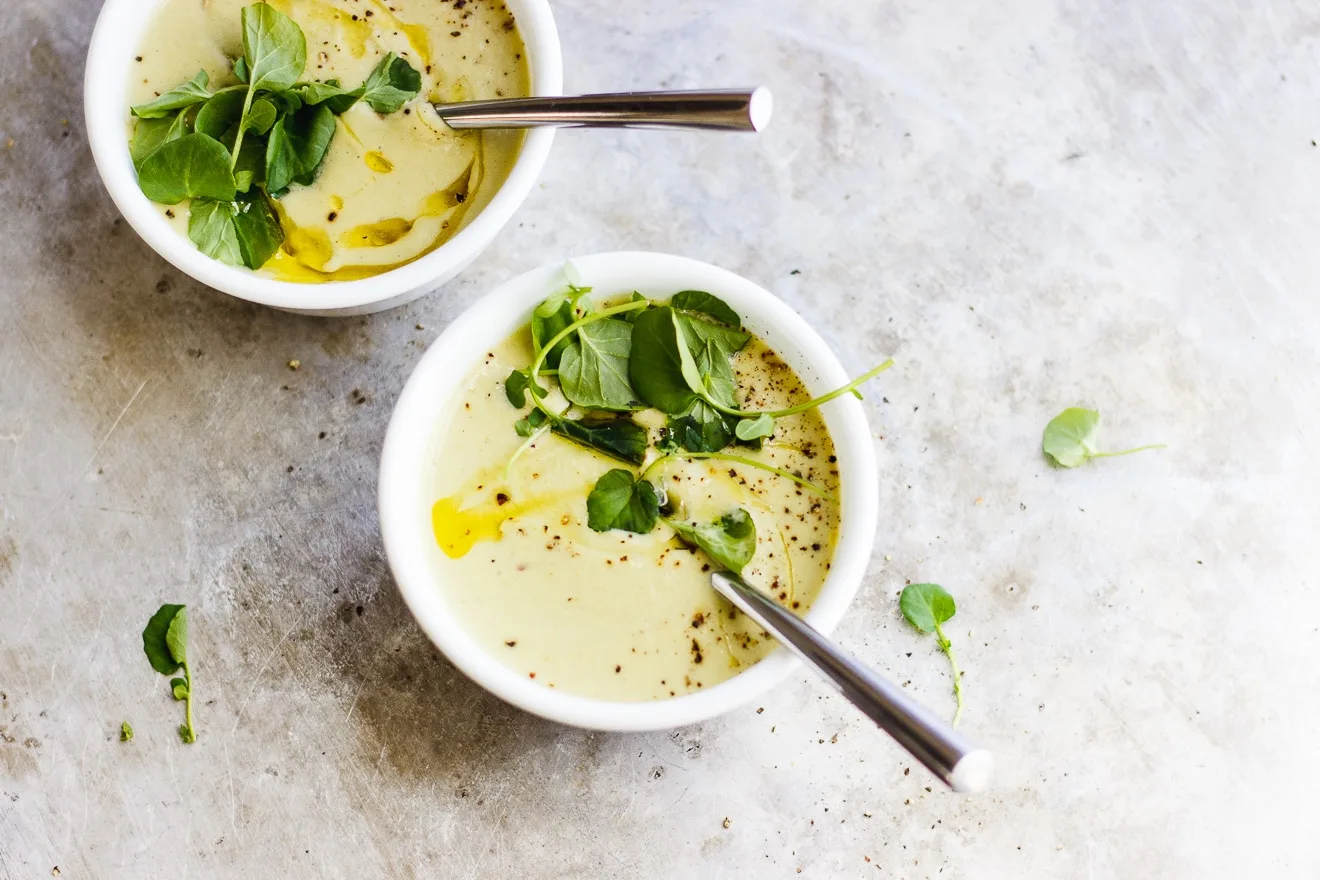 Vegan Cream of Celery Soup with Olive Oil and Watercress
This vegan cream of celery soup is ready in under twenty minutes, super delicious served hot on a chilly night or chilled on a hot night. Cream of celery soup is one of my all-time favorite vegetarian soup recipes. When I was a kid, I used to lick the spoon right out of the Campbell's soup can. This is my simple and humble version of a classic, but chock full of antioxidants and anti-inflammatory ingredients.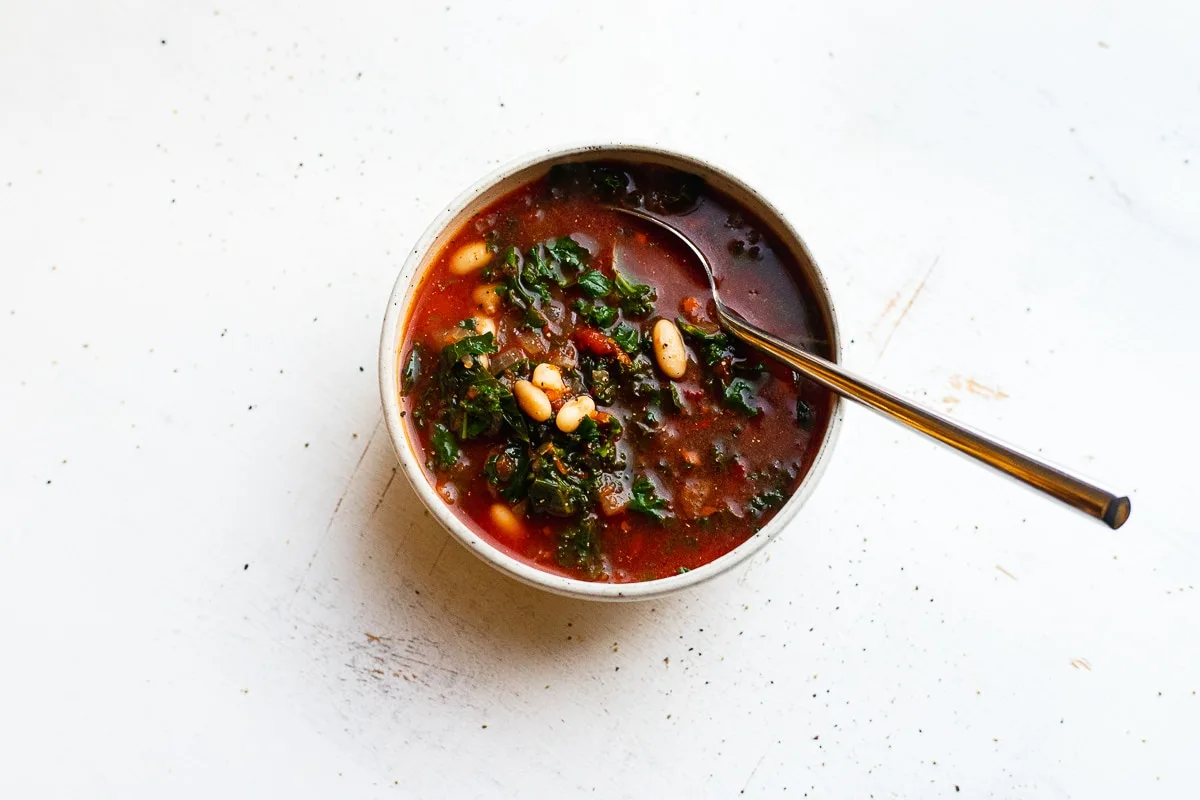 Tuscan Tomato Kale Soup with White Beans
A simple, naturally vegan and hearty Tuscan tomato kale soup delicious enough for a special occasion and humble enough for an easy weeknight meal. An anytime of year recipe. Use whatever jarred sauce you have on hand or make a batch of my tomato sauce recipe with your fresh farmers' market produce.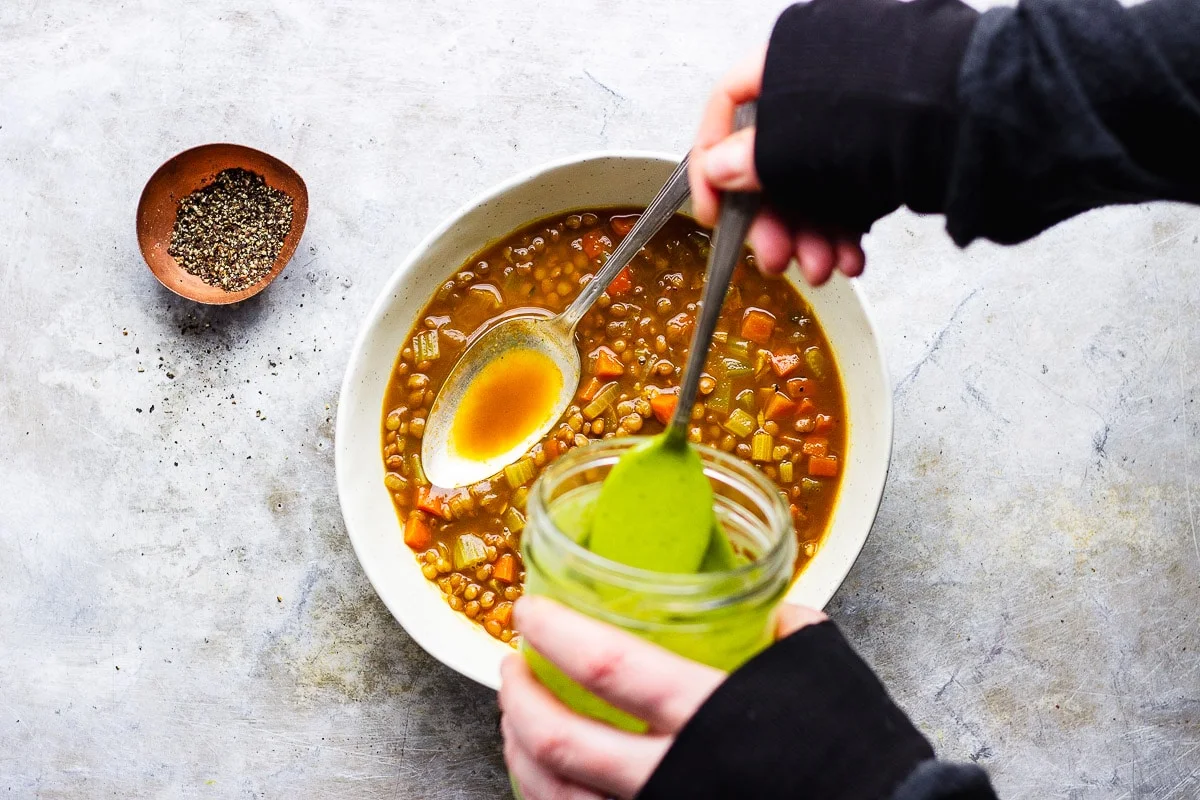 Nourishing Lentils with Detoxifying Parsley Sauce
This vegan, nourishing, filling and cozy bowl of lentil soup can be eaten alone or topped with a detoxifying and zingy, parsley sauce. It can definitely be enjoyed year round, but I like it for a fall, winter or it's still cold kind of spring meal.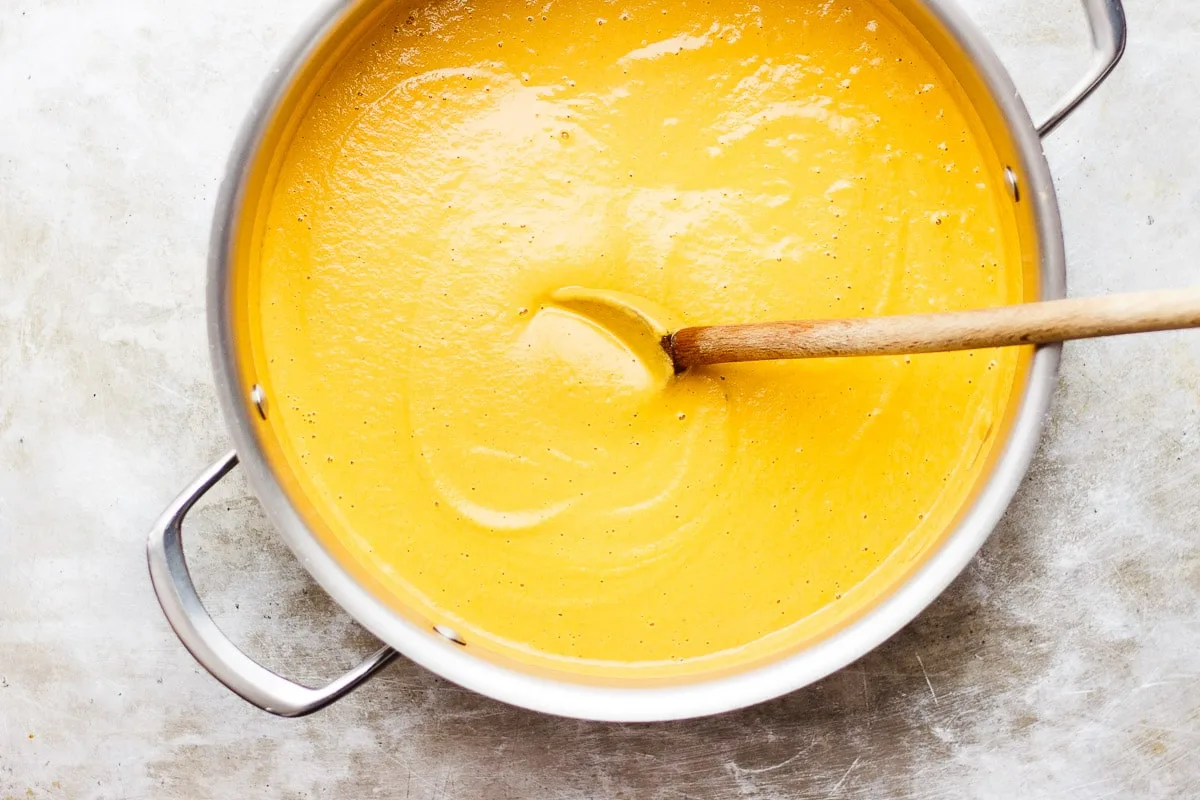 Creamy Carrot Ginger Soup with Black Pepper
A super creamy, vegan carrot ginger soup made with raw cashews. Actually, it's so creamy you can call it luscious. It's made with fresh carrots, staple pantry ingredients and lots of black pepper. This is one of those – it's great any time of year vegetarian soup recipes.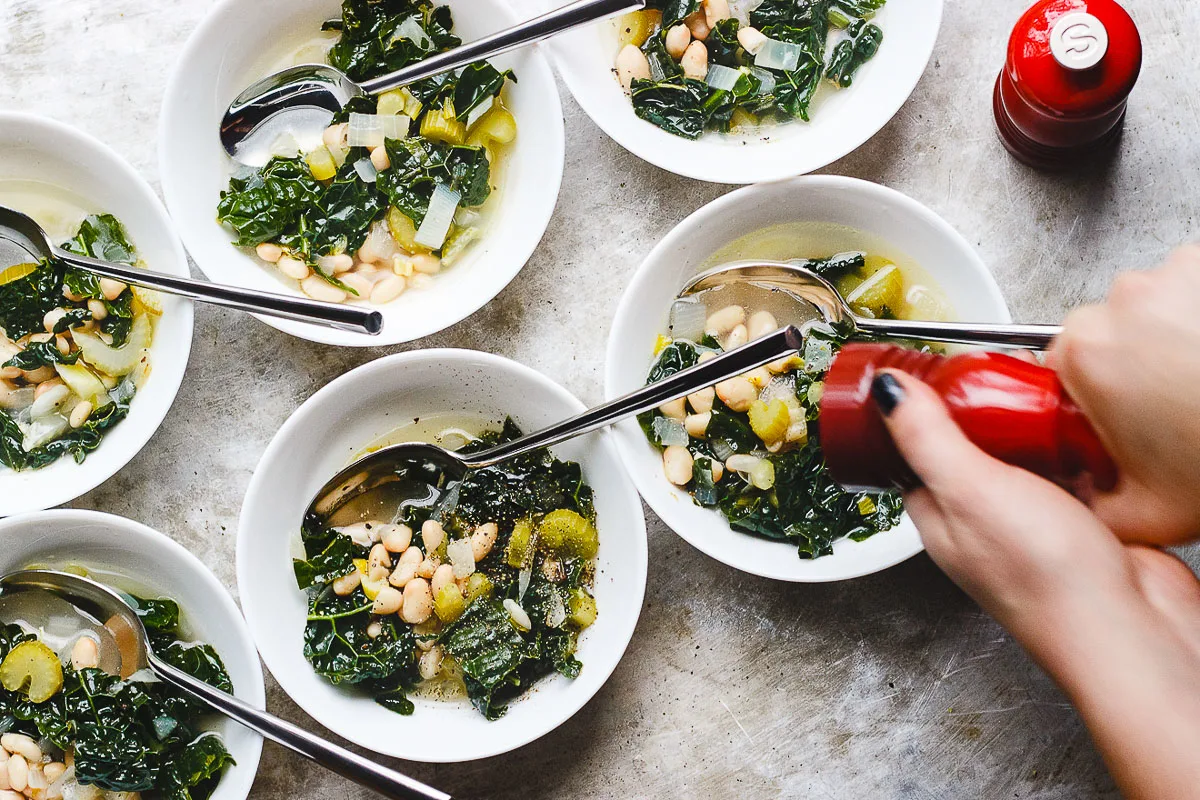 This bowl of beans and greens soup is super comforting and restorative. And it's also a super flexible recipe. I like to use kale and great northern beans, but you can use any greens you have on hand like spinach, collards and chard. And whatever beans you have on hand like navy, cannellini or chick pea. This vegetarian soup recipe, actually this vegan soup recipe is great year round.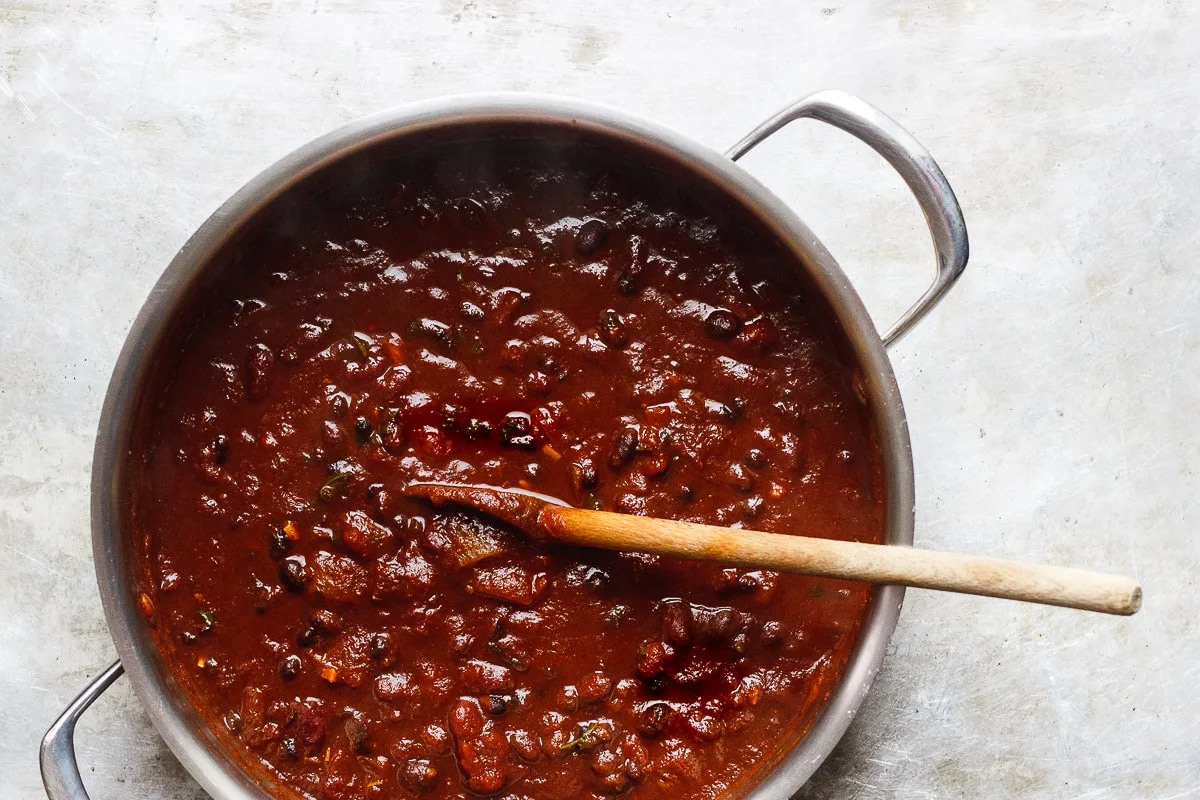 When I think of chili I tend to think of winter and fall, but this vegan chili is great for any season even the hotter months because it doesn't take too much stovetop time to make. It actually takes less than twenty minutes thanks to pantry staples and my secret ingredient. Well, it's actually not that secret – just click the recipe link to find out.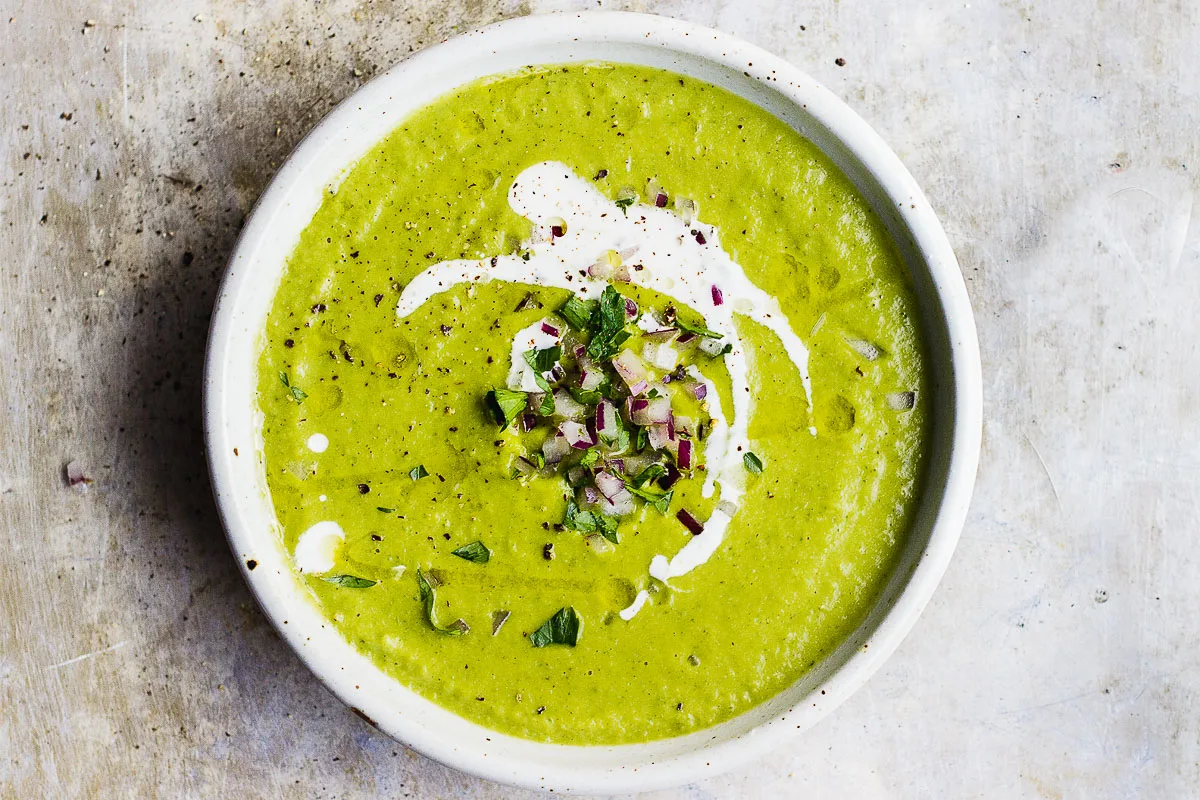 Broccoli and white beans make pure vegan, plant magic together. If I don't have fresh greens on hand – I will almost always have some sort of green in my freezer. So it's flexible in that way – use what you have. This bowl is great one for anytime of the year, but I'm partial to cozying up with it on a chilly evening.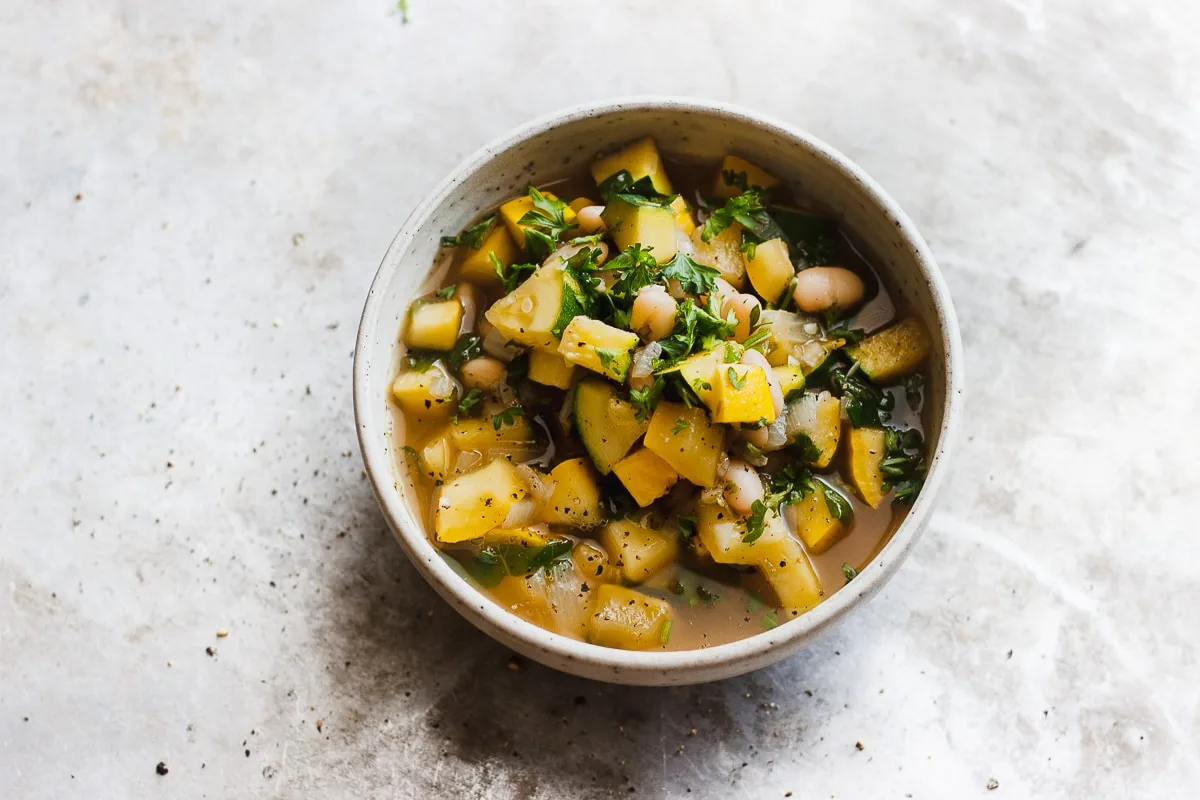 Sumer Squash Soup with White Beans
This soup is all about the aromatics and flavorful broth. Because summer squash and zucchini can be easily overcooked, you only cook the vegetables for five minutes. It's the olive oil, alliums, herbs, cheese rind and vegetable broth that you want to build flavor with. You can enjoy this anytime, but nothing beats making it from late summer to late fall with garden fresh ingredients.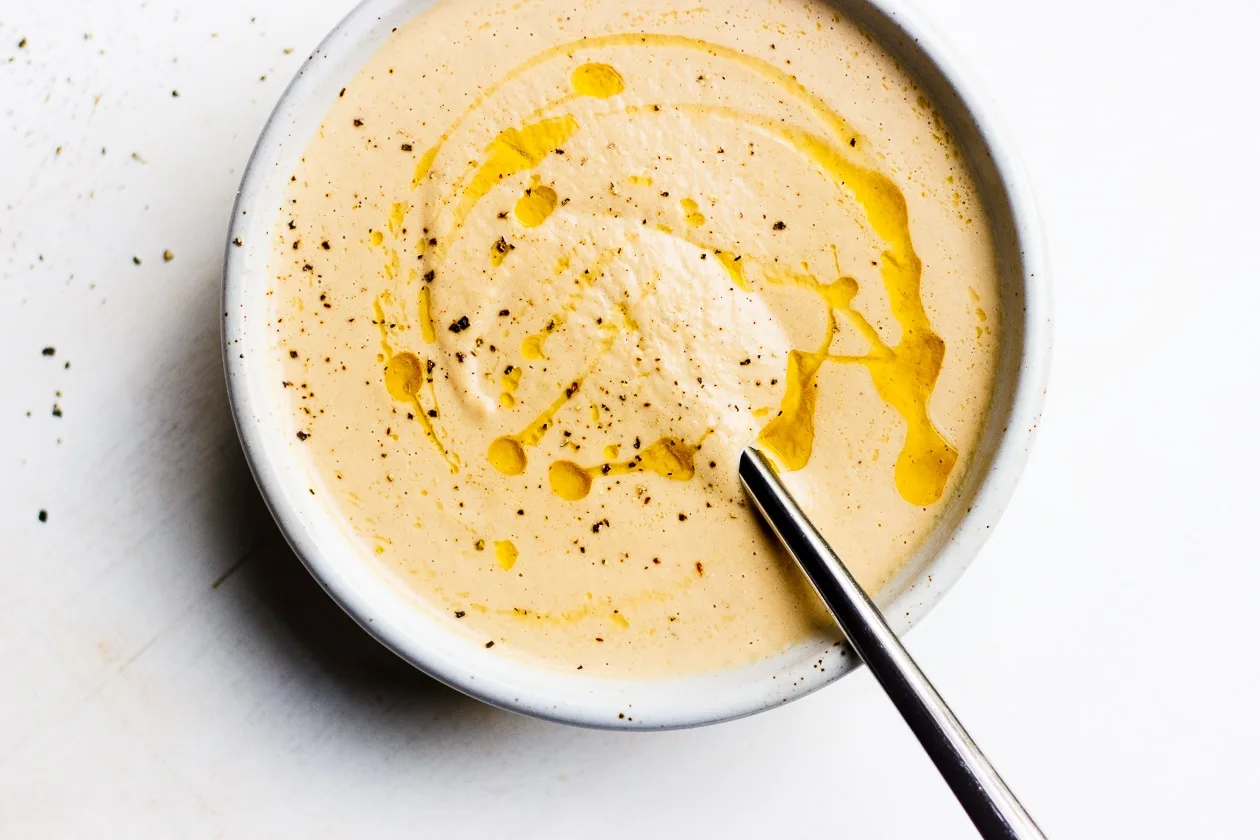 Cream of Onion Soup with Caramelized Fennel
A super silky, totally vegan, cream of onion soup with caramelized fennel and rosemary. It's a rich, decadent and comforting soup for fall and winter. Also it would also be super delicious served chilled in the warmer months for a fresh take on a potato-less, vichyssoise.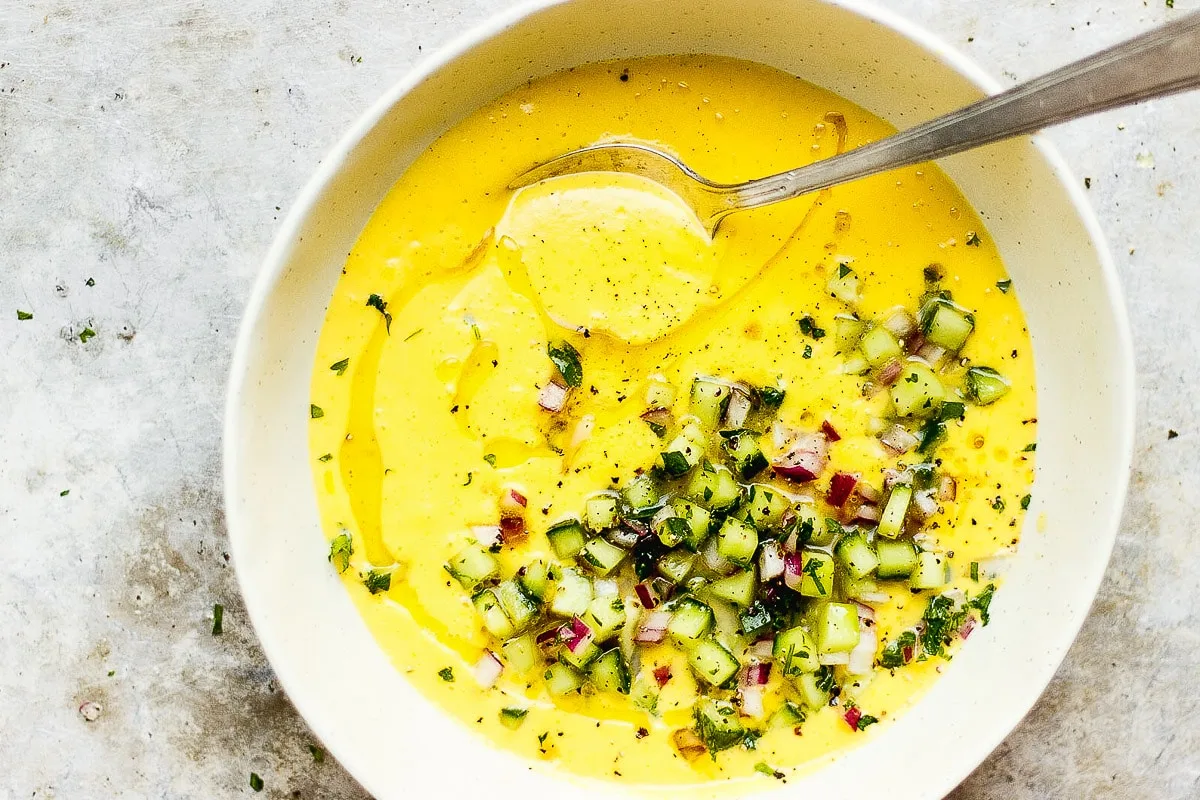 Farmers' Market Chilled Soup with Cucumber Salad
This vegan, cold summer soup recipe celebrates the very best of the season – like sungold tomatoes, bell peppers and sweet corn topped with a bright, herby cucumber salad. It just puts me in a good mood looking at it. But I especially love it for its simplicity and acidity. This is one of my all-time favorite vegetarian soup recipes – like ever.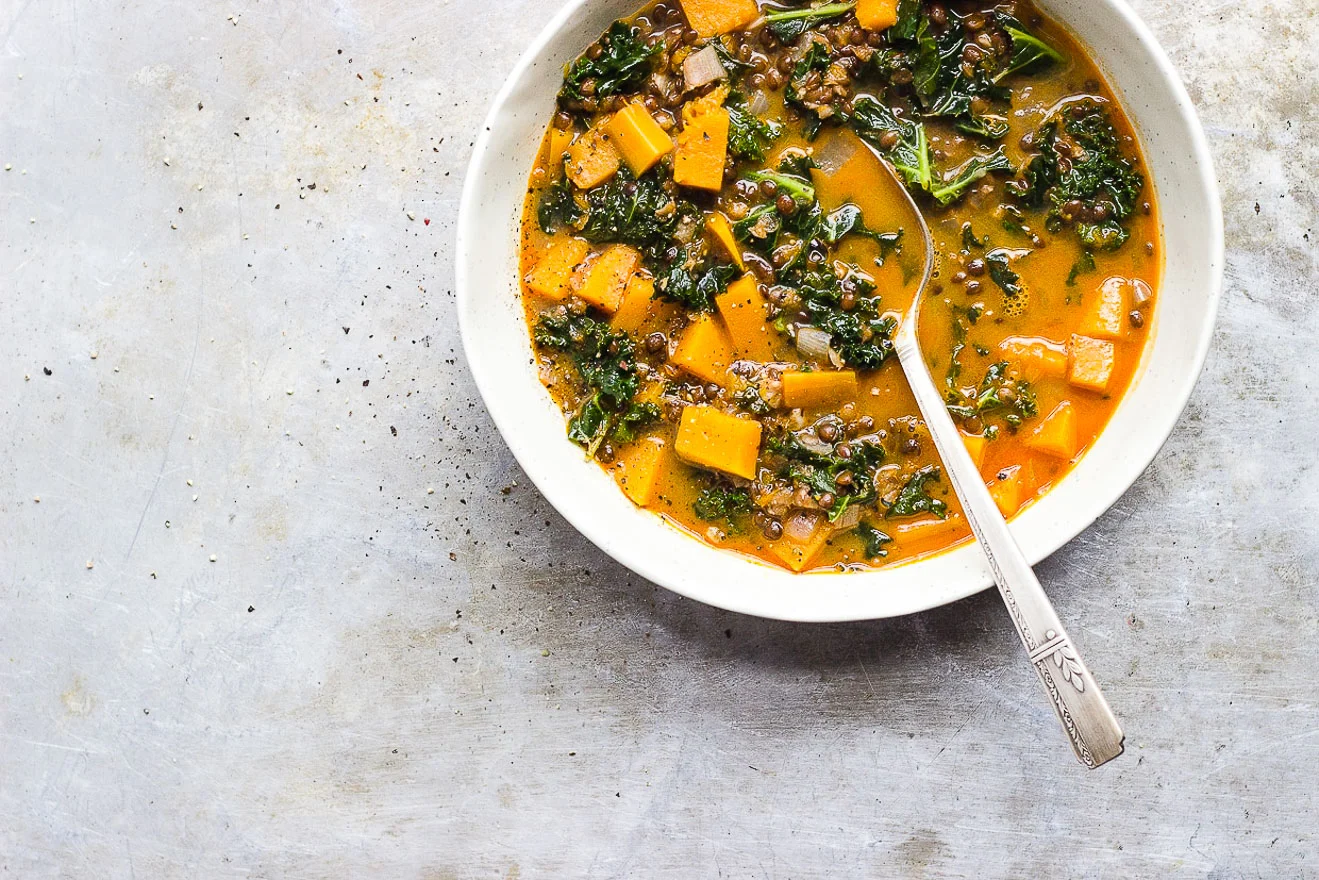 Red Curry Lentil Stew with Butternut Squash and Kale
This red curry lentil stew is where cozy is at. Red curry, lentils, butternut squash, kale and lots of creamy coconut milk. An awesome vegan stew that's super flavorful, hearty and filling, and perfect for fall or winter or cold spring days.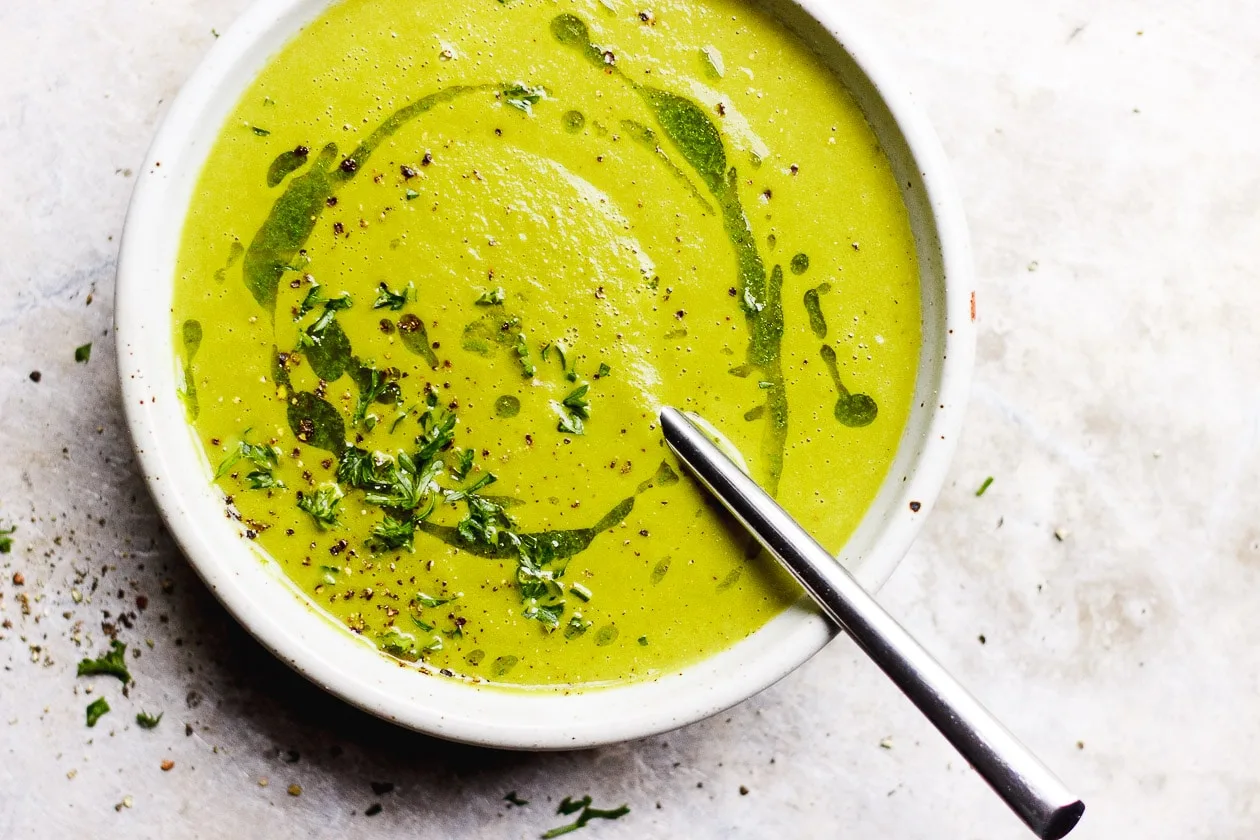 Green Tomato Soup with Herbed Oil
Green tomatoes are in season at the beginning and the end of tomato growing season. So depending on where you live that could mean winter or spring, or summer and fall. This recipe roasts the green tomatoes to deepen their flavor, and then blends it to perfection.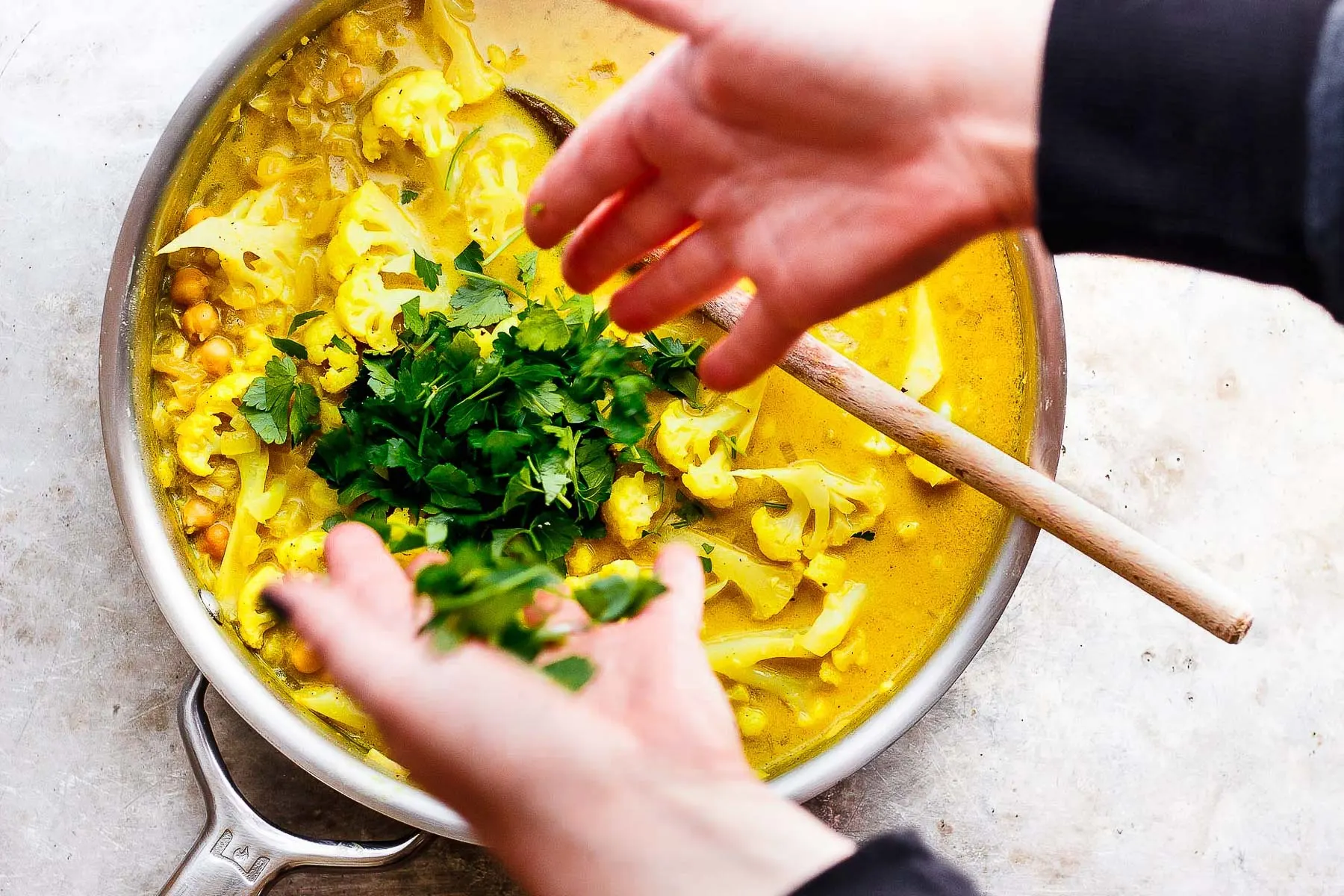 Golden Cauliflower Stew with Chickpeas
A turmeric rich golden stew that is chock full of plant-based protein, anti-inflammatory ingredients and a dreamy, creamy coconut milk savory broth. It's warming and comforting, and promises to excite your flavor receptors while stimulating your digestion and boosting your immunity. I love to eat this anytime time of the year.
[hr]

Must haves for making vegetarian soup recipes.
You don't need anything fancy. Just a really good knife, cutting board, soup pot, fine mesh sieve and blender. Really, that's it. Chances are if you're an avid home cook then you already have these tools stocked. If you don't, here are my favorites.